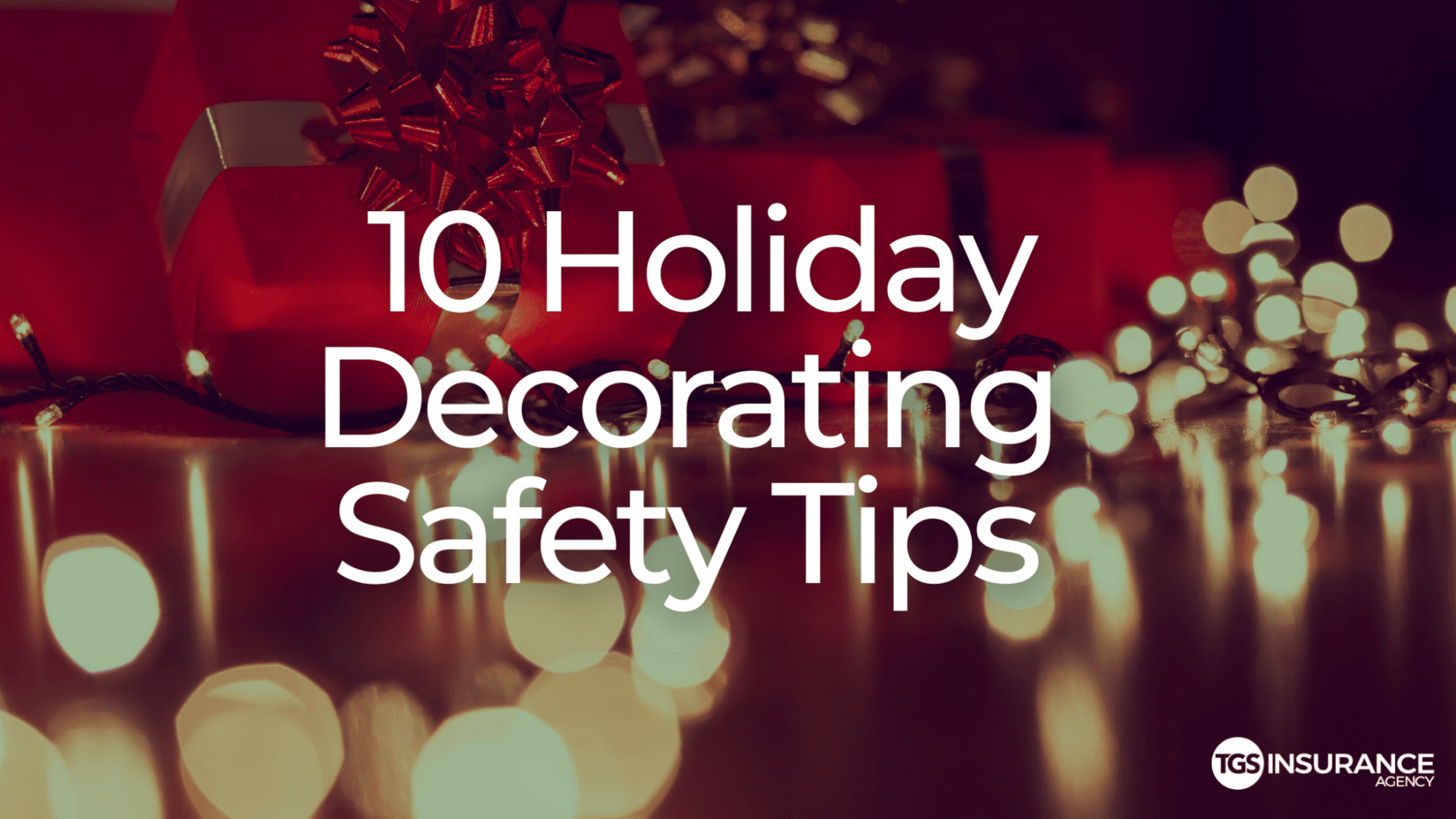 The holiday season is here and it's time for those Christmas lights to go up and the seasonal decor to come out of the attic! Decorating the inside and outside of your home can be a joyous time but can also present some hazards if you're not careful. Let's review 10 tips on how to deck the halls safely this year and avoid any accidents or trips to the hospital. 
Tip #1: Keep Live Trees Away From Heat
If you're opting for a live tree this year, keep it a safe distance from any fireplaces, heating ducts, or heaters. Live trees are flammable so it's important to keep them hydrated and away from heat hazards. Keep in mind, an artificial tree can go up in flames too, even with the "fire-resistant" label! 
Tip #2: Be Careful With Ornament Placement
If you have fragile ornaments, place them at the top or out of reach from kids or pets! Using shatterproof ornaments are a great way to keep your tree decorated while also preventing accidents. Additionally, replacing metal hooks with ribbon or string can prevent an injury or choking. 
Tip #3: Use a Ladder Safely 
If you're going to be hanging decorations both inside and outside, ensure that you've got a ladder that extends at least three feet above your working area. Make sure that it's on level, firm ground, and if you're working on an incline you've got leg levelers. The ladder should be able to carry both your weight and anything you're decorating with. 
Tip #4: Use Lights With the UL Label 
Never use holiday lights that don't have the holographic UL label. If your lights haven't gone through the proper safety testing, you're essentially decorating your home with a potential fire hazard. Be sure to also look at the labels, a red label means it can be used both inside and outside whereas a green label is just for indoor use. Also check all the lights to ensure there are no cracked sockets, frayed, or wires showing to prevent a fire or shock hazard. 
Tip #5: Use the Right Outlet and Extension Cords 
You want lights to glow, not to spark! If you're going to be decorating outside you'll want to make sure you're using a GFCI outlet. If you don't have one, you can have an electrician install one or you can opt to buy a portable outdoor unit. If you're going to use an extension cord outside, remember to use one that's approved for outdoor use. 
Tip #6: Secure Your Inflatables 
If you're going to put an inflatable Santa in your yard, be sure to secure it down properly! It can become a dangerous projectile and cause damage to your property, your neighbors, or even a car accident if it's not secured right. And if there's bad or windy weather, or if you're going to be gone for holiday travel, go ahead and turn it off or set it on a timer. 
Tip #7: Don't Throw Your Wrapping Paper in the Fireplace 
It can be tempting to toss any wrapping paper into the fireplace for easy disposal but don't do it. You could accidentally start a flash fire because the wrapping paper could ignite suddenly and burn intensely. 
Tip #8: Burn Candles Safely 
If you're going to burn a candle, keep it away from curtains, bedding, paper, and other decorations to avoid starting a fire. And if you're going to leave your home or leave a room, don't forget to blow out the candle. And if you've got kids who like to grab things, a battery-operated candle will still set the holiday mood while also being safe! Lastly, avoid letting your candles wax buildup. Put out a candle that's got two inches of wax left to avoid heat damage to your furniture or the glass container from cracking and breaking. 
Tip #9: Place Cords and Decorations in Low Traffic Areas 
To avoid an accident, be sure to secure or hide any cords or decorations that could be tripped or stepped on. If someone were to trip on an electrical cord on your property and get injured, they could sue you. 
Tip #10: Be Aware of Poisonous Plants 
Plants can be beautiful and festive, but also poisonous if ingested. Common holiday plants that can be dangerous to pets and kids are poinsettias, holly, mistletoe, pine, and amaryllis. So if you're worried about someone in your home ingesting something they shouldn't, it's best to go the artificial route. 
Bonus Tip: Clean Up Properly
Once the holidays are done and you're putting away your decor, do a thorough clean of your home to remove any choking or injury hazards. Look for things like broken glass, metal hooks, or pine needles. Another thing to keep in mind, avoid stacking storage containers higher than eye level to avoid damage or injury from toppling over. 
The holidays are a wonderful and cheerful time and no doubt one of the best parts of the year. Deck the halls of your home safely this year and avoid any accidents by taking a few extra precautions so you can focus on your friends and family! Should an accident happen, your TGS Insurance agent is here to help. You can easily find all the necessary information you need to file a claim here. And if you're looking to add some jingle to your pocket this holiday season, get a hassle-free homeowner insurance quote to see how much you could be saving!