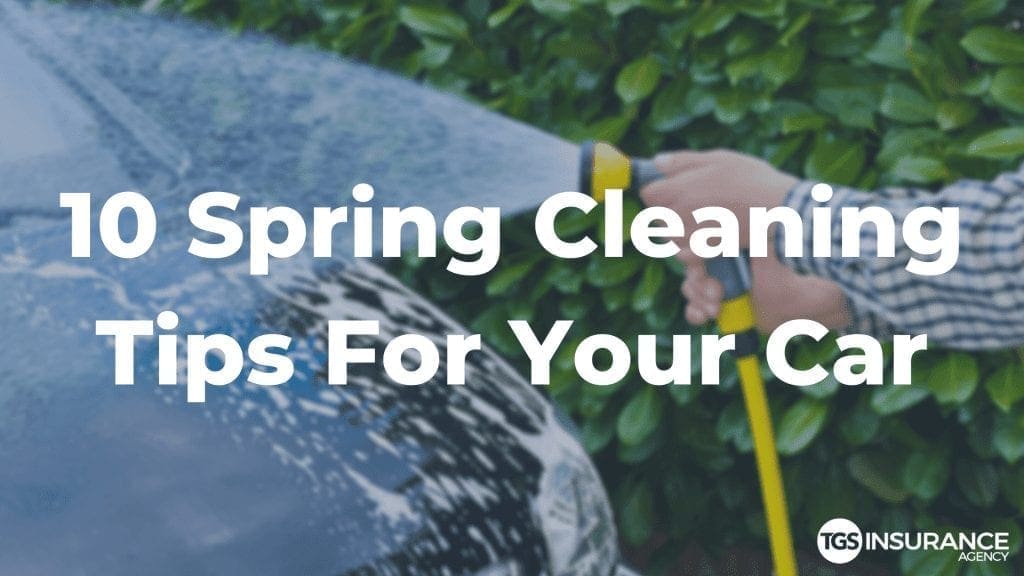 The start of the spring season can give us all a little inspiration to refresh and renew different aspects of our lives. Our homes and clothes typically get a spring clean makeover, but our cars are also in need of a good deep clean. The winter season can be harsh on cars, so the transition from winter to spring is the perfect time to take care of your car's maintenance. Here are 10 spring cleaning tips to help give your vehicle some TLC before the harsh summer months hit.
Change Your Oil
Keeping up with oil changes is key in preserving your vehicle engine's life and cleanliness. According to AAA, you should change your oil every 5,000 to 7,500 miles, but if your car's engine requires full-synthetic motor oil, it might go as far as 15,000 miles between services. If you don't care for your vehicle's oil, you risk the chances of dirt build-up in your engine.
If you get your vehicle's oil changed by a professional mechanic, they typically provide you with a sticker to help remind you when to get your next oil change. But if they don't you can use the winter-to-spring and summer-to-fall transitions to help remind yourself.
Rotate Your Tires
Rotating your tires means moving them from one wheel to another, whether that be left to right, front to back, or even diagonally. The reason rotating your tires is important is because tires tend to wear unevenly. Your front tires tend to wear on the outside edges because the tire leans over when you turn a corner and your rear tires just follow the front ones, so they usually wear more evenly, according to NTB.
A good rule of thumb is when you change your oil, it's also a good time to rotate your tires. This will help you make sure your tires wear evenly as well as maintain a regular tire rotating schedule.
Check All Your Other Fluids
Keeping up with your fluid levels is one of the most crucial things you can do to keep your vehicle in tiptop shape. Checking your fluids means inspecting your brake fluid, power steering fluid, motor oil, and even washer fluid. According to J.D. Power, if you avoid the proper fluid level checkups some parts of your engine won't get the lubrication it needs, which can result in premature engine wear, and over time it can lead to expensive repairs.
Repair Any Scratches
If you have major damage to your vehicle, then you might need to take a trip to a local body shop to have the scratches professionally fixed. But if you have minor scratches, then you can easily repair them with an at-home scratch repair kit. The Family Handyman lists their favorite at-home paint repair kits to help get rid of those pesky scratches and get your car looking good as new, all without breaking the bank.
Get Your Vehicle Professionally Detailed
Giving your vehicle a good deep clean will help transform both the exterior and interior. You should get your car detailed at least every four to six months. That being said, you can never have your vehicle looking too nice so if you want to do it more frequently, go on ahead! Getting your vehicle regularly detailed is key in keeping your car looking good as new!
Wax Your Car
Regularly waxing your vehicle is essential because it helps preserve the clear coat over your vehicle's paint. The clear coat protects the paint from corrosive elements such as snow, rain, UV rays, bird droppings, tree sap, etc. Once the clear coat wears away, the paint can lead to fading, discoloration, and eventually, rust.
According to J.D. Powers, there isn't an exact time-frame for how often you should wax your vehicle. In some cases, some individuals wax their vehicle twice a year, whereas some find it necessary to wax every three to four months or with the change of seasons. Some will even wax their vehicle every eight weeks. No matter how often you wax your vehicle, it is a necessary element in keeping the exterior of your car in the best possible condition and maintaining your vehicle's resale value.
Check For Any Ongoing Recalls
Many car owners aren't aware that their vehicle is under recall, but the easy way to check is to actually contact your dealer and ask them. Automakers and their dealers are required to repair a recall issue at no cost.
Another way to see if your vehicle is under recall is by heading to the National Highway Traffic Safety Administration's recall page. You can start by entering your vehicle's VIN number and if nothing comes up then you're golden. But if an open recall does pop up, then move to the next step where they will guide you through the process and how to go about the situation.
Look For Leaks
If you drive an older car, you may be more prone to a leak happening. You can inspect for leaks by placing a piece of cardboard under your car and gauging the leaks. Here is what to look for:
Transmission fluid is reddish
Oil is black
Brake fluid is brown
Coolant is yellow-green
If you do come across a leak, take your vehicle to a trusted mechanic to find the source and get it fixed as quickly as possible. Do not procrastinate in addressing this issue because it can lead to major damage to your engine.
Inspect Your Brakes
Brake pads are an essential part of your vehicle's braking system and keeping them functioning properly is crucial for the safety of both you and other drivers around you. According to Nubrakes, your brake pads should be replaced every 40,000 to 50,000 miles, but that number can vary depending on your driving habits.
When you get your brake pads inspected, have your mechanic evaluate your brake rotors. They typically don't have to be replaced if you service your brake pads regularly, but it doesn't hurt to have them looked at by a professional.
10. Clean Out The Junk in Your Vehicle
Over time, our vehicles can sometimes turn into storage units for our personal items. Now is the time to empty all your cupholders, glove compartments, center consoles, and any other cubbyholes you have in your vehicle. Remove any luggage or cargo that you have been using as a second closet and find the appropriate place for it. Your vehicle won't actually feel clean until you remove all of the unnecessary items inside of it.
If you're looking to organize your vehicle, take a look at this list of 51 organization hacks to make your ride just a bit more de-cluttered.
How Vehicle Maintenance Affects Your Auto Insurance
Proper vehicle maintenance is extremely important for your safety and those around you, but it can affect your auto insurance rates as well. Insurance providers sometimes offer discounts to drivers who keep their vehicles in good condition. You should keep maintenance receipts and records to show your provider that you care about the safety of your vehicle and you may be rewarded with premium discounts.
Something to take into consideration is that your auto insurance policy will cover the costs of repairs if the issue is a result of a collision or another covered peril such as theft or fire. But it will not cover the costs for routine wear and tear or mechanical breakdowns, which gives you even more of a reason to perform regular vehicle maintenance.
Stay Protected With TGS Insurance
The spring season is the perfect time to rejuvenate the interior and exterior of your vehicle. Not only will it help prolong the life of your vehicle, but it will also keep you and the drivers around you safe. It also will give you peace of mind knowing you took the proper precautions to make sure your vehicle is in peak working condition. If you're lucky you may even qualify for discounts on your auto insurance premium! So now is the time to get in the spring cleaning mood and take care of your vehicle's maintenance.
If you're interested in a bit of spring cleaning on your finances, have a TGS Insurance agent evaluate your current auto insurance policy for potential savings! We shop your policy across our bank of 35+ A-rated (or better) auto insurance carriers to find you the best rate and coverage available on the market. We'll even handle the entire enrollment process from start to finish for the easiest shopping experience ever. Shopping and comparing auto insurance policies can be so simple with TGS Insurance!
Source: Insider