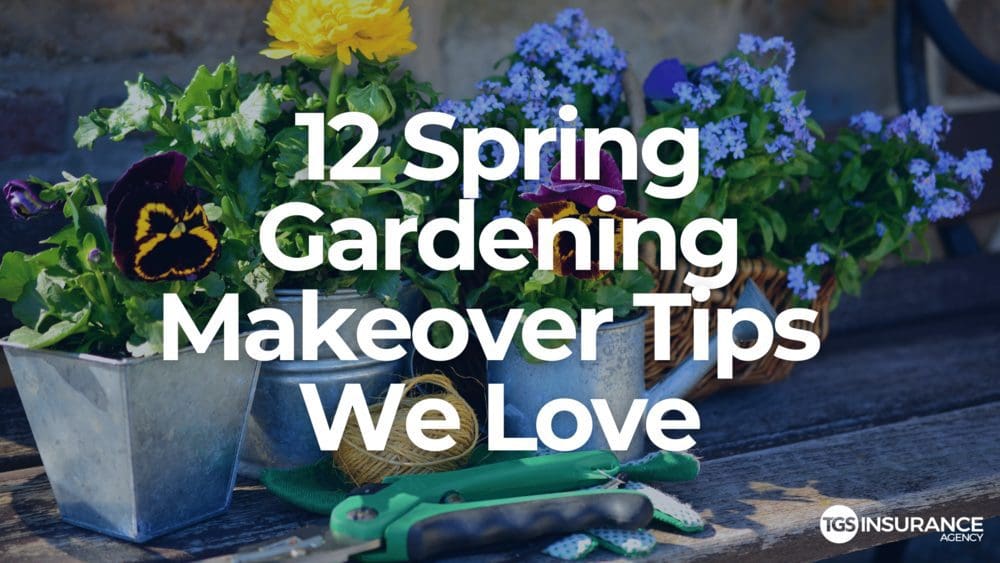 With the harsh winter season Texans had to face this year, it's easy to say that we are ready for some warmer weather. Brutal freezes can put a lot of strain on us, our homes, and our gardens. After the once-in-a-lifetime freeze, your garden and yard are likely in need of a desperate makeover and TLC. The start of the spring season is just around the corner, so it's time to get outdoors and dust off your gardening tools to bring your yard back to life. Here are 12 makeover tips you can do to make your garden flourish this spring.
Spring Inspection Time
First things first, get out a notepad and head outside to see what needs tending to.
Make note of tree limbs that should be removed, especially if they hang over your home or other structures.
Look at last year's perennial foliage. You will need to cut off its growth and throw it into a compost pile.
Inspect beds planted with bulbs before the foliage appears.
Checkout your hardscape areas such as fencing, steps, and pathways for damage caused by the winter freeze.
By keeping a list, it will help you stay organized and on task!
2. Tune Up Your Tools
Just in case you weren't able to properly store your tools during the winter, take some time to perform some maintenance so they're in good working condition for when you need them. Your pruners can benefit from a good sharpening and your wooden handle tools benefit from being cleaned, sanded, and use a good coat with linseed oil.
3. Complete a Thorough Spring Cleanup
Clean out any plant debris such as fallen branches, leaves, last year's perennial foliage, and those stubborn weeds out of your garden. Just like humans, your garden needs to maintain good hygiene to help keep out pests and diseases that can harm your plants.
If you have a pond or water feature around your garden, now is a perfect time to clean those out as well. The easiest way is to create a water solution made of one cup of bleach and five cups of water. The mixture should help kill off any lingering diseases or insect eggs that can hinder your plants' growth.
4. Give Life to Your Lawn
Springtime is an important time of year if your yard has grass. Make sure your mower and leaf blower are in good, working condition. You can send it in for servicing or if you can do it yourself by sharpening the mower blades, refilling your mower with oil, installing fresh spark plugs, and lubricating moving parts. Scan your lawn for winter debris and areas that need reseeding before mowing.
5. Prune Those Perennials
Pruning will help your shrubs and perennials maintain good plant health. By cutting out dead, dying, diseased, or damaged branches you will help your plants grow better. Below are some tips on how to properly prune:
Get out your best pair of pruners and cut off anything that looks dead.
Typically, flowering shrubs have more success at blooming on new branches. Cut down on the branches of flowering shrubs such as hydrangeas, roses, and butterfly bushes. This will help their buds have a fresh start for a ton of growth this spring.
This is also a good time to clip back on the branches of your evergreens as well
Avoid pruning early flowering shrubs such as azaleas, lilacs, and weigelas because they bloom best on old branches. If you do, you take the chance of cutting off this season's flower buds.
6. Prepare New Beds
Start by digging the soil to help add oxygen and relieve compaction, then add a compost that will help you start off with rich, living soil. Clear the planting area by removing those stubborn weeds and any other debris. Spread a four-inch layer of compost or manure over the soil, and then cultivate the soil to a depth of 10 to 12 inches with a spading fork. Before planting you'll want to rake and smooth down the soil.
7. Plant from Bare-Root
Sometimes planting from the bare-root can be a bit daunting, but it just means the plants come to you dormant (not actively growing) and not in a soil-filled container. Once you place the plant in the ground or in potting soil, add some water, and the plant will begin to grow again.
8. Container-Grown Plants
Containerized plants are common and convenient and most of the time plants are only sold in containers. There are many advantages to container-grown plants such as:
They are sold throughout the growing season.
They are relatively easy to transport.
Unlike bare-root plants, they don't have to be planted immediately.
These plants can be purchased with flowers, fruit, or autumn leaf color on display so you know exactly what the plant looks like.
Both planting from the bare root and container-grown plants are great gardening techniques and you can incorporate both styles into your garden. But if you are wanting to visually see the plants and how they will look in your garden, then purchasing container-grown plants are the best way to go.
9. Separate Perennials and Relocate Shrubs
When your perennials begin to pop up, separate and transplant any perennials that have outgrown their space or have grown enough to divide. If you do decide to divide and move your perennials, it is best to do it in the opposite season in which they bloom. For example, if your plants bloom in the summer and fall then you should move them in the spring. Evergreen shrubs can be moved at the beginning of spring before their new growth develops or in early fall to give them enough time to rebuild their roots before winter.
Separating and relocating your plants in the right season is important because it helps avoid disrupting their bloom cycle. Moving them while they are dormant, will put less stress on the plant, as well as help them bounce back into action more quickly.
10. Fill in the Gaps
After you relocate and separate your plants check your garden to see if some areas in your garden are looking a bit bare. You can see if you have more plants you can separate or just buy more plants. Filling in the gaps helps your garden look fully flourished and it may even help you win garden of the month in your neighborhood!
11. Fertilize
Your garden is beginning to wake up and it will need a little boost. Apply balanced fertilizer or fish emulsion around trees and shrubs. Spread high-acid fertilizer and pine-needle mulch around acid-loving shrubs such as camellias, azaleas, blueberries, or citrus. You'll want to start fertilizing once active growth resumes.
12. The Power of Mulch
Adding mulch to your garden not only helps your plants thrive, but it's also aesthetically pleasing. A fresh layer of wood chips, straw, and even compost-type mulch will help everything look clean and take your yard to the next level. It not only will look good, but it will also make your plants feel good and help suppress weeds and retain moisture. Once you begin to see signs of decomposition, soil erosion, and discoloration, you will need to replenish or replace your mulch. About every five to six years you'll most likely need to remove and completely replace all mulch.
What Insurance Do I Need to Protect My Garden?
Once you have your garden looking good as new, you don't want all your hard work to go to waste. Did you know that your homeowners insurance policy protects your garden too? Some insurance providers consider a garden as a permanent feature of your home and your homeowners insurance policy will protect your garden as it would with other parts of your home and property. This coverage typically includes damage from storms, snow, and high winds and would apply to accidents that were out of your control. For example, if a tree fell and crushed your orange tree you spend so much time and effort growing, then your homeowners insurance policy will cover you. Be sure to brush up on your home insurance policy to see what coverage you have and speak with your provider to see if you need to raise your coverage limits to ensure your garden is protected.
If you have concerns, questions, or just want to know more about your home insurance policy, speak with one of the experts at TGS Insurance. Our team can help you get the coverage you need at a price that doesn't break the bank. We shop every policy we issue through our bank of 35+ A-rated (or better) carriers to ensure you're getting the best insurance policy the market has to offer. Get started with your hassle-free quote in 15 seconds or less using just your address!
Now that winter is coming to a close, get outside, enjoy the fresh air and show your garden some love! Tackling a brown and colorless garden after the harsh winter may seem like a daunting task, but these gardening tips will help bring some life back to your landscaping!
Sources: Martha Stewart, Sunset, Proven Winners