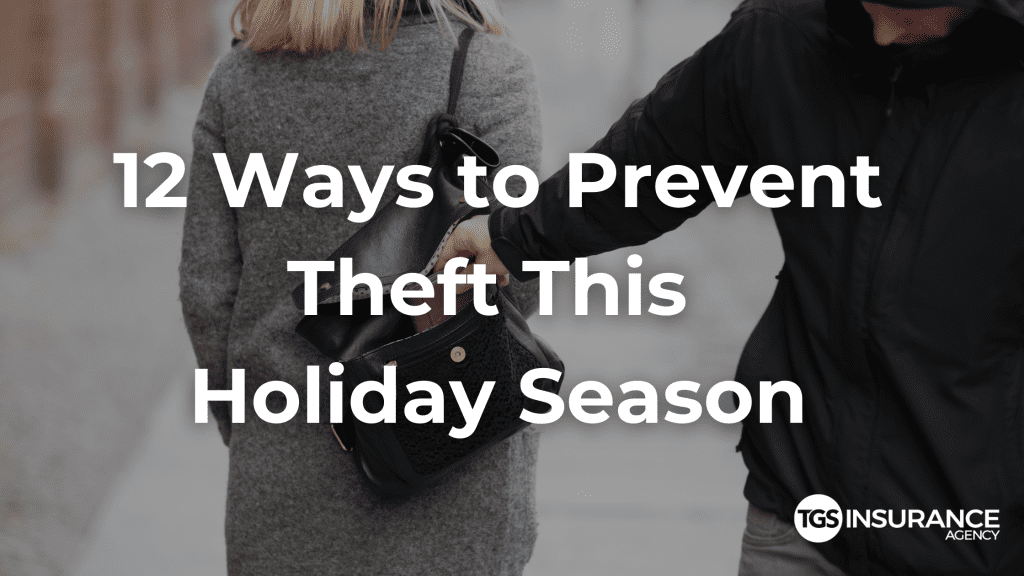 The holidays are a joyous time of year, but that cheer can often be soured if you're a victim of theft. Burglars know the holiday season is full of opportunities to steal a few goodies, whether that be from your doorstep, in your home, car, or online. Your home insurance policy will cover theft (up to a specific limit), but that doesn't take away your privacy or safety concerns after a thief runs off with your valuables. On a positive note, theft can be preventable if you take the proper safety precautions. Let's review 12 ways to prevent theft this holiday season. 
#1: Track your deliveries
If you plan on having items delivered to your home, make sure someone is there to get them inside as soon as possible so you don't fall victim to porch pirates. If you can't be home, have a trusted neighbor bring in your packages for you, or use alternative delivery options such as in-store pickup or send to a friend who may be home.
#2: Make sure all windows and doors are locked
Almost 30% of burglaries occur due to an open window or door. So whether you're at home or traveling, be sure to lock up! Consider purchasing an alarm system or security cameras so you can keep your eyes on and in your home when you're not there.
TGSI Tip: If you have a monitored home security system, you may be able to save up to 20% on your homeowners insurance policy! Talk to your insurance agent today about what discounts your carrier offers. 
#3: Keep your home well-lit
If you're going to be out of town for the holidays, keep your home's exterior lights on and use timers for your indoor lights. That way, you give the appearance of someone being home and decrease your chances of a burglar targeting your home.
#4: Hold your mail
When traveling, ask a neighbor or friend to collect your mail or go to the post office and have them hold your mail. Nothing says "I'm not home!" quite like a stack of mail in your mailbox.
#5: Don't advertise you bought something expensive
If you finally got that large-screen TV you've been eyeing or a new computer, don't just throw your boxes on the street for all to see. By displaying these types of boxes, you're letting potential thieves know you've got high-dollar valuables inside your home. Discreetly dispose of them by turning the boxes inside or stacking them with other boxes or bags, so it's not obvious.
#6: Hide shopping bags in your car
It's not uncommon for thieves to walk through mall parking lots and check for unlocked doors or open windows for an easy grab. Always lock your doors, roll up your windows, and keep your shopping bags from plain sight. If you've got small, expensive items, either lock in your interior storage compartments in your vehicle or carry them with you if possible.
#7: Conceal your cash
If you're shopping with cash, be sure to avoid displaying any large or multiple bills. If you're planning on using just cash, consider leaving your credit cards at home so in case your purse or wallet is stolen, you still have some sort of payment available.
Purses are often stolen when left unattended, even just for seconds. If you're using a shopping cart with your purse, hook the handle through your arm and make sure your purse is zipped shut so your wallet isn't easily retrievable. If you're unloading bags in your car, either wear your purse or put it in your vehicle and lock your doors while you load.
#8: Always lock your car
Whether you're running back inside your home to grab something or going inside a coffee shop to quickly pick up your coffee, leaving your car unattended, even just for a few moments, can leave you a victim of theft. Don't chance it, always lock your doors.
#9: Know your surroundings
Keep tabs on the surrounding area and anything suspicious when parking your car—Park in areas that are well-lit and have foot traffic.
#10: Be smart online
It's easy to stumble into a scam when shopping online, especially if you're fishing for a good deal. If you see an ad on social media, click around the website a bit to read more about the company, and always make sure you're shopping on the actual brand's website or one of their trusted retailers. It's easy for scammers to post fake ads posing as a brand just to steal your credit card information.
Stick with reputable brands and authorized resellers! If something seems fishy, it likely is.
TGSI Tip: Always look for the "lock" icon in your navigation bar when purchasing online. That trusted symbol lets you know the page you're on is secure, and it's safe to make your purchase. 
#11: Don't delete your order confirmation emails
Always track your packages! You should keep tabs on what's going on from the start of your purchase to when it gets delivered. That way, if your purchase doesn't ship after the appropriate amount of time or gets marked as "delivered" but didn't arrive, you can quickly act.
#12: Get the proper protection
Becoming a victim of theft can be avoided by taking the appropriate precautions to minimize your risk, but unfortunately, it isn't completely preventable. Get the right peace of mind with a good homeowners or renters insurance policy. Your policy will reimburse you for any theft up to a specific limit. So while it may not take the sting of having your valuables taken, you may at least be able to replace what was taken. Consider policy floaters for extra coverage if you've got high-dollar items like jewelry, electronics, or collections! 
Get The Right Insurance With TGS Insurance
Save on homeowners, renters, auto insurance, and more with TGS Insurance! We don't believe our customers should ever have to sacrifice the coverage they need just for an affordable premium- we deliver both! By shopping every policy we write through our bank of 35+ A-rated (or better) carriers, we provide a winning insurance policy to our customers every time! See why over 15,000 customers trust TGS Insurance for all of their insurance needs and get your hassle-free quote today.
Check out our reviews– we'll let our customers do the bragging for us! No fuss, no gimmicks, just great insurance for all. 
Source: PropertyCasualty360