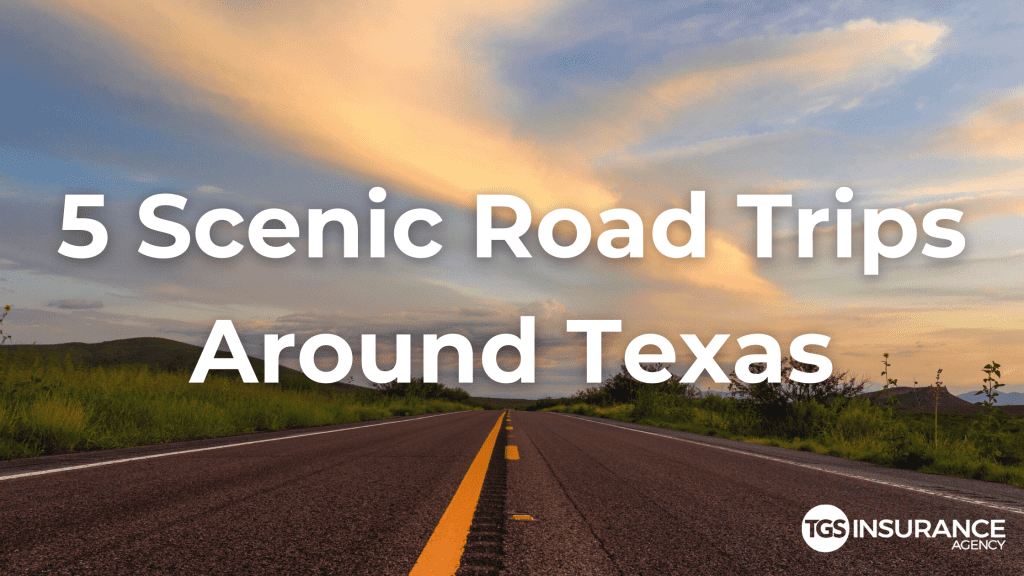 There is more to a road trip than just getting to point A to point B. It serves as an opportunity to see a part of the world that may be different than your own. If you are tired of seeing the same old, same old, consider taking alternate routes that allow you to experience the scenic views Texas has to offer.
We've put together some of our staff's favorite trips to take that will show you our beautiful state in another way. From rolling backroads, historic landmarks, natural wonders, and breathtaking views- these road trip ideas have it all! Whether you're seeking rustic charm, a refreshing pool of spring water to dive in, or a history lesson, these alternate routes will inspire you to stop and appreciate the natural beauties of our great Lone Star State!
Georgetown to San Antonio
Miles: 130
Timeline: Two days
Lodging: The Comal Inn in New Braunfels features two cottages for rent across from the Comal River. It averages about $90 a night and up, with a two-night minimum on the weekends.
In between Georgetown and San Antonio is a 107-mile stretch of Interstate 35 where picturesque views and hidden spring holes can be found. You can leap into a variety of cool pools from Georgetown to San Antonio in a single day or break up your drive by staying overnight in New Braunfels or San Marcos.
Georgetown is home to the Blue Hole spring lagoon on the South Fork of the San Gabriel River. It's boarded by limestone and provides shallow waters for your kiddos to splash around, as well as deeper areas for experienced swimmers to get some laps in. But don't stay too long because only 31 miles south in Austin, is Barton Springs in Zilker Park. Austin's prized possession is open all year long for locals and tourists to cool down in its consistent 68-degree water. The giant pool spans 3 acres and hosts over 800,000 swimmers each year.
If you go 30 more miles down I-35 you will come across San Marcos, which is home to the second-largest freshwater spring in Texas. San Marcos Springs flows into the San Marcos River, where crisp waters are a popular site with the tubing crown. Rio Vista Park is a few miles downriver and is a favorite spot for tubers, swimmers, canoers, and kayakers, all of whom anticipate sliding down the rapids in the center of the dam.
A good spot to grab a bite at is Herbert's Taco Hut. Nothing is better than some tasty Tex-Mex after afloat on the river. After your lunch, head down about 20 miles south to New Braunfels. If you want to avoid the tourist attractions like Schlitterbahn or the city-owned Comal River Tube Chute water slide, the Landa Park Pool is a lowkey and underrated attraction. Located near Comal Springs, it's the largest complex of freshwater springs in Texas. Constructed in the early 1900s, the pool has concrete borders and is one of the oldest bathing pools in the state. Landa Pool features fun, family-friendly amenities such as a fountain, rope swing, climbing-rope net, and water slide. Next to the spring-fed pool, you can take a dip in the Olympic-sized pool with chlorine water.
The journey ends in San Antonio at San Pedro Springs located in San Pedro Park, the oldest park in Texas. The San Pedro pool was built in 1922 and was a popular attraction through the 1940s until the spring completely dried up. With the help of some heavy rainfall and comprehensive renovations, it helped bring the pool back to life to become again the popular spring-hole it once was. Today San Pedro Springs attracts summer tourists to its chilly waters that sit under the flourishing cypress trees.
Wichita Falls to Odessa
Miles: 315
Timeline: Three days
Lodging: At Hotel Settles in Big Springs, 65 rooms and suites provide luxurious stays, alongside a bar and grill that serves all the food you can imagine.
The highway that links Canada and Mexico together is US 281 and is one of Texas' most breathtaking routes. This path cruises through the Palo Pinto Mountains where mesquite, juniper, oak, and sumac trees all grow harmoniously in the heart of the Hill Country.
If you're looking for a good workout, Rochelle's Canoe Rental in Graford, 19 miles west of Mineral Wells is the perfect spot. You can rent canoes and kayaks for a 10-mile excursion down the Brazos River. If you need to take a break, pull over to have a nice picnic under the shaded oak trees along the river bank. Later on, explore the iconic Baker Hotel in Mineral Wells, which will be historically renovated and restored over the next three years!
Heading south on 281 you can drive over the Brazos River on the WPA-era steel truss bridge and in a few miles, you'll be able to spot a gigantic rocking chair in a gravel parking lot. The World's Largest Cedar Rocking Chair is the landmark for Natty Flat Smokehouse near the small-town Lipan. This famous rocker was recognized in the Guinness Book of World Records, which stands 26 feet high, 12 feet wide, and weighs 5,672 pounds. After admiring the massive rocking chair, head inside the BBQ joint to enjoy some delicious smoked brisket, ribs, and jalapeno sausage.
If you travel 23 miles toward Stephenville, you can get your very own custom straw or felt cowboy hat. From there, you can drive another 20 miles to downtown Hico, which features home decor shops like Hill Country Dwellings. Devour handcrafted sweet treats such as truffles, toffee, and pecan caramel clusters at the famous Wiseman House Chocolates.
If you head even farther south, you can bask in the beautiful hilly region and make a stop in Lampasas to take a dip in Hancock Springs. This century-old pool is the perfect spot to cool off and is sourced with purse mineral water that continuously flows from a local spring. After a chilly swim, you may want to grab a bite to eat at Storm's Drive-In for a classic burger and milkshake.
To top off a long drive, just 22 miles away in Burnet, Wedding Oak Winery opened a tasting room where visitors can savor in its various red and white wines that are made with grapes from the Texas High Plains and Hill Country.
West Columbia to Corpus Christi
Miles: 156
Timeline: Two days
Lodging: Stay at The Peaceful Pelican Bed and Breakfast in Palacios. It's a Victorian-style home with rates at about $150 a night.
The first stop begins in south Houston in West Columbia, this small, charming town was once the capital of the Republic of Texas for about three months in 1836. You can see the state historical marker on Brazos and Brown streets to discover the history of Charlie Brown, the biggest landowner in Brazoria County, who created the county's first school for African-American children. You can visit the Varner-Hogg Plantation and learn more about Brown's life and the pioneer days.
Head back on the road to Matagorda Bay, where you can roll your car windows down to feel the gusty breeze from the Gulf of Mexico. In the town of Palacios, many birders and fishermen shop at The Point, a great stop that combines a convenience store, Vietnamese and Mexican restaurant all into one place! This popular social hub was once visited by the late chef and TV personality Anthony Bourdain, so road-trippers can expect some tasty dishes. You can enjoy crispy spring rolls and slurp up some pho while on a picnic looking over the scenic bay.
The journey continues toward Rockport or you can take a 45-minute detour to the Aransas National Wildlife. This immaculate sanctuary overlooks San Antonio Bay where you can take a brisk stroll on Heron Flats, a 1.5-mile trail that promises sites of long-legged birds treading through the marshes in search of their next meal. The natural phenomenons continue just 10 miles north of Rockport in Goose Island State Park, home to the famous Big Tree. Experts have determined that this live oak could be more than 1,000 years old, and even Hurricane Harvey couldn't blow this resilient tree down.
Between Palacios and Rockport, you can get an excellent photo opportunity if you time it right. State Highway 35 crosses over the glimmery San Antonio, Lavaca, and Copano bays, where rivers connect with the Gulf of Mexico. The surrounding beautiful bodies of water may encourage you to pull over and watch the pink and orange swirls at the Copano Bay Fishing Pier just as you arrive at Rockport.
Before you head out of Rockport, stop by Glow, a former sailboat repair shop that transformed into a local seafood joint overlooking the bay in Rockport. Glow provides some of the best meals on the Texas Coastline, alongside a fun, beach vibe. They are known for their Rockport Chowder that is made of local shrimp, crab, and oysters, but all of their food is seasonal and homemade.
Just 28 miles south you'll come across the city of Portland, where you can part ways with the mellow coastal road as it merges into the much bigger US 181. A two-mile walk in Sunset Lake Park is a great place to stretch out your legs.
Be sure to take lots of pictures, because heading toward Corpus Christi, you're forced back into the hustle and bustle of multiple lane highways and drivers in a rush to be somewhere. It will make you appreciate the tranquility of cruising off the coast-hugging highway you were just on!
The El Paso Loop
Miles: 281
Timeline: Four days
Lodging: The renovated 1930s Hotel El Capitan in Van Horn has 50 rooms (12 have private balconies), a dining room, and a bar. Rates typically range from $109 to $175 per night.
Along State Highway 62 from El Paso to Hueco Tanks, urban life diminishes into the rural lifestyle of local businesses, body shops, authentic taquerias. Eventually, you won't see much of anything as the Hueco Mountains take over. In fact, you won't see much of normal civilization for about 149 miles until you get to Van Horn.
If you are into rock climbing, then you'll have a blast at Hueco Tanks State Park. Part of the park's main attraction is geology, a dome created by hot magma that once cooled beneath the earth's surface millions of years ago. Over time, erosion exposed the dome, which allowed for water and wind to create natural shelves, overhangs, niches, and crevices, making it the perfect spot to rock climb. The park is also home to the largest collection of rock-art face designs in North American. About 870 years ago, Jornada Mogollon people painted over 200 mask-looking faces on the rocks. You can see these ancient paintings by hiking to Cave Kiva on Huecos North Mountain. Prepare to get down on your hands and knees to belly-crawl under truck-size boulders to see the eight of the paintings.
Heading further east along 62, the landscape begins to combine Texas deserts with New Mexico scrub, providing road-trippers with a Western-movie feel. Once you hit 90 miles, the most impressive views in Texas await in the Guadalupe Mountains National Park. If you have the stamina, you can take on the six to eight-hour round trip hike to Guadalupe Peak. For those seeking a much less intense hike, the park features Frijole Ranch, which offers several shorter hikes.
In the desert stick of Van Horn, the route continues between the Delaware Mountains and the Sierra Diablo, known for the state's first reestablished bighorn-sheep population. You'll also pass by Blue Origin's rocket launch facility, a modern building that sticks out among the desert vibes. The privately-funded aerospace company is owned by Jeff Bezos, where the combination of Blue Origin's vertical launch-and-land spacecraft and NASA partnerships have made the company top in modern rocket technology.
Heading down I-10 back to El Paso, you'll see the beautiful mountainous landscape of the Sierra Blanca, Eagle, Finlay, and Quitman mountains all nestled together. These jagged, low-lying mountains are the perfect photo opportunity for all.
Waco to Longview
Miles: 174
Timeline: One day
Lodging: The Countryside Inn in Malakoff offers affordable accommodations for around $55 a night. Another option would be to rent a cabin on Cedar Creek Lake on VRBO or Airbnb.
State Highway 31 between Waco and Longview is a captivating alternative route that allows you to experience charming small towns like Tyler and Corsicana. SH 31 is four lanes in a two-lane country, nestled in between luscious greenery in every direction.
The start of your trip is 30 miles northeast of Waco with breakfast at The Original Burrito Barn in Hubbard. What is better than your choice of three breakfast items all wrapped up in homemade tortillas? If you're not still full from breakfast, head over to Stanley's Famous Pit BBQ, 100 miles away in Tyler. This BBQ joint is known for its Mother Clucker sandwich, featuring chicken, eggs, candied bacon, and guacamole.
Along SH 31 you'll stumble across Malakoff, "The Gateway to Cedar Creek Lake," nine miles west of Athens. The lake is perfect for boating and fishing along its 320-mile shoreline. After a day well spent on the lake, you can unwind by heading to Veron's Lakeside Restaurant for some live country music and chicken-fried steak.
What to Know About Auto Insurance Before You Head Out on the Road
Before you head out on your road trip, you should take a glance at your auto insurance policy. You want to have peace of mind knowing you are protected the whole trip so a quick overview of your policy wouldn't hurt.
If you have full coverage on your auto insurance policy then you should be set for your trip, but if you don't here are the must-have coverages you should talk to your insurance agent about adding to your policy:
Roadside Assistance: Having 24/7 emergency roadside assistance is a must-have when taking alternative routes. Typically these back roads are less populated, so having roadside assistance is a no-brainer. It helps you with various car trouble and towing assistance if you need it.
Comprehensive Coverage: This coverage will protect your car from vandalism, theft, or other covered perils that lead to damage. As you park your car in new, unfamiliar places, comprehensive coverage will definitely ease your worries.
Uninsured/Underinsured Motorist Coverage: This type of coverage helps cover the costs for any damages that happened to your car in the event of an accident caused by an uninsured driver. You'll be cruising through new towns and will be on the road with different drivers, so this coverage adds an extra layer of protection that will keep you covered on any trip.
Taking alternative routes allows you to connect with different parts of the world and make everlasting memories. You get to see natural wonders, historical markers, and quirky sites that you wouldn't normally see along major highways. They can turn a boring drive into an exciting, thrilling adventure that makes you want to stop along the way to take in the beauty. See Texas through a new perspective and learn to love your state a bit more!!
If you need assistance with adding more coverage to your auto insurance policy, contact the agents at TGS Insurance! Our team can find you the coverage you need for the best price on the market by comparing your policy across a bank of over 35 highly-rated insurance providers. Our customer service team will walk you through the entire process from start to finish, so you can have a stress-free buying experience. No gimmicks, just really great auto insurance coverage for the lowest price. Shopping for car insurance can be so easy with TGS Insurance.
Source: Texas Highways