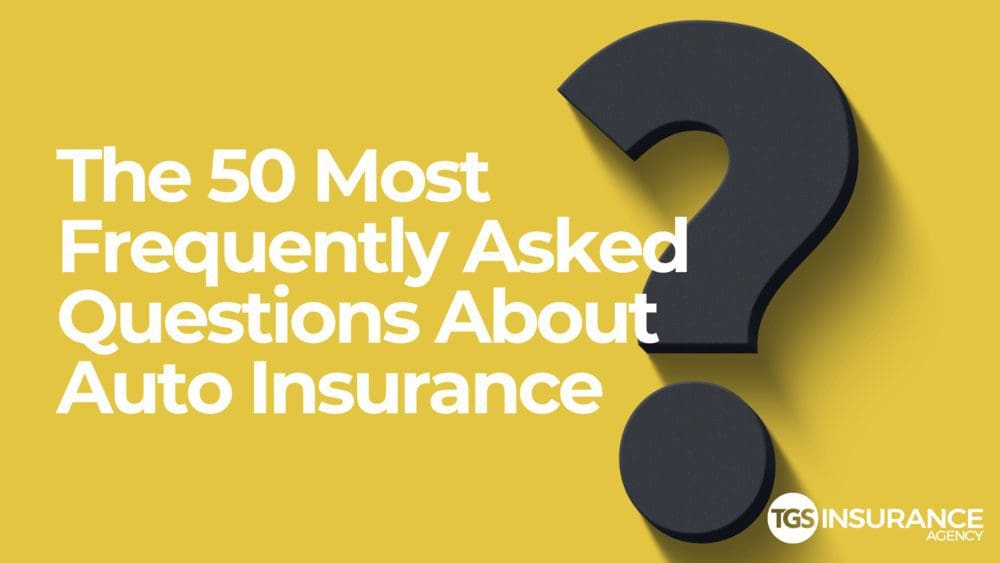 Sometimes the world of insurance can be an intimidating place, especially if it's your first time shopping and comparing different providers. When it comes to auto insurance, it can be a bit confusing because it's made up of multiple coverages that provide different types of protection. We put together the most common questions asked about auto insurance to help break down those confusing terms to help you have a better understanding of how auto insurance works!
What Are the Different Types of Auto Insurance Coverage?
There are eight different types of auto insurance coverage: 
Liability coverage

Collision coverage 

Comprehensive coverage 

Medical payments coverage

Personal injury protection (PIP) coverage

Uninsured/underinsured motorist coverage

Towing and labor coverage

Rental reimbursement coverage
2. What Does Liability Insurance Protect?
Liability insurance covers the costs to repair another person's property or for their medical bills if you are held responsible for causing injuries and damages. In Texas, you are required to have 30/60/25 coverage, which means you must have at least $30,000 of coverage for injuries per person, a total of $60,000 per accident, and $25,000 of coverage for property damage. 
3. What Does Collision Insurance Cover?
Collision insurance helps pay to repair or replace your car if it's damaged in an accident with another vehicle or object, such as a fence or a tree. If you're leasing or financing a car, a lender will typically require you to have collision coverage.
4. What is Comprehensive Coverage?
Comprehensive coverage pays to repair or replace your car if it gets stolen or damaged by something other than collision coverage such as wind, fire, hail, flood, vandalism, falling objects, and hitting an animal.
5. What Does Medical Payments Cover?
 Medical payments or MedPay cover the costs for injuries for you and your passengers if you experience a car accident, regardless of who is responsible for the car accident. It also pays the medical bills if you or a member of your family is hit by a car while on foot or riding in someone else's vehicle.
6. What is Personal Injury Protection (PIP) Insurance?
Personal Injury Protection (PIP) helps pay for medical bills, lost wages, or funeral costs after a car accident, no matter who is at fault. In Texas, every auto insurance policy includes PIP coverage.
7. What Does Uninsured Motorist Insurance Cover?
Uninsured motorist insurance covers damages, medical bills, pain and suffering, lost wages, and funeral expenses up to your policy limits after you were involved in a crash with an individual who does not have auto insurance and is at fault for the accident. 
8. What is Towing and Labor Insurance Protect?
Towing and labor insurance is an optional coverage that you can add to your auto insurance policy. It typically covers the costs for labor related to common roadside breakdowns such as a flat tire, breakdowns, or even if you lock yourself out of your car.
9. How Does Rental Reimbursement Cover Work?
Rental reimbursement helps you pay for transportation expenses while your car is being repaired after a protected insurance claim. It doesn't cover the costs if your car just needs routine maintenance or if you need to rent a car while traveling. 
10. How Much Does Auto Insurance Cost?
The price of your auto insurance depends on a few factors including what car you drive, your age, and how often you drive, as well as if you opt for a state minimum policy for a full comprehensive policy. A state minimum policy costs the average U.S. driver $565 per year whereas a comprehensive policy costs an average of $1,674 per year. At TGS Insurance we save our customers $1,237 per year on their auto insurance policy!
11. What Influences the Price of Auto Insurance?
State Requirements-

Each state has its own laws about car insurance that have different minimums and categories of coverage they require. Typically, the more coverage required, the more expensive your policy will be.

Car Make and Model-

Some cars are more expensive to insure than others. Insurance providers like cars that have a lot of safety features because they're less likely to file a claim. In addition, some cars are statistically more likely to get stolen and as a result, they will also be more expensive to insure. Remember, it all boils down to risk! 

Age-

Typically, young drivers and drivers above the age of 65 have to pay more for auto insurance.

Yearly Mileage-

The more you drive, the more likely you are to be in an accident, so providers typically charge more if you drive more frequently and if you don't drive often, you can expect to pay less.

High-Risk Violations-

Traffic violations and car accidents mean you could see an increase anywhere from

20% to 200%

. 

Credit History-

If you have poor credit or no credit history, insurance companies typically charge more than those with better credit. 

Driving Record-

If you have a clean driving record, you could expect to pay

40%

less than drivers who have a bad driving record. 

Zip Code-

Where your car primarily is parked helps providers determine the crime rates in your area. You can expect to have a higher premium if your area experiences a lot of crime.

Gender- Men under the age of 25 pay the most for car insurance and about 15% more than young females. The gender gap evens out once drivers reach their 30s. This article provides more information regarding teens and insurance rates.
Marital Status-

Married drivers are less risky to insure and experience

50%

fewer accidents compared to other drivers. This is because married couples are less likely to participate in risky behavior when compared to singles. 
12. How Do I File an Auto Insurance Claim?
In the event you are in a car accident, always exchange insurance information with the other driver involved. You should also have a police report explaining what happened to have an unbiased witness explain the situation- this may come in handy later down the line. Call your insurance provider as soon as possible after you have spoken with the police and exchanged information with the other driver. If the accident was their fault, explain to your provider what happened and the insurer will file the claim against the other driver. Be sure to document as much as you can with pictures and videos! Check out our complete guide to filing an auto insurance claim for more information.
13. How Do I Cancel My Auto Insurance Policy?
Every insurance provider has its own rules when it comes to canceling. If you decide to cancel your policy before your term is over, you may have some sort of financial penalty. Be sure to talk to your insurance agent about canceling your policy before you do so. 
14. When Should You File an Auto Insurance Claim?
You should file a claim if you can't afford the expenses out of pocket. Something to remember is that every claim you file means your rates will increase, so only file if you absolutely need to. If you do decide to file, keep in mind that you will still have to pay a deductible. Our advice is that if the damages are lower than your deductible, then you should just pay the damages out of pocket to avoid an increased auto insurance rate.
15. Does Auto Insurance Protect Me From Theft?
Yes, your auto insurance provider will help pay for your stolen vehicle if you've got comprehensive coverage on your auto policy! Be sure to check your auto insurance for a list of covered perils to ensure you've got theft coverage. 
16. How Will Purchasing Auto Insurance Benefit Me?
Auto insurance was crafted to help with the financial burden that follows an accident or incident, such as theft or vandalism. Without it, not only could you reap financial problems but you could also get into legal trouble. Texas law requires all drivers to carry a minimum amount of auto insurance. If you are not insured and get pulled over, or even worse, you get into a car accident, you will be responsible for a heavy fine on top of all the legal trouble and financial damages you will need to figure out. 
17. What is an Auto Insurance Score?
An auto insurance score is a rating gauged by insurance companies that represents the chances of you filing an insurance claim while under their protection. Your score is based on your credit score and will affect your premium.
18. What is Considered a Good Auto Insurance Score?
Auto insurance scores typically range between 200 to 997. A good score is about 770 or higher.
19. What is the Best Auto Insurance for Teen Drivers?
It's hard to say who has the best rates for teenage drivers because each insurance carrier has its own way of determining its rates. We've compiled an article with information about adding a teen to your auto insurance policy that covers this and available discounts more! 
20. How Long Does an Auto Insurance Claim Take?
Each state has its own rules about how long it takes for a claim, but Texas requires a claim acknowledgment within 15 days of a claim being filed. The approval or denial process has to be made within 15 days of all required documentation being received, but your insurance adjuster can extend it to 45 days if there is a good reason.
21. What is a Declarations Page for Auto Insurance?
Your auto insurance declarations page is a concise overview of key information about what coverage and limits you have. It's built on the basics of your car insurance coverage, your insurer's contact information, and a summary of other specifics you may need.
22. How Do I Get the Cheapest Auto Insurance?
The best way to get a low auto insurance rate is to shop your policy around with different providers. We know this is time-consuming, which is why TGS Insurance can do it for you! We search in our bank of over 35 highly-rated insurance providers to find you an auto insurance policy that fits your coverage and budget needs!
23. How Much Does Full Coverage Auto Insurance Cost?
The average cost for a full coverage auto insurance policy in Texas is about $2,653 per year. 
24. What is an Auto Insurance Deductible?
The deductible is the amount you have to pay before your provider will pay for any damages or losses. The average deductible a driver will pay is around $500. 
25. What is an Auto Insurance Premium
Your auto insurance premium is the monthly or yearly rate you pay to keep your policy effective.
26. How Do I Switch Auto Insurance Providers?
To switch auto insurance providers, you'll need to understand when your current policy ends so you don't end up paying any additional fees for canceling your policy early. From there, you just work with your new insurance provider and give any information that they request. At TGS Insurance, our agents will take care of switching providers for you so you can stay insured without all the hassle. 
27. Why is My Auto Insurance Premium so High?
New drivers and teen drivers will have the highest auto insurance premiums. If you have been in several accidents or have traffic violations such as a speeding ticket or DWI you can expect to see a drastic increase in your insurance rates as well. 
28. Is Auto Insurance Tax Deductible?
Your auto insurance is tax-exempt only if you use your vehicle for business purposes. If you use your vehicle for both personal and work, then you are allowed to deduct your insurance costs for the percentage of the work-related time used in your vehicle.
29. What is an Auto Insurance Quote?
An auto insurance quote is an approximation of how much you will pay for your policy. Your quote is based on the information you provide, such as your age, the car you drive, your gender, credit history, as well as other determining factors.
30. Can I Purchase an Auto Insurance Policy Without a Drivers License?
Legally, you can get an auto insurance policy without a drivers license but it wouldn't be easy. Most insurance carriers are weary to insure a driver without the proper license. 
31. Who Pays First Auto Insurance or Health Insurance?
If you have medical coverage on your auto insurance policy, then we recommend that you use this coverage before tapping into your health insurance policy. Your medical coverage doesn't have a deductible for auto insurance. If you do decide to use your health insurance first, then your health provider might request to be paid back by your medical coverage.
32. Does Auto Insurance Protect Me From Hail Damage?
If you add comprehensive coverage to your auto insurance policy, then you are covered for hail damage.
33. Does Auto Insurance Cover When Lightning Hits My Car?
If you have comprehensive coverage on your auto insurance policy, then it will protect you in the event your car gets struck by lightning.  
34. Does Comprehensive Coverage Cover Rodent Damage?
If any type of rodent gets into your car and damages it, comprehensive coverage may provide protection. Be sure to talk to your insurance agent for clarification. 
35. What is Forced Placed Auto Insurance?
Forced placed insurance, also known as lender-placed insurance, is used when your auto lender purchases an insurance policy for you because you don't have insurance or you don't have enough coverage on your car. This coverage was designed to protect the lender's property and the vehicle you're leasing. 
36. How Long Can My Child Stay On My Auto Insurance Policy?
There is no age cutoff for auto insurance. If your child still lives in the same house as you, then they can stay on your auto insurance policy. Keep in mind, any accidents or violations they have will also affect your rates since it's all on one policy. 
37. How Do I Find Someone's Auto Insurance Information?
In the event, you get into a car accident and the other driver refuses to give you their insurance information, then it's very important to get their license plate information. The police can get the required information solely on their license plate.
38. How Do I Maximize an Auto Insurance Claim? 
The best way to maximize an auto insurance claim is by:
Stay at the scene of the accident

Answer all the questions the police have

Make sure to get a copy of the accident report

Get the other driver's insurance information

Talk with the witnesses and gather what they saw

Contact your insurance provider 

Document everything with pictures and videos 
39. How Do I Lower My Auto Insurance Rate? 
There are a few factors that influence your auto insurance premium. For example, buying a safe vehicle, getting married, or improving your credit score are all ways to lower your auto insurance rates. Be sure to always ask your insurance agent if you qualify for any discounts!
40. What Type of Coverage is Included in a Standard Auto Insurance Policy?
According to the Insurance Information Institute, most standard auto insurance policies include bodily injury liability, personal injury protection, property damage liability, collision, comprehensive, and uninsured/underinsured motorist coverages.  
41. When Should I Get Auto Insurance?
If you have a car that is not insured, it's important to buy auto insurance as soon as possible because it's illegal to drive without it. If you've recently purchased a new vehicle, there is sometimes a grace period from your insurance provider but it's best to just get insured as soon as possible. 
42. Who is Protected Under My Auto Insurance?
Car insurance typically follows your car, not the driver. This means that if you give someone permission to drive your car, your auto insurance provider will provide coverage unless specifically excluded on your policy. 
43. Can Auto Insurance Deny a Claim?
Insurance providers can deny a claim if you break the law, if you reach your policy limits, or if your provider has doubts about the honesty of the claim you made. 
44. Can I Switch Auto Insurance Providers With an Open Claim?
Technically, you can switch providers while having an open claim, but the claim will be resolved by the original insurance provider. Also, you cannot transfer your open claim to your new insurance provider.
45. Does Auto Insurance Cover Broken Windows?
It depends on what type of car insurance you have and what broke your window. If the window broke because someone smashed it or during a natural disaster like a hailstorm, then it would be covered by comprehensive coverage. If it broke in a car accident with another car or an inanimate object, like a tree, then collision coverage would cover the broken window. If you don't have either comprehensive or collision coverage then you won't be protected at all.
46. Can I Pay My Auto Insurance With a Credit Card?
Yes, most major auto insurance providers will take credit cards or debit cards as a form of payment. 
47. Does Auto Insurance Cover Negligence?
Negligence in the insurance world is the failure to act rationally when faced with a particular situation or circumstance that leads to damage. For example, if you hit a tree to avoid hitting a person, you're not negligent but if you hit a tree because there was a bug in your car, you would be deemed negligent and can have a difficult time getting a provider to offer financial compensation for the accident.
48. Does Auto Insurance Cover Mechanical Repairs?
Your auto insurance will not cover repairs due to normal wear-and-tear but if the repairs are because of vandalism or a car accident then you may be protected. If you are liable for the accident, then you will only be covered if you have collision coverage.
49. Does Auto Insurance Decrease After I Retire?
No, once you turn 65 years old, your rate typically increases.
50. How Long Does an Auto Accident Stay on My Insurance Policy?
Typically, a car accident stays on your insurance record for three to five years, which means you will see an increase in your premium for three to five years. However, this varies for each provider. 
Save on Auto Insurance with TGS Insurance 
At TGS Insurance, we not only strive to provide our customers with exceptional auto insurance policies at a great rate but to provide the right information so our customers feel knowledgeable about their policies. 
If you do run into more questions, don't hesitate to contact an agent at TGS Insurance. Our agents work diligently to answer all your insurance questions so you can feel confident knowing you're protected by the best in the business. Through our strong industry knowledge and partnerships with over 35+ auto insurance carriers, we provide world-class auto insurance solutions for all of our customers. Shopping for auto insurance has never been easier!