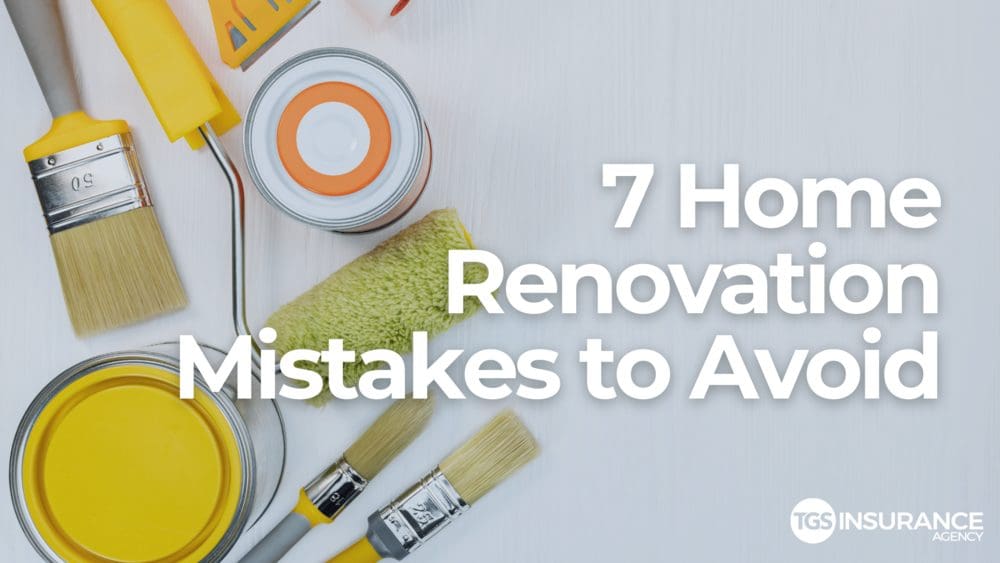 If you are a first-time home remodeler, you may have figured out that home renovations are not as simple as HGTV, Pinterest or even TikTok makes them seem. Home renovation projects can take a big chunk out of your budget if they are not done correctly plus they can look downright awful. Whether you decide to take on the renovations yourself or hire a professional, it's important that you get it right the first time so you can avoid home remodeling mistakes that waste your time and money. Below are seven renovation mistakes you should always try to avoid.
1. Rushing the Job
Home improvement shows have proven that it is possible to completely renovate a home within a week. Realistically, for your own renovations, you need to allow time to plan, complete each step efficiently, and be prepared for the unexpected. Typically, a home renovation takes about three to six months to complete a big project. Creating a time frame for how long your renovations will take, plus a few additional weeks in case of a surprise will give you room to properly plan a project, put together a team, and work through anything that comes up with less chaos.
2. Forgetting About the Team Dynamic
Depending on the type of home renovation project you're taking on, you may need to create a team with an architect, interior designer, contractor, and more to help make this project come to life. Dan DiClerico, a HomeAdvisor renovation excerpt advises you to get these people together as soon as possible. "Often people make the mistake of working with the architect and getting far into a plan before consulting the contractor, and then you realize the project is out of budget," he says. The earlier you get your renovation team to collaborate decreases the chance of an issue or problem coming up later.
3. Neglecting Your Gut Feeling
Do your research and interview multiple contractors, designers, and other professionals as you put together your team. They could have a good working relationship with people they can recommend to you, but DiClerico stresses that you should interview contractors in person and talk to at least three to five professionals before hiring them.
"Every meeting is going to be an education; you'll learn about the project and yourself," he says, "But listen to your gut!" he added. If you have an unsettling feeling after meeting with someone, trust that instinct because if they were rude or rushed the meeting, you're only going to see that behavior multiply during the renovation. On to the next. 4.
4. Lack of Communication
Communication isn't the only key in romantic relationships, it's important with your renovation team as well. "The project can become a kind of blank canvas for any issues that exist in the relationship," warns DiClerico.
If you have a strong relationship with your contractor, that person can help you work through any altercations and disagreements that might arise. It's also important to establish with your contractor how to best communicate, whether that be email, phone, or text because you'll want to know what is the best way to reach them once the project gets started.
5. Thinking You Know What's Best For Your Home
HGTV and Pinterest are great sources for inspiration, but when it comes to providing useful information, not so much. If you enjoy watching home makeover shows, it's important to remember that you're only seeing half of what goes on during a renovation.
You may want to shop for your own countertops and wood flooring, but there is a major difference between picking out what you like and picking items that will function properly in your home. Hiring a professional interior designer could cost between 5% to 20% of your entire budget, but it's worth the investment to make sure you're getting a high-quality design layout and to make sure everything will truly function seamlessly.
6. Forgetting to Budget
Before you even start the renovation process you need to pick a number for your budget and prepare for your renovation project to cost more and take longer than you think. Adding about 10% to 20% more than your initial budget is a good place to start because it allows you to have some cushion room without having to break the bank. Sometimes if you have some money left over from your budget, it will give you a little bit extra for decorating.
It's important to remember that you should invest your money on things you use the most, like the cabinets and drawers you'll open and close a dozen times a day versus the items you'll use less like decorative pillows and curtains.
7. Straying Away From the Plan
Having a written-out plan before you start work is crucial for staying on track. "If a contractor ever says they don't do that, run in the opposite direction!" says DiClerico. Your plan should include every little detail, down to the product model number and choice of finish. Once you have the plan established: Stick to it. Minor changes can jack up the costs pretty significantly and delay your timeline.
With that being said, there are going to be times when the unavoidable happens, and adjustments will need to happen throughout the process. Be sure to add those adjustments to your plan and try not to overwhelm yourself. "It's probably never going to be perfect or work out exactly as you imagine, so go easy on yourself and take the long view," says Diclerico.
How Does Renovating Affect Home Insurance?
It's easy to get caught up in the renovation process, but you should take a look at what home insurance coverage you have to protect yourself in the event something goes wrong.
When you hire a contractor to take on your home renovation needs, they are responsible for having the proper remodeling insurance coverage that is appropriate for the project. But when you take on home renovations yourself, does your homeowners insurance policy protect you?
Long story short, every policy is different. You should brush up on your homeowners insurance policy to see what coverage you have for protecting upgrades and renovations in the event something does go wrong. You also want to make sure you have enough coverage in case someone gets injured during construction.
Do I Need Insurance for Home Renovations?
When considering taking on home renovation, you may want to purchase a builder's risk insurance policy. This type of insurance is specifically designed to protect homes while they are under construction. It usually covers vandalism and theft of tools and equipment being used to build or renovate the house. It also protects materials that are stored off-site and will be used in the future. If you're financing the project, it may be a stipulation as part of your loan.
The cost for a builder's risk insurance policy typically ranges from 1% to 4% of what is budgeted for your construction, but it depends on a variety of factors. The usual amount of insurance you need to purchase is influenced by the estimated rebuilding cost of your completed home based on the size of your home, the finishes, and the materials being used. The average cost for a builder's risk insurance policy is about $200 a month for small construction, but this can go up to $2,000 a month for much bigger projects.
Always Stay Protected with TGS Insurance
If you are interested in purchasing a builders risk insurance policy or need assistance on adding more coverage to your homeowners insurance policy, contact an agent from TGS Insurance Agency. Our team is dedicated to helping our customers find the best home insurance policy that has great coverage for a low price. From over 35 A-rated (or better) providers our agents will find you a policy that fits your needs and budget so you don't have to sacrifice coverage. In addition, our customer service team is here to help you every step of the way, so you can have a hassle-free insurance buying experience. Shopping for home insurance has never been easier!
Whether you take on a home renovation by yourself or hire a contractor, it's important that you have all your ducks in line before tackling such a major project. Avoiding these common renovation mistakes will help make your renovating process a lot less stressful than it already can be and help you get it right the first time.
Source: Real Simple, CoverWallet, Insurance.com