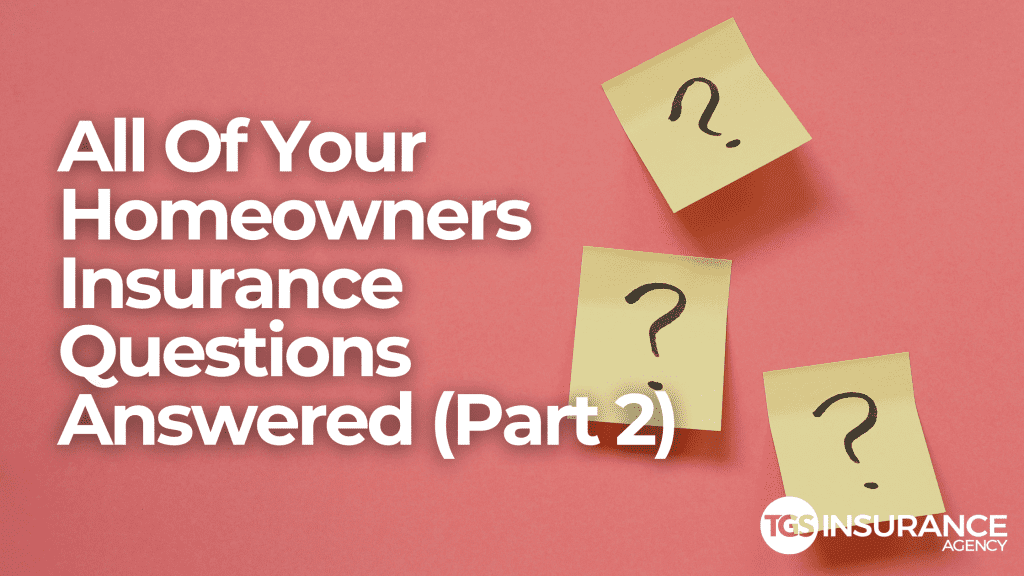 Protecting your home doesn't have to be a hassle and with such a large responsibility at hand, there can be a lot to cover when you're purchasing homeowners insurance. TGS insurance is happy to help homeowners find the answers they seek to the questions they may have about their coverage. We've covered many of these topics in a previous article covering 50 of the biggest questions homeowners like you have about their home insurance policy. Now, we're back with part two to provide another 50 burning questions on all things homeowners insurance.
51. What Does Homeowners Insurance Include?
What's included in your homeowners insurance policy will depend on which kind of coverage you have. The most popular homeowners insurance coverage, an HO3 policy, will protect the structure of your home and other structures on your property such as sheds from named perils. You'll also gain protection for your personal possessions to the extent of your policy limits and additional protection in the form of liability for legal and health issues that may arise from visitors to your property.
52. Does Homeowners Insurance Cover Your Septic Tank?
Septic tanks are covered by your homeowners insurance if it faces a named peril protected by your policy. Each policy is different, however, as is each home. Sump pump failure and sewage backup would not be covered by your home insurance but a separate policy can be added to protect against these issues as well.
53. What's the Difference Between Mortgage Insurance and Homeowners Insurance?
Your mortgage insurance protects your lender. If you have less than 20% of your home's value paid off, your lender will likely require you to carry mortgage insurance to protect the money they are lending you to pay for the home. In other words, if for some reason you are unable to pay for the loan, your lender is protecting itself against that risk. Homeowners insurance is there to protect your home's structure, your possessions, and you and your family from liability concerns surrounding medical and legal issues.
54. Is Homeowners Insurance Mandatory?
No, you don't have to get homeowners insurance, however, if you are borrowing the money to pay for your home, your lender will likely make it a requirement as a term and condition of the loan. Even homes that are paid off should always carry homeowners insurance because the cost of rebuilding your home, replacing your things, and the coverage from liability homeowners receive far outweigh the risks of not protecting your home with a policy.
55. How Much Coverage Do I Need for My Home?
Because every home is unique in its value, the perils it may face, the location of the home, your personal financial situation, and plenty of other factors, the answer to this question will vary depending on the answers to these factors. As a rule of thumb, you'll want to have enough coverage capable of rebuilding and replacing the things you are protecting as well as your financial interests. As the cost of building homes continues to rise, it is also important to consider that your coverage should be enough to cover the rebuild of your home and not just its market value. If you own things such as art or precious metals that surpass your policy limits or have valuable assets, adding additional contents coverage and/or and umbrella insurance to help protect everything you've worked hard for.
56. Does Home Insurance Cover Water Damage from Leaking Plumbing?
Water damage can be a headache for homeowners and if it is of a sudden and accidental nature, your homeowners insurance policy will have you covered. If your plumbing causes water damage due to neglect or normal wear and tear, you'll be stuck with the bill to restore your loss.
57. What Does Home Insurance Cover?
A standard HO3 policy, the most common home insurance coverage on the market, is made up of several parts that help protect you, your home, and other valuables on your property. The six components that make up your HO3 policy include:
Dwelling Coverage to protect your home's structure.
Other Structures Coverage helps protect other structures on your property including sheds, detached garages, and fences.
Personal Property Coverage helps protect your personal possessions but will have a set policy limit. Valuables that exceed this limit will require additional coverage to stay protected.
Loss-Of-Use Coverage is there for you to pay for the cost of living such as food and lodging should your home become uninhabitable.
Personal Liability Coverage protects you and your assets should you experience various legal expenses including legal proceedings as a result of someone injuring themselves on your property.
Medical Payments Coverage can cover medical costs if someone is injured on your property, regardless of who is at fault.
58. Does Homeowners Insurance Cover Wind Damage?
Wind and hail damage is not always covered by your homeowners insurance, however, here at TGS Insurance, we do home insurance a bit differently. We believe that our clients should be ready for whatever peril comes their way. Considering wind and hail can cause costly damage from severe thunderstorms to tornadoes, and even tropical storms/hurricanes, our homes can face serious perils involving wind. This is why we include windstorm/hail coverage in all of our homeowners insurance policies with a 2% deductible for our clients.
59. Which Risks Will Your Home Insurance Typically Cover?
A standard HO3 policy will cover a range of named perils listed in your policy. Depending on which company you enroll with, coverage may vary, however, these are some of the most common risks your home insurance policy will protect you and your home from:
Damage caused by aircraft and vehicles
Damage from electrical current
Earth movements
Explosions/fires/lightning
Falling objects
Frozen pipes
Riots/theft/vandalism
Smoke damage
The weight of ice, snow, or sleet
Volcanos
Water damage that is sudden and accidental from plumbing, heating, or air conditioning
Water heater cracking, tearing, or burning
Windstorm and hail
Remember, one big distinction that an HO3 policy will have is protection against liability from both a legal and medical standpoint. If someone becomes injured on your property, your home insurance policy is there to help cover legal and medical costs that result from their injury. Medical coverage does not cover your household's medical expenses and will require a separate medical policy or covering said payments out-of-pocket.
60. Will Home Insurance Cover Water Damage from Rain?
If there is damage to your roof that is sudden and accidental, such as a hail storm striking your roof and causing damage, that leads to rain entering your home and causing water damage, your home insurance policy will cover the damage. Water damage from rain that occurs to a roof that is experiencing neglect will not be covered. You'll also need to do your part in the aftermath of finding damage from an event like hail that leads to water damage from the rain in mitigating the damage by covering the affected area when it is safe to do so. Otherwise, any extended damage will not be covered.
61. Are Roof Leaks Covered By Homeowners Insurance?
Again, this is going to depend on the circumstances surrounding what is causing the leak. If your roof is a couple of years old and suffers storm damage which leads to a leak, you're covered. Is your roof over 20 years old and past its prime? That leak is unlikely to be covered by your homeowners insurance policy. There are plenty of scenarios and speaking with your insurance agent about your policy can help you better understand your policy's coverage.
62. Is Termite Damage Covered By Your Homeowners Insurance?
Termite damage is not covered by your homeowners insurance. Because pests can be prevented and exterminated via routine maintenance in the form of spraying or other extermination techniques, your homeowners insurance policy will not cover termites or other pests.
63. Does Home Insurance Protect Against Clogged Pipes?
Most home insurance policies do not cover clogged pipes.
64. Will My Homeowners Insurance Cover Pipe Replacement?
Pipes are tricky but if they burst due to a sudden and accident event, you're covered. Older, rusty pipes that are suffering from normal wear and tear would not qualify for replacement covered by your homeowners insurance.
65. Does Home Insurance Cover Tree Removal?
Your home insurance policy protects your home's structure and other structures on your property. Therefore, if a tree causes damage to these structures, removing a tree and staying covered from the peril is on the table. If a diseased tree falls on your property and is blocking the driveway, removal is an option and it is likely covered as well. Also, if your neighbor's tree were to suffer from disease and fall on your home, your home insurance policy will protect you here too. There are many other situations involving trees and some are not covered. For example, if a tree were to fall on your property but it doesn't cause damage to a structure or obstruct your driveway, the aftermath would be your responsibility. Speak with your insurance agent to see how your policy handles such matters as coverage may vary.
66. Will Homeowners Insurance Cover a Diseased Tree?
There are scenarios in which you are covered and others that you are not when it comes to trees and your homeowners insurance. Diseased trees can be removed and covered by your policy but the circumstances surrounding them, and the deductible that may be required of you will set the stage for if you are covered or not and if it is worth filing a claim over. Speaking with your agent will help you determine if you are covered and your best course of action.
67. When Should I Purchase Home Insurance When Buying a House?
Purchasing your home insurance policy should be done before closing as it will not only keep you from having any coverage gaps but may also be a requirement by your lender. Home insurance is not a legal requirement but is often a term and condition of your mortgage.
68. How Do Home Insurance Claims Work?
If you suffer a loss, you'll need to document the damage and submit a claim as soon as possible with your insurance agent. Once you pay your deductible and it is found to be a covered peril by your insurance provider, you'll receive payment for your claim or it may go to your lender depending on how your mortgage is set up.
69. How Much Is Home Insurance on a $150,000 House Each Month?
There are so many factors when it comes to home insurance, it would be unfair to simply put a generic answer here and call it a day. Your policy will be determined by how much risk there is involved in protecting your home, the policy options you choose, and other factors with no two homes being the same. The average homeowners insurance policy in Texas goes for more than $3,400 a year which is around $283 a month. TGS Insurance saves clients $870 a year and can shop and save for your policy too. See how much you can save today!
70. Will Homeowners Insurance Cover Fires?
While one of the rarer claims a homeowner could make, it is also the most destructive peril a homeowner could face. Fires are covered by your homeowners insurance and we are thankful for it. With the average claim involving a fire reaching nearly $80,000, your homeowners insurance policy can help you rebuild in the aftermath of these costly and destructive events.
71. Are My Belongings Inside a Storage Unit Covered?
Yes, even if your possessions are in a storage unit, your policy will protect them against the same perils according to your policy limits.
72. Are French Drains Covered By Home Insurance?
French drains can lead to basement flooding when they are not installed properly or maintenance is neglected, which is not covered by your home insurance policy and would require flood insurance. Not many Texans need to worry about this issue, however, if you are a homeowner facing this threat, a flood insurance policy is always recommended. Learn more about the answers to many popular questions we receive surrounding flood insurance here.
73. What Is Extended Replacement Cost For Homeowners Insurance?
Extended replacement cost is an upgrade from replacement cost homeowners insurance policies that provide homeowners with the restoration of their loss even if it were to surpass policy limits. Homeowners can also protect their personal belongings with this endorsement but should expect to pay more for their monthly premiums.
74. What Isn't Covered By a Home Insurance Policy?
There are plenty of things not covered by your home insurance policy and when it comes to an HO3 policy unless it is specifically named on your policy, you will not be covered. These are some of the most common events that homeowners may be surprised to learn are not covered by their home insurance policy:
Flooding is not covered and will require a separate flood insurance policy. This is when dealing with flooding from outside of the home from a weather event or pool that has entered your home and caused water damage. Overflow and water damage from plumbing that is sudden and accidental or from a covered peril involving rain entering your home from roof damage are covered, however.
Damage from mold may be covered but it is often not because of the preventative measures homeowners can take to avoid mold in the first place.
Pests are similar to mold as they can be prevented and eradicated by homeowners through routine maintenance and procedures, so your homeowners insurance policy will not cover them either. This includes termite damage.
Sewer backup and sump pump issues are not covered by your homeowners policy and can lead to costly repairs. TGS Insurance offers an affordable coverage option for homeowners looking to protect themselves from these events offering as much as $5,000-$25,000 in protection starting around $25 per year.Sinkholes, earthquakes, and landslides are not included in your homeowners insurance policy.
Clogged drains and pipes that are damaged as a result of wear and tear are not covered by your home insurance policy.
Tree removal may or may not be covered depending on the circumstances and if there was damage to your home or any other structure on your property.
Liability for injuries and dog bites is included in your home insurance policy, but some restrictions may apply without additional coverage depending on which kind of breed your dog is.
Home improvements gone wrong by a contractor you have hired are also not covered by your home insurance policy.
Another key point is to remember that homeowners insurance comes with policy limits. This means things that are not accounted for in your policy limits or valuables that go beyond these limits will require additional endorsements or risk exposure to covered perils which will not include these personal belongings. Homeowners looking for more coverage are encouraged to purchase additional coverages for such valuables.
Finally, HO3 policies are the most common forms of homeowners insurance, but if you are looking for more protection, and don't mind paying more, an HO5 policy may be right for your needs. The biggest difference is that an HO5 policy will have open perils coverage instead of named perils. What this means is that unless it is explicitly stated to not be covered on your homeowners insurance policy, your home, and its contents will be covered. For more on understanding this type of policy, take a look here.
75. Can You Get Homeowners Insurance if Your Home's Roof is Bad?
There are two keys here:
Yes, you may still get homeowners insurance with a bad roof, depending on your insurer.
But if you do get coverage with a bad roof, you may not be fully insured for everything that you would if you had a good roof that is fully protected by a home insurance policy.
76. Will Home Insurance Cover Replacing My Furnace?
No, your home insurance policy will not pay for the replacement of your furnace, however, it will cover any damages caused by your furnace.
77. Is Theft That Occurs Outside My Home Covered?
Yes, even theft inside of your car or storage unit is covered. Any contents you own that are in your policy will be covered regardless of whether or not they are inside your home or not.
78. What Happens When Switching Home Insurance Providers?
There are many reasons to switch your home insurance provider, but the most obvious is to save money. TGS Insurance helps homeowners like you save $870 a year by comparison shopping among 35+ top-rated insurance brands to find the best coverage for the lowest price. We help clients from start to finish and can work with you for a seamless transition. From enrollment to working with your lender and even helping our clients year after year continue to find the best deal for their home insurance needs, TGS Insurance is here to help you save.
79. Is My A/C Covered By My Homeowner Insurance Policy?
Yes, if a covered peril causes your air conditioner to break down, you'll be covered by your homeowners insurance policy, but will need to pay the deductible.
80. Will Home Insurance Cover My Fences?
Yes, the other structures coverage portion of your home insurance policy will protect your fence against perils covered by your policy.
81. How Do I Get Homeowners After Being Dropped?
If you are dropped by your home insurance provider, don't worry, there are plenty of companies out there who are willing to cover your home. Comparison shopping is your best bet and the sooner the better as gaps in coverage not only make it harder for you to find a provider but leave you vulnerable to perils in the meantime. Contact us today to compare and save. Either give us a call at 1-855-771-4509 or visit our website.
82. Are Trampolines Covered By Home Insurance?
Trampolines can be a tricky landscape to navigate for homeowners and it comes down to who you are insured with to determine whether or not they are covered. Here are a few notes about trampolines and your home insurance policy:
Not every home insurance provider will insure a home with a trampoline, but many do.
If you fail to disclose a trampoline or if you get one after purchasing a policy, you could be vulnerable to gaps in your coverage, have future claims denied, or be dropped by your insurance company altogether.
Home insurance companies may require higher premiums and additional coverages for homes with a trampoline.
83. Are Earthquakes Covered By Homeowners Policies?
Sorry, you'll need to purchase a separate policy for earthquakes for your home to be covered by these events. Homeowners insurance does not protect against earthquakes.
84. Are My Vehicles Covered By My Home Insurance?
They are not. Vehicles can be covered by a great auto insurance policy, however, and bundled with your home insurance for even more savings. The contents within your vehicles are still covered by your home insurance policy due to the protection your possessions receive against named perils from your home insurance regardless of where they are located at the time.
85. What Is the Average Cost of Homeowners Insurance?
There are a lot of factors that go into crafting a home insurance premium and each home will arrive at a different conclusion. Still, looking at averages can be good for you to determine if you are in line with what others are paying in your area so that you aren't overpaying or underinsured. With both of those ideas in the forefront, city averages can do homeowners more of a service than bland industry averages. Take a look here at a growing number of cities we continue to serve throughout Texas and search your city to find averages ranging from Austin to Waxahachie to El Paso to Houston and even Harlingen and any other city between. If you're in the Lone Star State, we've got you covered!
86. What Should I Look For in a Home Insurance Company?
When you are looking for a home insurance company, it boils down to two things: the best coverage and the lowest rate. Of course, you don't want to be underinsured and save money that could come back to haunt you when you need protection for a far more expensive peril, but you'll also want to make sure you aren't overpaying.
Find the right companies that build coverage for your needs and enroll with the cheapest option on the market. We acknowledge that this can be a time-consuming endeavor, as there are many brands available to consumers. Thankfully, TGS Insurance can help you find the right company with just a few clicks of a button. We save our clients time, effort, and money!
87. What Caused My Home Insurance Rates to Rise So High?
Here are some unfortunate truths about your home insurance rates and why they rise:
Your claims history can play a role in how much your rates will be. If you have submitted too many claims, you can expect your rates to go up.
If your credit score has suffered, you can expect your rates to increase as your credit score is part of your insurance score and will affect how much you pay.
Is crime on the rise in your area? This is another factor that can raise your home insurance rates as there would be more risk involved with insuring your home.
Weather-related risks, natural disasters, and the cost of building can increase your rates. Recently, we have seen a variety of examples from wildfires in the West to hurricanes plaguing the Gulf Coast and even abnormal shortages leading to an increase in the price of building materials. All of these issues will raise the rate of your home insurance as they make it more expensive to restore homes after a loss.
These reasons are what make shopping for your home insurance policy year after year so important. We help our clients find the right coverage for the lowest price on the market every year so that they continue receiving the protection they deserve without having to overpay.
88. What Is a Special HO3 Homeowners Insurance Policy?
An HO3 homeowners insurance policy is the standard homeowners insurance most homeowners receive. If a peril is named on the policy, you are covered, but to protect against additional perils, you'll need other endorsements or an HO5 policy.
89. How Does Home Insurance Protect My Home?
The various perils named in your home insurance policy are all obstacles that can be difficult to overcome if your home is not protected against them. Fires, theft, damage from vehicles, etc., are all destructive perils that can cause you and your home hardships. Enrolling with home insurance protects you and your home from these perils and creates an affordable path to restore your home, your possessions, and to protect your financial standing in the aftermath of a peril. Enroll, make a claim when necessary, pay your deductible, and receive money that can help you get back on track.
90. How Can I Estimate My Homeowners Insurance Cost?
Why estimate when you can know? Search your city's average here or receive a direct quote for your home in 15 seconds or less.
91. Does Home Insurance Cover My Plumbing?
Damage from plumbing and replacing your plumbing may be covered if it is a sudden and accidental peril, however, in many cases, homeowners are dealing with normal wear and tear or neglect. In these instances, your plumbing would not be covered by your home insurance.
92. What Breeds Do Home Insurance Companies Deem "Aggressive"?
Your best friend could be deemed an insurance company's worst enemy. TGS Insurance is proud to work with a variety of insurance carriers and can help you navigate the insurance world to find the right coverage for you and your four-legged companion. Here are some of the breeds home insurance companies commonly deny coverage over according to Psychology Today:
Akitas
Alaskan Malamutes
Cane Corsos
Chows Chows
Doberman Pinschers
German Shepherds
Great Danes
Mastiffs
Pit Bull Terriers
Presa Canarios
Rottweilers
Siberian Huskies
Staffordshire Terriers
Wolf-hybrids

93. How Much Liability Coverage Do I Receive With Home Insurance?
While most home insurance companies will provide at least $100,000 in protection, as financial guru Dave Ramsey points out, homeowners need to consider carrying around $300,000 to $500,000 in protection in the event of a lawsuit. Furthermore, homeowners with particularly highly valued assets should consider additional coverage in the form of umbrella insurance.
94. Does Home Insurance Cover Tree Roots Damaging a Sewer Line?
Some home insurance companies will cover tree roots damaging your sewer line, however, most do not. Failing to maintain your sewer lines can result in perils not covered by your home insurance provider including roots that block and/or damage them.
95. Do I Have to Add Friends and Family to My Home Insurance?
Each brand is different but in a general sense, if your household is expanding due to your family moving in or if you are having a child, you won't need to add them to your policy because they are already included. This includes extended family as well. Friends on the other hand will need to be added formally, though speaking about any change in life to your home insurance provider is always a good practice to avoid gaps in coverage.
96. What Kind of Homeowners Insurance Discounts Are There?
There are a variety of ways to save money each month with your homeowners insurance policy through discounts that can help you save money and make your home a safer place. Here are some of the most common ways homeowners can help protect themselves and save on premium:
Bundling your home insurance policy with an auto, motorcycle, umbrella, etc., policy helps provide the best savings for homeowners.
Safety features such as fire alarms, carbon monoxide alarms, pipe sensors that can detect leaks, etc., are all great ways to drop your home insurance premium.
Security features including living in a gated community and having a security system for your home can help you save more money.
Home improvements that help protect your home against perils, not purely aesthetic remodels, can help you gain a discounted rate for your policy.
The main idea is that your premium is based on the amount of risk that goes into insuring your home, so, if there is less risk for particular perils, the lower your premium will be. Not every method is right for every home and different discounts are available depending on which brand you choose to enroll with. It is best to speak with your insurance agent before implementing these ideas for the best course of action and maximum amount of savings.
97. Does Liability Cover Me For Destroying My Neighbor's Property?
There are many instances in which your liability coverage through your home insurance will cover destruction for you or a member of your family to your neighbor's property. This includes things like if your child were to break something while playing a sport with their friend down the street or if you were to unintentionally harm someone or their property. What is not covered would be intentional destructive acts or things involving your car. For wrecks involving your vehicle, an auto insurance policy would be necessary to cover the incident.
98. Does My Home Insurance Cover Replacing My Roof?
There is a lot to consider before replacing your roof through your home insurance provider. Take a closer look at some of the considerations homeowners will need to make before filing their claim:
If your roof was damaged from neglect, you will not be covered by your home insurance policy.
A roof that is damaged by sudden and accidental damage, for example, if a line of hail storms come and go leaving a path of destruction that affects your roof, then the roof would be covered.
Homeowners should still pay attention because another consideration is that even if your roof looks to be destroyed, an adjuster might only deem it partially destroyed. This means that even after paying your deductible, the remainder of your full roof replacement would have to come from your pocket.
99. What Does Home Insurance Cover If I Can't Live in My Home?
Loss-Of-Use Coverage (ALE insurance) will help you pay for expenses involving eating out and paying for a hotel while you wait for your home to be repaired. There are policy limits that apply, so this isn't an excuse to splurge, but people suffering a covered peril that are displaced will gain some assistance to make it through such times from their home insurance policy.
100. How Do I Shop For Home Insurance?
When shopping for home insurance, the best course of action is to always compare different rates across many different brands to find the best coverage at the lowest price for your needs. For many people, this can be a time-consuming endeavor and without the right expert advice, it could even be a waste of time. This is where TGS Insurance comes in.

Our team is here for you and can provide you an accurate quote for your needs in seconds! We look at home insurance a bit differently than other insurance agencies and shop among our bank of 35+ top-rated insurance carriers to deliver you the coverage you need at a price you'll love. Saving homeowners an average of $870 a year across the great state of Texas, TGS Insurance can help you find the right coverage at a low price. Contact us today and see what your options are to protect yourself, your family, and your home.

Source: SmartFinancial