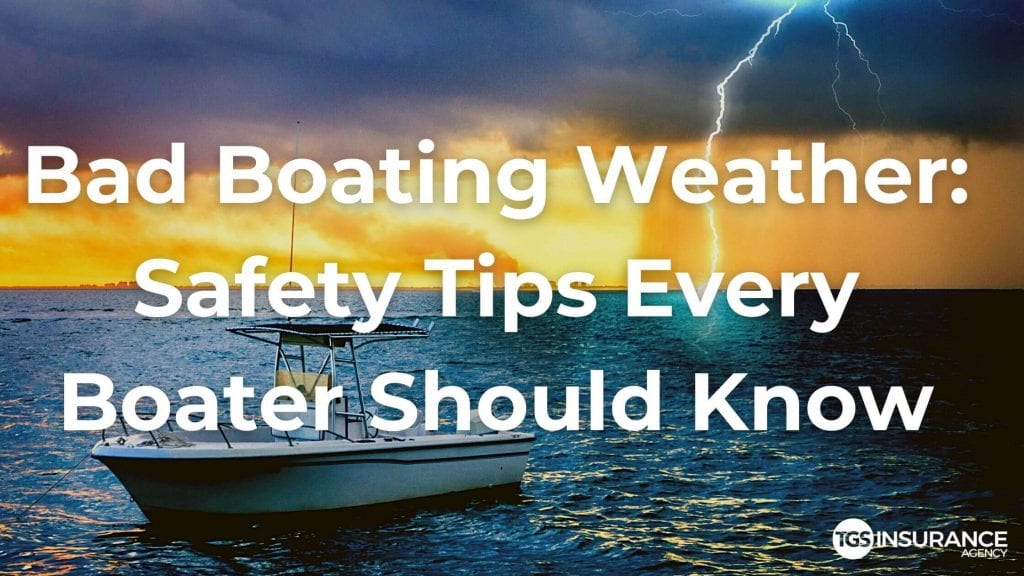 There are many joys of owning a boat but many responsibilities also accompany it. Fishing, tubing, or even just riding in your boat can create memories and develop a way to reconnect with nature unlike any other. But keeping everyone safe is the number one priority for any boat owner. A goal that can quickly become complicated when facing the elements.
When you are on the water, you are exposed to the elements far more than when in a vehicle or a home. You'll have to contend with winds, rain, tides, and more to keep everyone on board safe and your vessel afloat. Boat insurance can help protect you from losses you and your watercraft may face but it is up to you to mitigate these losses and avoid unsafe conditions. Let's review some of the most important tips boat owners need to remember should they face bad boating weather.
Prepare for Bad Boating Weather Before Heading Out
Dangerous conditions can happen at any moment and you'll need to be prepared for those that do. This means preparing your boat before ever leaving the dock. There are several things you can do as a boat owner to prepare for rough weather ahead of time:
Be sure to have the right equipment including life jackets and other floatation devices as deemed appropriate, a GPS, radio equipment, general first aid items, an anchor, etc. Having an emergency tank of gasoline can also help you reach safety if you need to use more fuel than expected because of a storm.
Check your boat's lights and straps to ensure that they are working properly and can be counted on during an emergency.
Never put yourself or others in the path of a dangerous storm intentionally and always prepare for anything so that you'll be in the best position possible to overcome weather-related hazards while boating.
Stay Vigilant for Storms That May Develop
Looking at the weather forecast before your boating adventure is always the start of any trip, but even as technology continues to improve the way we predict the weather, forecasts are not 100% accurate. These are some of the signs that you may be heading into rough weather while boating:
Dark clouds or hazy skies forming nearby can be an indication of rain.
Lightning and thunder are definitive signs that a thunderstorm is forming. Electricity and water don't mix, so it is important to avoid lightning at all costs while in your boat.
A change in the direction of the wind or the intensity of wind can also indicate a storm.
Whether this is the "calm before the storm" or an uptick in the speed of wind around you, you'll want to pay attention to any changes to the wind conditions and any drops in the temperature you may experience.
If you experience a difference in the direction of waves or if the waves near your boat are going in many different directions at once, a storm could be close.
"Halos" around either the moon or sun can indicate that a storm is headed your way. According to EarthSky, halos are tiny ice crystals in high, thin cirrus clouds that are refracting and reflecting light.
Always remain vigilant while on the water, and if you receive a positive forecast but still encounter unfavorable weather, here are some tips on how to keep yourself and others safe during a storm:
Always wear life preservers but especially during times of turbulent weather.
Pay extra attention to lightning. This means keeping your body out of the water as electricity will be conducted in the water, remain inside of your cabin if possible, avoid touching anything metal, and disconnect/remove any electronic equipment such as a radio and antenna that are not part of a lightning protection system.
Know Your Watercraft and How to Handle Bad Boating Weather
Understanding how your watercraft operates and your skills as a captain are most important during times of distress. There are standard operating techniques you can adhere to and training through safe boating classes and exercises is always encouraged:
Keep your boat and any gear secure.
Cease activities such as fishing, water skiing, or diving during a storm. If you are unable to reach your boat while diving, it is suggested that you stay under the surface as deep as possible for the duration of the storm if it is safe to do so.
Lower your speed but continue to forward to safety with your lights on. Keep your engine under the surface of the water.
When facing waves, minimize the impact by heading into them at a 45° angle.
If your engine fails, drop anchor from your bow.
Make sure that your boat's bilge or any other vulnerable area in your boat doesn't fill up and hold water.
Distribute weight accordingly to remain stable during a storm and avoid capsizing.
Because there are many different types of watercraft and skill levels, it is important to personally assess the conditions surrounding your boat and the best way to handle bad boating weather.
TGS Insurance understands the responsibilities of boat ownership and the challenges that may come with it. We help boaters all over Texas stay prepared if they should face a loss involving their watercraft. From facing turbulent seas to accidentally causing damage to another vessel at your local dock and everything in-between, we're here for boaters to stay protected. By shopping our clients' boat insurance among our bank of 35+ A-rated or better insurance providers, we can ensure that you're getting the best coverage possible for the lowest price on the market. See how much you can save on boat insurance today!