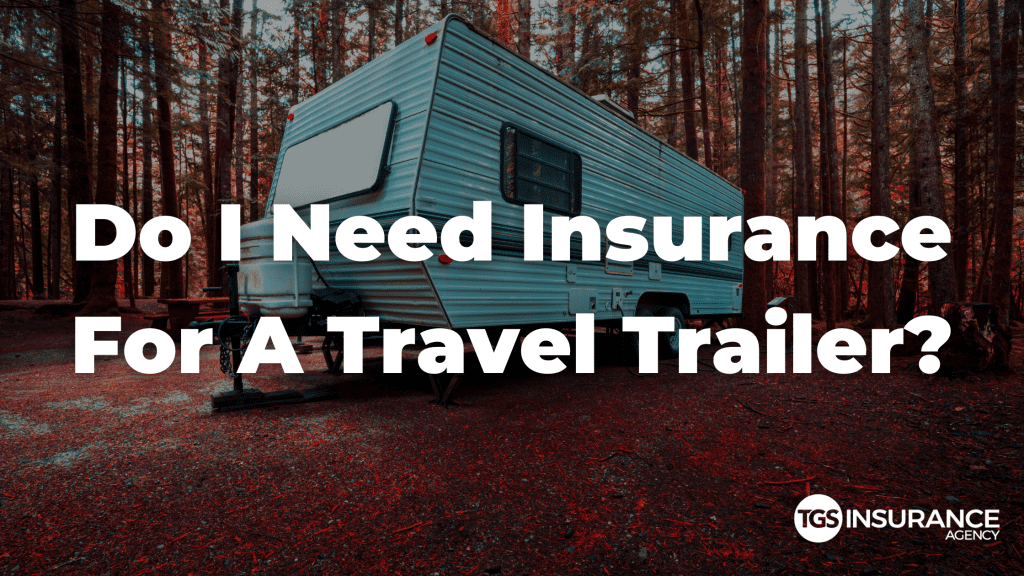 Now more than ever, more people are flocking to the great outdoors to enjoy freedom on the open road and bask in all the glory that is Mother Nature. It's estimated that over 11 million Americans own RVs with that figure increasing year after year. From fifth wheels, pop-up trailers or even a tricked-out RV, you will absolutely need some sort of insurance in place. Depending on what you own, you may need a full RV insurance policy, an upgrade to your auto insurance policy, or a separate travel trailer policy. Let's review if you need insurance for your travel trailer and the common questions that come along with it.
Do I Need Insurance For a Travel Trailer?
If you intend on traveling with your travel trailer, then yes you need insurance. Because travel trailers don't have their own specific category of insurance, your trailer can be covered by your auto insurance policy under your liability coverage. Keep in mind, this means that your auto policy will only cover damage your trailer causes to others, and not you. For more extensive coverage, you'll need to purchase a full policy.
If you're unsure whether you need a separate coverage or not, consider how often you use your trailer. If you're on the road quite a bit, it would be prudent to carry a travel trailer policy because your risk of getting into an accident or sustaining damage is raised significantly. Your home or auto policies will provide coverage for your trailer at about 5-10% less of your coverage limit. If you're someone who stores valuables or travels in your trailer frequently, purchasing travel trailer insurance would be a wise investment. For those who use their trailer occasionally, beefing up your home or auto insurance policy's coverage limits will likely do the trick! But, we still recommend speaking with your insurance agent about the best course of action.
Average Cost of Travel Trailer Insurance
The average cost to insure your travel trailer will vary depending on the type trailer you have, how you use it, and how much coverage you desire. The average cost of travel trailer insurance is around $915 per year, but can range from $700 to $1,100 annually.
Top Carriers for Travel Trailer Insurance
If you're seeking a basic liability level of coverage, then you can just update your auto insurance policy's coverage limits to include your travel trailer. But if you're seeking more protection then you'll of course need a separate policy. There are several different companies that offer this type of insurance, but the top companies include:
*Based off TGS Insurance customer data
What's Covered?
Travel trailer insurance provides more coverage outside of the basic liability limits set through your auto or home insurance policy.
Collision coverage:

Protects your travel trailer if it's damaged in an accident.

Comprehensive coverage:

Covers any damage incurred as a result of something that is not an accident, such as animals, fire, severe weather, theft, and vandalism.

Liability coverage:

Provides additional liability coverage that exceeds what's offered by a traditional auto insurance policy.
For those seeking more protection outside the basics of their policy, policyholders can purchase extra coverage options to fill any gaps such as:
Campsite liability

Emergency expense coverage

Full-time coverage (Perfect for full-timers wanting to equate coverage to a home policy)

Roadside and towing assistance

Personal property coverage

Total loss replacement
What's NOT Covered?
Travel trailer insurance is similar to a home or auto policy but does offer protection for perils usually excluded by a home or auto policy, such as flood damage- which is included under comprehensive coverage. Damage to personal belongings is traditionally excluded from an auto insurance policy, but protected under travel trailer insurance. However, there are still some common exclusions shared with other lines of insurance.
Damages due to an illegal activity or not permitted in the policy (Ex. racing)

General wear and tear

Purposeful damage
How to Save Money on Travel Trailer Insurance
Everyone likes to save a buck and finding discounts on insurance is no exception. Like any other insurance policy, you can work with your insurance agent to uncover discounts to help lower your premium. There are however, discounts and easy ways to save on your policy!
Multi-policy discount-

Bundling your policies can offer you a multi-policy discount of up to 25%, depending on the carrier.

Pay your premium upfront and not monthly-

Paying your premium in one payment versus monthly or bi-monthly payments can offer you savings of 5-10% on your premium.

Raise your deductible-

An easy way to lower your premium is to raise your

deductible

, offering average savings of 15-30%. We recommend this

only if

you can afford the out-of-pocket expenses should you need to file a claim without impacting your bank account.
How to Buy Travel Trailer Insurance
The best way to buy travel trailer insurance is two fold. First, contact your current auto insurance provider and ask for a quote and/or coverage options depending on how much coverage you need. Second, shop around and compare quotes to see which carrier is offering you the best deal.
The easiest way to shop is to talk to an expert at TGS Insurance Agency. We shop your policy through our network of over 35+ A-rated (or better) carriers to provide our clients the best coverage and most affordable premium the market has to offer. Get your hassle-free quote today and see why over 15,000 people trust us with all of their home, auto, RV, and boat needs!
*Based off TGS Insurance customer data
Start Your Free Auto Insurance Quote Now
Recent Auto Insurance Articles: