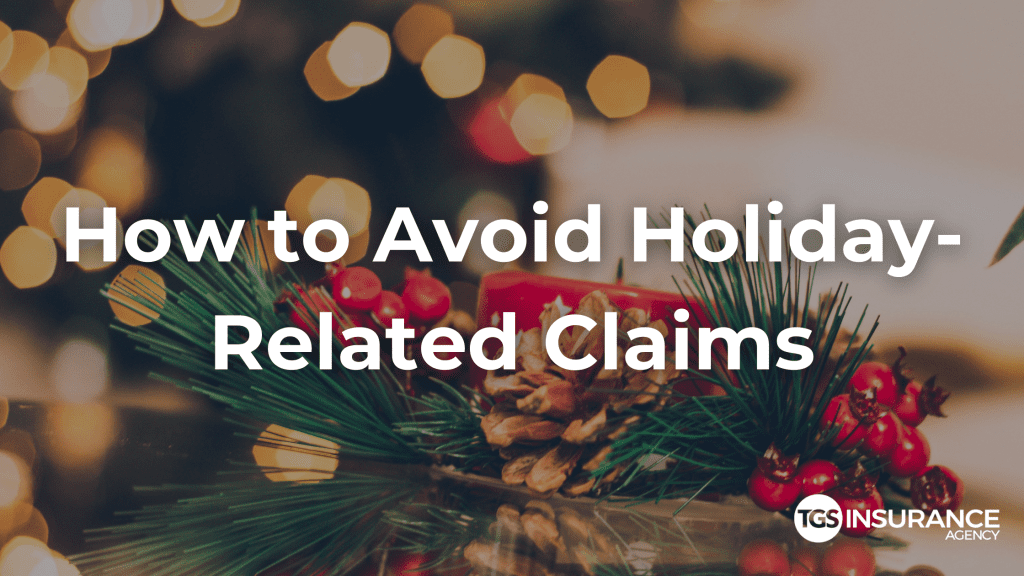 Nothing can break the holiday spirit quite like an accident or injury. Though the holidays are often thought of as the most wonderful time of the year, accidents do occur but more often than not are entirely preventable! Common accidents include falling down the stairs, home fires, or slipping from a roof. Common insurance claims are house fires, burglaries, frozen pipes, and ice dams, to name a few. 
Take a look at these five helpful tips to keep your holiday season joyful and accident-free.
Tip #1: Look out for fire hazards
The bright lights, warm fireplace, and mood-setting candles are all wonderful ways to create a holiday ambiance, but they're also significant fire hazards. Keep candles at least a foot away from any flammable materials, make sure your lights aren't faulty and appropriate for the setting (ex. don't use inside lights for outside decor), and that you have your fireplace inspected and cleaned at least once a year. The kitchen poses huge fire risks as well. Here's a list of tips to keep your holiday cooking fire-free!
Tip #2: Keep your valuables safe and hidden
If you're hosting a holiday party, going to a holiday party, or buying expensive gifts for loved ones, keep those high-valuable items out of sight and away from sticky fingers. If you're going to be out of town or gone for several hours, consider using light timers and swap what lights you leave on so thieves can't spot a pattern.
Tip #3: Prep your home for winter
Though snow and ice can be beautiful, both wreak havoc on your home! Take the time to prep your home this winter by doing things like checking your roof for vulnerable shingles, cleaning your gutters, and insulating any exposed faucets. For a complete guide of home maintenance must-dos before winter, click here.
Tip #4: Keep your sidewalk and doorstep clean
Ensure you've correctly taken care of any large cracks or other walking hazards on your steps and sidewalk. Should someone get injured, you could be held financially liable.
Tip #5: Your pet shouldn't be on the invite list
Your pup may be like a member of the family, but that doesn't mean they should be a guest at your holiday dinner or come along with you to a party. Not only can dogs or other pets eat something that they shouldn't (ex., a turkey bone), but a nervous or anxious pet could bite someone or break something, and you'd be liable.
Get covered for anything with TGS Insurance
Your home insurance policy covers you for any accident, theft, or weather-related damages that can happen- to a limit. Make sure your home insurance policy limits match what you need, and if not, it's time to update your policy or get a new one! At TGS Insurance, we will shop your policy across our bank of 35+ A-rated (or better) to find you home insurance that is perfectly crafted to fit your coverage needs at a rate that doesn't break the bank. Get your hassle-free quote today instantly using just your address! No gimmicks, no gotchas, just great home insurance at an even better rate.
Source: PropertyCasualty360