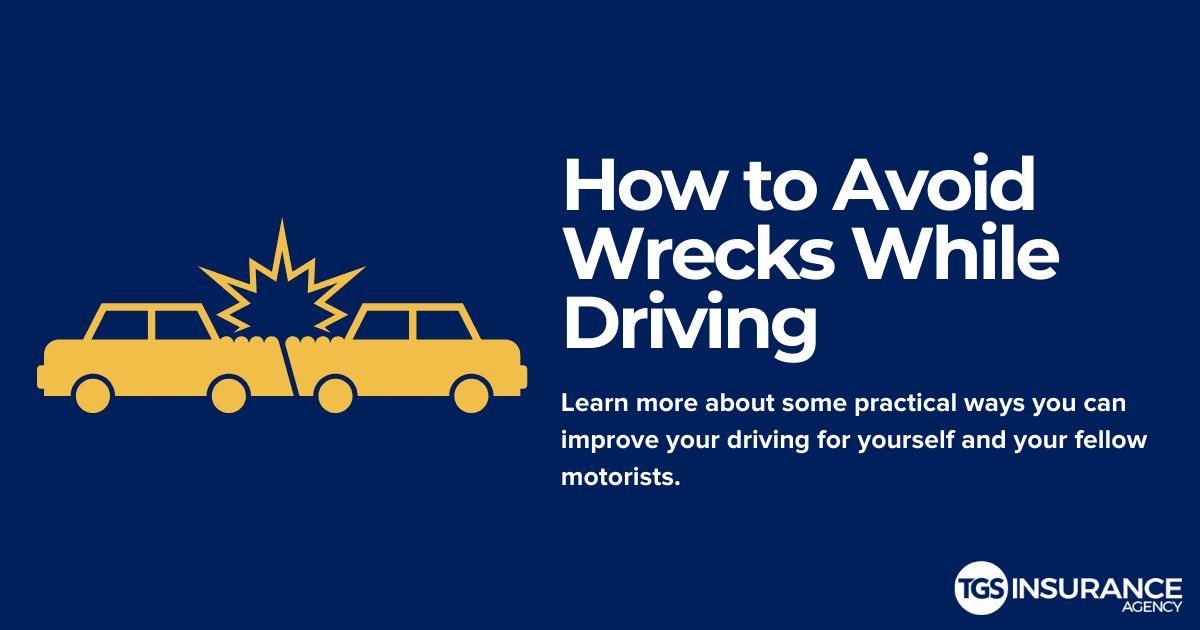 Houston, Texas is a beautiful city filled with world-class restaurants, a blend of cultures from around the world, nightlife, attractions, enterprise, and so much more, including the traffic that comes with a metro area population of around 7 million! It is impossible to go a day without seeing an auto accident either on the road or through your favorite GPS app as they occur far too often. Houstonians are great, but we could all do a better job at driving and the benefits are far-reaching. Driving safely will lower your auto insurance costs, provide shorter commute times, and create fewer injuries and fatalities. Learn more about some practical ways you can improve your driving for yourself and your fellow motorists.
Limit Your Distractions
The number of wrecks caused by distractions may be rising due to the onslaught of smartphone devices that continue to enter our lives, but this cause of an accident is far from a new phenomenon. Drinking a soda as you eat your favorite fast-food sandwich as you rush between meetings can be a distraction. Rubbernecking to watch a wreck is a distraction. Changing the radio station, applying makeup, and anything else that diverts your attention from driving and onto another task is a distraction. The biggest distraction? Using your phone! Put your phone down, whatever it is, it can wait. 
Distracted driving can cause motorists to cross lanes and hit other vehicles, rear-end the person in front of them, or even fatally strike a pedestrian. There are a million things that can go wrong when you are distracted and even if things aren't too bad for your accident, your insurance is sure to go up. Auto insurance companies pay billions of dollars due to distracted driving each year and are not in the business of losing money. Keep your focus or one way or another, you'll be paying for it later.
Call an Uber or a Friend When Drinking
There's no excuse to ever drive when you aren't sober but in Houston, there are even fewer. The city is filled with motorists for ride-sharing services and taxi services. If you aren't sober, it isn't worth the risks of taking another life or your own due to impaired driving. Even if you are lucky enough to not harm someone, the amount you could be stuck paying for property damage, replacing your car, and the increase in your insurance premiums are more than enough reasons to avoid this dangerous act. Not to mention the tickets, court fees and potential legal implications that could not only impact your bank account but your life or someone else's.
Not comfortable with using Uber or Lyft? Call a friend! Safety is the top priority here and avoiding strangers in an intoxicated state is a reasonable action and can be a smart one, but it is not a reason to drive impaired. Have a plan before leaving your home and be sure that someone in your party is a sober designated driver or that a ride from a trusted friend is available. 
Travel at Safe Speeds and Give Space to Others
Merging at the last second to exit the feeder, treating US 59 like it is a racetrack, listen, we're all guilty, but it doesn't mean we shouldn't improve on our bad habits. Waiting in traffic is a draining experience even for veteran Houstonians but by allowing proper spacing between vehicles you are giving your brakes and reaction time a better chance at preventing an accident. Driving fast may shave a bit of time off of your commute but if you are in a wreck, the costs and possible harm are never worth the risks that come with it. The opposite is also true. Speed limits are designed to help drivers navigate safely. Going too slow can also cause an increase in traffic and wrecks.
Protect Your Vehicle With TGS Insurance
Driving better is something we can all commit to and benefit from. Houston is a great place and as a community, we can improve it just by driving safer and following these simple tips. To stay protected for when accidents do occur, TGS Insurance has you covered. Working with a variety of auto insurance companies, our clients save on average $1,237 a year on their auto policies and when bundling home insurance, you may save even more! Working with TGS Insurance allows you to get the benefit of having a professional agent shop the market for your unique needs and build a customized quote that covers you for less. Contact us today and begin saving every month while staying covered on your auto insurance.