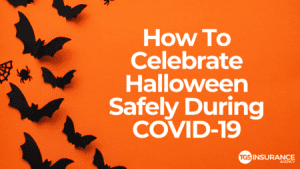 As we start to carve pumpkins and figure out what we want to be for Halloween, it's important to remember that this spooky holiday will be very different. With the ongoing coronavirus pandemic changing the world around us, we have had to adapt to new normals and change the way we've typically done social interactions. This doesn't mean we have to sit out on trick-or-treating this year, but there are new CDC approved Halloween activities that will still get you into the Halloween spirit! 
The CDC has deemed traditional Halloween activities to be a high-risk way of spreading the virus but has recommended other ways to celebrate safely. Below are the typical Halloween activities, some safer suggestions, and the risk levels associated with each. 
Low-Risk Activities
The CDC considers these activities the safest ways to celebrate Halloween this year.
Carving and decorating pumpkins outside with the people with family, neighbors, or friends at a safe six feet distance.

Decorating your

house

, apartment, or living space. 

Create a Halloween scavenger hunt where your children are provided with a list of Halloween-themed items to be on the look-out for as they walk outdoors from house to house appreciating the Halloween decoration from afar.

Hosting a virtual Halloween costume contest.

Having a Halloween movie night with members of your household. 

Creating a scavenger hunt type of trick-or-treating with people you live with in your backyard or around the house/apartment.
Moderate Risk Activities
The CDC deems these ways as a low to moderate risk of spreading or contracting the virus. If you're going to take part, please remember to take the proper precautions. 
Take part in a one-way trick-or-treating that consists of individually wrapped goodie bags that can be placed at the end of the driveway or edge of your yard. This helps children practice social distancing while still getting candy.

Be sure to wash your hands for at least 20 seconds before preparing the goodie bags and avoid touching your face. 

Having a small outdoor costume parade where guests are more than six feet apart.

Going to a costume party held outside where everyone is wearing protective masks and people are six feet apart.

A Halloween mask is not a replacement for a cloth mask. A costume mask should not be used unless it is made of two or more layers of breathable fabric that covers your nose and mouth and does leave gaps around the face.

Don't wear a costume mask over a protective mask because it can be hazardous if you cannot breathe through both masks. 

Going to an open-air haunted forest where masks are mandatory and people can be six feet apart.

If there will be screaming, the CDC recommends a greater distance. The more distance between you and other people, the less likely the virus will spread. 

Going to a pumpkin patch or orchard where hand sanitizer is used before touching pumpkins or picking apples, wearing a mask is enforced or encouraged and people are keeping the appropriate social distancing rules.

Hosting an outdoor Halloween-themed movie night with local family and friends where people are spaced out appropriately.
Higher Risk Activities
The CDC advises avoiding these higher risks activities as they can lead to more spreading or contracting COVID-19.
Engaging in a traditional Halloween trick-or-treating where candy is handed to children who go door to door.

Participating in a trunk-or-treat where candy is handed out from car trunks in a large parking lot.

Going to a crowded costume party held indoors.

Going to an indoor haunted house where people may be cramped together and screaming is involved.

Riding on a hayride with people who do not live with you.

Using alcohol or drugs, which can impair your judgment and lead you to risky behavior.

Traveling to rural fall festivals that are not in your community especially if you live in an area with a wide-spread of COVID-19.
The CDC has provided plenty of approved activities for you and your family to still get into the Halloween spirit. COVID-19 has forced us to embrace new normals and changed the way we live our lives. That doesn't mean we can't celebrate the holidays, it just means we have to do it in a way that is safe for everyone. 
It's worth noting that Halloween isn't all treats and there can be a few tricksters out looking for trouble. Over 17% of homeowners file a theft and vandalism claim on Halloween because it's deemed one of the most mischievous nights of the year. If you run into a situation where your home or vehicle is vandalized or something is stolen, we're here to help. Our team can help you with the claims process from start to finish getting you back to your life faster. 
At TGS Insurance, we're always here to help and want you to feel confident that should you experience theft, vandalism, or any other event, we've got you covered with the best home or auto insurance policy. Head to our website for your hassle-free quote and get in on the savings that thousands of Texans are getting with TGS Insurance. Have a safe Halloween to all and enjoy the spooky season!