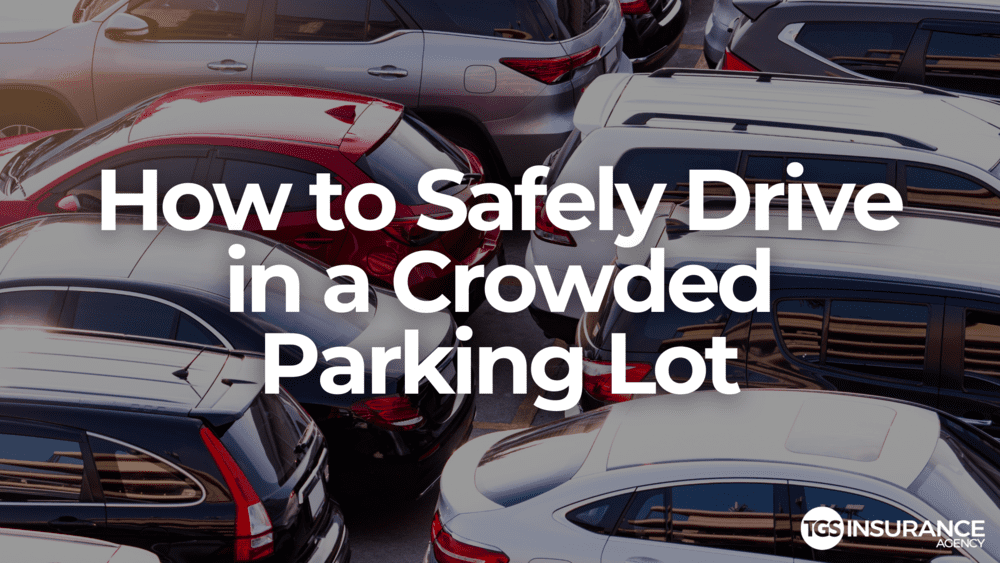 The few weeks between Thanksgiving and Christmas is no doubt the busiest time of year for holiday shopping. More people in stores means more traffic in the parking lot which means a higher chance of auto accidents, fender benders, dents, and scrapes. Because parking lots can be a bit more hectic and overwhelming during the holiday season, we put together a list of safety tips on how to drive safely in a crowded parking lot. 
Avoid The Main Entrance
Everyone tends to park at the main entrance of the mall, which makes it impossible to find parking. Most malls have side entrances that have fewer cars and more parking spots available. Once you try parking near a side entrance you'll never bother parking at the main entrance again!
Park On The Outskirts of The Parking Lot
Though it may be a farther walk, parking in the back or a more remote area means less traffic and decreases your chances of getting into a wreck. Just be sure wherever you park, it has appropriate lighting for those late shopping nights so both you and your car stay secure. 
Be Visible
Regardless of what time of day it is, having your headlights on in parking lots or garages makes your car easier to spot. This will make you more visible and lessen the chance of someone hitting you.
Avoid Tight Parking Spots
Try to avoid parking next to big trucks or SUVs because it can be hard to back in and out of spaces. If you have no other option and you are having a hard time backing out, have someone guide you out of the spot.
Back Into Spots
If you can, try backing in your car or driving forward through two spaces that are face to face. This allows you to easily exit the parking spot without the stress of backing out of one. Keep in mind, that in some places backing into diagonal parking spots may be illegal because it slows down the flow of traffic. 
Pay Attention to Children
Children are little therefore it makes them harder to see in hectic parking lots, especially when cars are reversing. Children tend to make sudden and unpredictable movements, so it's important to hold their hands tight and keep them away from moving cars. This will help you keep them safe and make it easier for drivers to see them.
Be Aware of Crosswalks
Shoppers should always use crosswalks and walkways. These areas are meant for pedestrians, which means they have the right of way and drivers are legally supposed to stop at crosswalks, so pedestrians can have a safe place to cross. If there are no crosswalks or walkways, then walk parallel with the parked cars and avoid walking in the middle of the parking lot. If you're a pedestrian, stay off your phone and pay attention to your surroundings. Be aware of subtle cues such as backup lights or car exhaust. If you are the one driving, be alert of pedestrians, especially the little ones.
Outsmart The Thieves 
It takes a thief seconds to break into your car and steal your holiday finds. Shopping bags and packages that can be seen through your vehicle, and unfortunately, puts an easy target on your back. Always put your shopping bags and packages in the back of your trunk or if you drive a SUV use a cargo cover. And if you don't have one, hide your packages and shopping bags under your seats. The idea is to hide your new purchases and keep them out of sight! 
Always Buckle Up!
Even slow speeds can lead to serious injuries and major damage to your vehicle. Make sure all your passengers are securely buckled. No matter where you go, you should always have your seatbelt on. 
It's easy to get caught up in holiday shopping, but the parking lot comes with dangers that everyone should be aware of. By staying alert and taking some safety measures can help you avoid filing a claim this holiday season. If you do find yourself in an accident, TGS Insurance is here to help! For all current TGS Insurance customers, we can help you through the claims process to get your life back to normal as quickly as possible. If you do find yourself in an accident this holiday season and see your rates go up, not to worry, we can help with that too! We can shop your auto insurance policy through our bank of A-rated carriers for something that's packed with the coverage you need all while saving you money. See why thousands of Texans are using TGS Insurance for all their auto insurance needs!