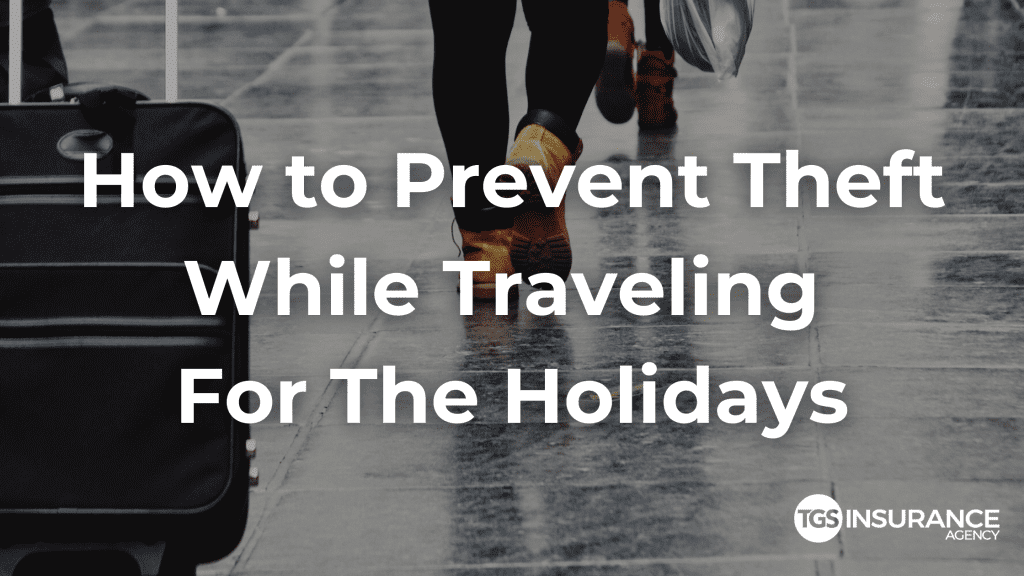 The holidays often are a popular time of year to travel, leaving your home vulnerable to theft. Burglaries tend to be higher during the summer months but often spike during the holiday season. According to the American Modern Insurance Group, over 30% of all burglaries occur due to something simple such as an open or unlocked window or door. 
The good news is home theft is preventable! Check out these 12 tips in keeping your home and valuables secure this holiday season. (Or any time of year.)
Tip #1: Install strong door locks and deadbolts
You'll want a lockset that will hold up against picking or drilling. Not sure what to buy? Check out this guide here.
Tip #2: Make sure to reinforce your door jambs and strike plates
Most of the time, the structural failures are caused by strike plates separating from the doorframes.
Tip #3: Use window security film
Installing window films make glass harder to break and holds any shattered pieces in place. This simple measure can deter a smash and grab theft attempt.
Tip #4: Lock your windows
If your windows don't have locks, add them!
Tip #5: Close and lock your garage and shed
Your vehicle (s), tools, and lawn equipment are often lucrative steals, so be sure to lock anything you don't want to be stolen up securely.
Tip #6: When you're traveling, keep it low key
If you plan on being gone for several days, have a trusted neighbor pick up your mail or put a temporary hold on it. Avoid posting on social media until after you're back and install light timers to make it appear that you're home when you're not.
Tip # 7: Install motion-activated outdoor lighting
Make sure any entry points to your home are well-lit at night so a thief can't hide under the cloak of night.
Tip #8: Adopt a dog
Dogs make wonderful companions but also excellent alarms! But, if you're not a dog person, then a "Beware of Dog" sign displayed may do the trick.
Tip #9: Organize a neighborhood watch
Getting to know your neighbors is a great way to prevent theft! Join online neighborhood communities like Nextdoor to stay up-to-date on what's going on in your area. 
Tip #10: Install a home security system
Be proactive, not reactive, and consider installing a home security system and cameras. Most burglars admit that they skip homes with security systems. Depending on your budget, you can install a DIY home security system like Simplisafe for around $200 or go all out on something like ADT for about $40/month.
TGSI Tip: You can save up to 20% off on your home insurance premium just by having a security system! Talk to your insurance agent today to see what discounts your carrier has. 
Tip # 11: Tend to your yard
Keeping your yard looking clean and trimmed can help deter any hiding spots from unkempt bushes or trees. If you're traveling, have someone come by and mow your lawn, so it doesn't look like your home is vacant.
Tip # 12: Get a safe
Before you leave, lock up any valuables like jewelry, cash, passports, etc., in a fireproof safe, preferably built into a wall or bolted to the floor.
Stay Protected with a Great Home Insurance Policy
The average loss from burglary is $2,661, but your homeowners insurance policy will cover theft, but usually, most policy limits are around $2,000. So if you have high-value items such as jewelry, electronics, artwork, or other possessions or want protection beyond your limits, you may want to consider a floater policy for extra coverage. At TGS Insurance, we can help you with that! We carefully craft every client's homeowners insurance policy to carry the right coverage at a rate that doesn't break the bank. We don't believe anyone should ever overpay for great home insurance, which is why we shop every policy through our bank of 35+ A-rated (or better) carriers to find the most competitive policy the market has to offer. 
Check out our reviews– we'll let our customers do the bragging for us! Get your hassle-free quote in just 15 seconds or less using just your address– it's that easy! No-fuss, no gimmicks, just great home insurance for all.