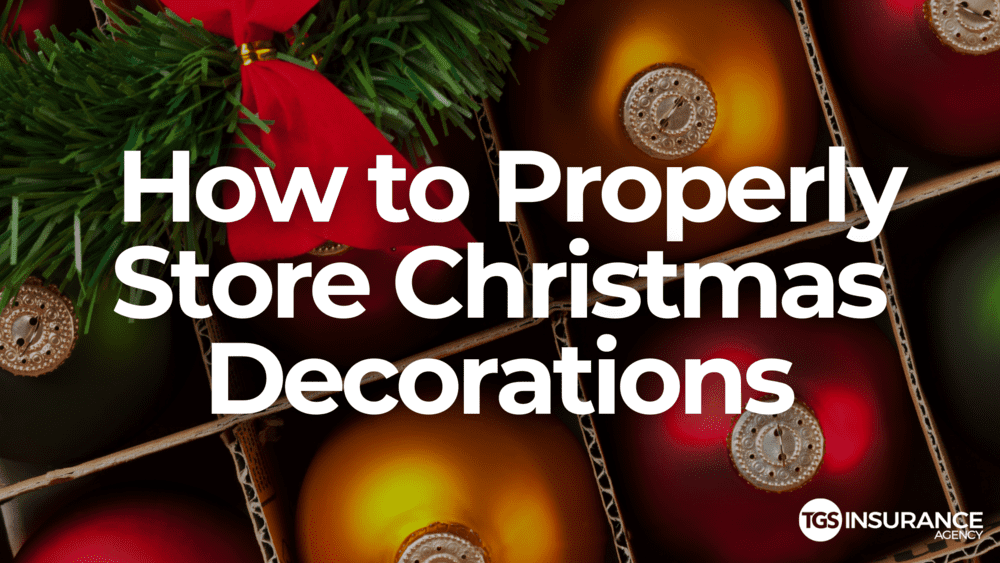 Christmas decorations are one of the best parts of the holiday season, but the worst part of it all is having to take it all down. Not only is it sad that we have to wait an entire year before seeing the lights and sentimental ornaments, but it's also an inconvenience to put it all away and properly store everything. Although taking down Christmas decor is a tedious project, taking the extra time to properly put them away will maintain their condition as well as help you avoid a house fire.
Let's take a look at how to efficiently put away your holiday decor to start the new year right!
Taking Down Christmas Decor
Instead of trying to take down all the decorations in one day, try taking them down day by day so it doesn't seem like an overwhelming task.

If you have the decor in out-of-reach areas and they require a ladder, be sure to practice basic ladder safety. For example, never move, overreach, or lean while you are on a ladder.

Make sure the ladder is on a leveled surface, and you have someone to hold it stable. If you are using a step ladder, be sure it's strong enough to hold your weight.

Be aware of broken ornaments. Clean up any broken pieces and throw them away safely so small children or pets don't get a hold of them. 
Storage Boxes
Don't overload boxes because it can lead to a back injury while lifting. Be sure to have multiple boxes to keep the loads lighter and if something is heavy, lift with your legs and not your back.

Choose storage containers that are large, waterproof, and will protect your decorations from being damaged.

Organize your decorations by their size and weight when storing.

Ensure your more fragile items are protected properly before putting them away in storage boxes.

To make things a bit easier for next year, try labeling or color-coding your boxes so you know what's in what. For example, label any outdoor lighting or put your lights into green boxes so you know what decor goes where! 
Storing Ornaments
Purchase a storage container with segmented sections so your ornaments are secure and aren't rolling around.

For fragile ornaments, try wrapping them in newspaper, tissue paper, or bubble wrap for extra protection.
Storing Lights
Test each strand of lights before storing. There is no point in storing lights that don't function properly. Plus, you can save yourself the headache next year of testing each strand! 

Place each strand of lights in a gallon-sized bag to help separate the strands and help you stay organized.

Use clips or wire to help keep the stands together.

For outdoor lights, be sure to take them down as soon as the holidays are over to prevent hazards and keep their durability.
Storing an Artificial Christmas Tree
If you have an artificial tree, then consider purchasing a tree storage bag or box. This will help keep your tree safe from roaches, squirrels, bugs, or other pests that lurk in your attic. 

Start by removing ornaments and checking to see if all the lights work.

Disconnect the three to four sections of the tree by starting at the top.

If you have a pre-lit tree carefully locate each of the plugs on each section and disconnect them one at a time.

Fold in the branches to help store properly. 

Lastly, place each section of the tree into the storage bag or box.
Taking Down a Real Christmas Tree
Start by removing the ornaments at the bottom and work your way up the tree. This will avoid knocking off any ornaments.

Purchase a disposable Christmas tree bag to bundle it together and help minimize a mess of needles getting everywhere.

Place the bag at the base of the tree and use a turkey baster to remove any extra water in the stand.

Lay the tree down and remove the stand.

Be sure to dispose of your tree properly! See if there is a recycling program in your community, instead of just kicking the tree to the curb. 
Christmas decorations are what make the season merry and bright but nothing can steal the joy of the holidays quite like broken or dingy decorations due to lack of proper care and storage. It's imperative to maintain the condition of all of your decorations to prevent things from breaking, but also catching on fire. Lights that are broken or wires that are damaged can cause fires or electrical problems that can turn any holiday into a nightmare. Understanding how to properly store your decorations and lights is key in avoiding a house fire or accident in future holiday celebrations. 
House fires are every homeowners worst nightmare and it can be a traumatizing experience that leaves you with nothing. Your homeowners insurance policy can't prevent fires from happening, but it can provide you with the financial assistance you need to rebuild your life after the worst has happened. But without the right policy in place, you could be left with the majority of the financial burden. Talk to a TGS Insurance agent about your home insurance policy to ensure it packs the coverage you need to protect all of your possessions while not breaking the bank. We understand how important protecting your home is, which is why we make getting home insurance easier than ever. Get your hassle-free home insurance quote in 15 seconds or less!