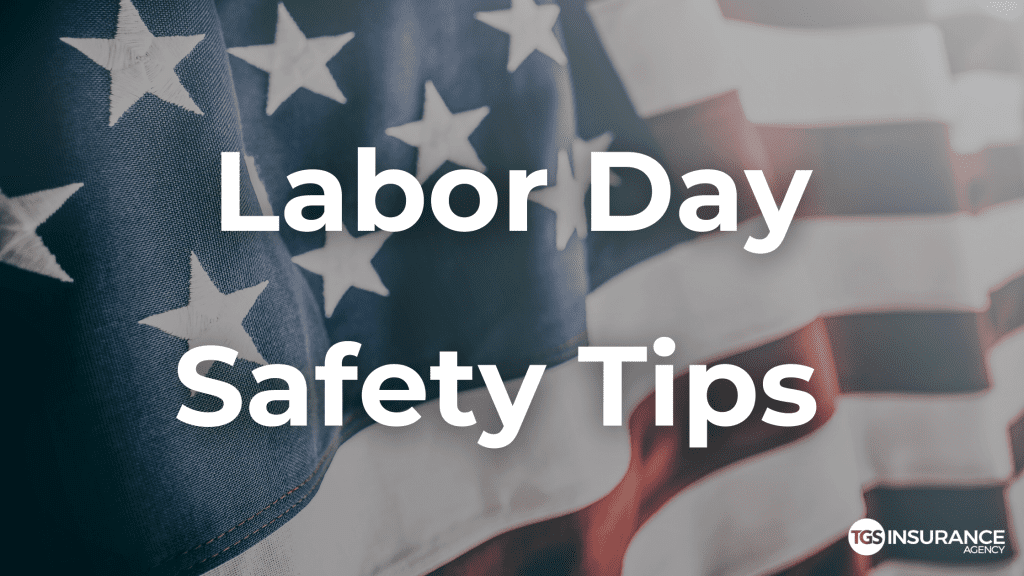 Labor Day weekend signals the end of summer is coming soon, and that colder weather and the holiday season are upon us. Most of us flock outdoors to spend time in the sunshine and others jump on the road to spend the long weekend with friends and family. Whatever your plans are, safety should always be top-of-mind! Let's review some of our top safety tips for having a happy Labor Day weekend.
If You're On The Road…
Did you know that according to the National Safety Council, around 400 deaths result from motor vehicle collisions during Labor Day weekend? It's one of the busiest driving weekends of the year so if you're planning a road trip, keep these tips in mind:
Make sure you're well-rested.
Make frequent stops to move around, stretch your legs, eat, and give your eyes a break.
If you're driving with a passenger, split up driving duties!
Observe speed limits and always follow the rules of the road.
Avoid distractions and give your undivided attention to the road.
Make sure you take your car for a quick inspection to check your tires, brakes, fluids, etc. so you don't run into an unfortunate situation while driving.
Pack an emergency kit filled with water bottles, flares, flashlight, jumper cables, a tool kit, and a tire gauge.
Don't drive and drive. Always plan for a designated driver or a safe ride.
If You're On A Boat…
Always wear a life jacket (And of course everyone else you're with).
Check to ensure all boating equipment is working correctly and that you've filled up with gas.
Never forget to use the engine cutoff device.
Watch the weather.
Know what's going on in the water around you at all times.
Pay attention to boating speeds and always travel at a safe speed.
Keep in touch with family and friends to let them know where you're going and when you'll return. Be sure to also have location devices available and working in case of an emergency.
Never drive a boat under the influence or swim (especially without a life vest).
If You're Going To Be Outside…
Stay hydrated and drink plenty of fluids. Avoid alcohol and caffeinated beverages because they can dehydrate you.
Avoid being outside or in the direct sun during the hottest parts of the day, which tends to be the 3 PM-4 PM hour.
Wear light-colored, loose-fitting clothes and avoid dark clothing.
Don't push yourself. Take lots of breaks and listen to your body.
Avoid extreme heat and postpone outdoor plans if needed.
Use sunscreen and re-apply as necessary!
If You're Going Camping…
Be aware of your environment and what's around you.
Know how to perform CPR, treat wounds, or bites because medical help may be delayed. The American Red Cross has a free class available here.
Stay hydrated!
Share your camping plans with trusted friends or family.
Pack a first aid kit.
If You're Going To The Beach…
Pay attention to beach flags so you know what the swimming environment is like.
Swim at a beach where there is a lifeguard present and obey all rules.
Always swim sober and with a buddy!
Always be watching out for aquatic life- both plants and animals can be harmful.
If you're caught in a rip current, don't panic and signal to those onshore you need help. Swim parallel to shore until you're out of the current and then swim to shore or aid has come.
If You're Going To The Pool…
NEVER leave a child unattended in or near water. 
If you have children around, always have a designated watcher and communicate frequently. 
Know how to perform CPR on both children and adults. 
Leave your phone in your bag- pay attention to your surroundings. 
Never swim alone. 
Be careful when diving or jumping in the pool. 
Check for slipping and/or safety hazards 
Have a first aid kit nearby. 
If you own a pool: 

Make sure you have the proper drains and covers. 
Your chemicals are perfectly balanced. 
You have a gate or fence to keep out unsupervised children or guests. 
If You're Going To Use Fireworks…
There were an estimated 15,600 firework injuries treated in the U.S. alone during 2020. Though beautiful to look at, fireworks can be dangerous when not handled with care. If you choose to use fireworks, take a few precautions first:
If a firework malfunctions, don't re-light it. 
Light fireworks in an open, flat area away from trees and other flammable objects/structures. 
Have a safety perimeter. 
Never light fireworks when it's windy. 
Have a fire extinguisher handy for accidental fires. 
Once you light the firework, get away quickly. 
Don't light too many fireworks at one time. 
Always keep a close eye on all children and never let them handle fireworks. Both fireworks and sparklers can cause serious injuries to kids. 
Never throw your used fireworks into the trash. Always put them in water first, and then toss them out.
Never use fireworks under the influence. 
Labor Day Weekend can be a fun three-day weekend for all if safety is kept at the forefront of all of your activities. And while you can prepare for most things, some things can happen that are out of your control, like an auto or boating accident, or a firework that has gone awry and hits your home. (We know because we've heard it all.) But, by keeping these safety tips in mind you could help avoid an accident or disaster.