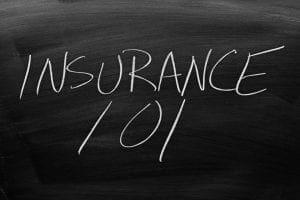 The insurance vocabulary can sometimes be like a foreign language to policyholders and confusing at times. You have probably heard the word 'deductible' or 'premium' and possibly not fully understood just what those two important terms entail. And because the insurance lingo can sometimes be a bit convulded, it may make it difficult to choose an insurance provider or fully understand your policy. Not to worry though, we're here to help breakdown the most commonly used terms in insurance to help you better understand what exactly everyone is talking about. Here are the top 9 most used insurance terms that will be commonly used when deciding what insurance agency to go with.
Adjuster 
An insurance adjuster is hired by an insurance agency to investigate, gauge and resolve insurance claims. An adjuster must determine what caused the damage, if your policy covers the damage and how much everything is going to cost. Once the evaluation is completed, the adjuster will determine the amount of money the insurance company is responsible for covering and discuss some sort of agreement.
Certificate of Insurance (COI) 
It is normal to get the COI confused with the Declaration Page because they are very much alike in the information they present. The COI is slightly different in a few ways:
The name of the company seeking a certificate. Also known as the "Certificate Holder."

This also includes the Certificate Holders circumstances, eliminations or certain language needed.
Take a look below for an explanation of the declaration page! 
Claim
A claim is you formally notifying your insurance company that you've suffered some sort of loss or damage and you believe your policy covers and you, the policyholder, are requesting action. 
Declaration Page 
The declaration page or commonly known as a "dec page" is a single page summary of the type of coverage you will receive. It also includes the insurance company's name, address of the company, the name and address of the policyholder, the dates the policy will start and finish, the policy number, the different types premiums and deductibles and how to file a claim. It is important to make sure all of your personal information is correct and understand what all is included in your policy. Your TGS Insurance agent can help walk you through all of this to ensure you 100% understand your policy! 
Deductible
This is the amount of money paid by the policyholder "in a claim before the insurance company kicks in." The insurance provider will take away or "deduct" this amount from the premium. Deductibles and premiums go hand in hand, the higher the deductible = lower premium, and vice versa.
Liability Coverage
Liability insurance covers the policyholder against claims from harm or suffering to other individuals or property.
Peril 
A peril is an event that may damage your home or belongings, like a hurricane, burglary or fire. Policyholders can find the perils they're covered for on their homeowners insurance policy. 
Risk 
Risk is basically the chance of something unexpected or harmful occuring. Examples include theft, damage, loss or injury. Insurance companies use this to determine their rates based on how high or low the risk is. 
Premium
This is the amount owed to the insurance providers in return for accepting a share of the risk. This amount is determined on various aspects, such as the protection limits and the deductible that is chosen.
Insurance lingo can be quite confusing at times but at TGS Insurance Agency, we strive to always ensure each of our customers fully understand their policies so they can feel confident and protected. If you have any questions or concerns, please reach out to our team today and we can help shop your home, auto or other policies with our carriers to ensure you're getting the best coverage for the price. You can either give us a call at 1-855-771-4509 or visit our website to get started. 
Source: Infinity Auto