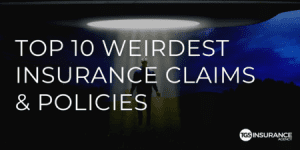 Insurance companies receive thousands of claims each year. Typically they're the usual fender-benders, a broken water pipe, but every now and then some outlandish claims are just sometimes hard to believe. Take a look at some of our top picks for the weirdest, scariest and most unfortunate insurance claims and policies. 
1. People from the south are very familiar with how snakes love cool, dark areas. One Texas family was in for a surprise when someone went to the bathroom and noticed a rattlesnake's head peeking out of the toilet. Once they had the one rattlesnake removed, experts discovered 23 more of them around the plumbing system resulting in some damage. 
2. One couple was greeted with an awful welcome home gift after traveling to Greece for a month. During their trip, the power went out in their home and all the food in their freezer defrosted causing everything to spill out onto the garage floor. But wait it gets worse: The couple's home was ravaged with mice hunting for food. They had to have their home exterminated before the repairs could be made. Thank goodness for home insurance right?
3. After signing a deal with Gillette, Mariah Carey took out $1 billion in insurance coverage on her legs. Her management team thought that this coverage was essential because she was getting ready to go on a big tour and her popular reputation made that investment necessary
4. A London based insurance company has sold over 30,000 alien abduction insurance policies throughout Europe. Though bizarre and unlikely to happen, policyholders will have to provide legitimate proof of the abduction to file a claim. 
5. Have you ever seen a giant flying frisbee? When a powerful gust of wind passes through a neighborhood trampolines can be transformed into frisbees. Texans are all too familiar with strong winds that can reach speeds up to 50 MPH. The Lonestar State has had multiple incidents reported of trampolines flying into neighbor's homes that led to serious damages. If you have a trampoline, you might want to check out our post on backyard liabilities so you can find out how to better protect yourself from financial liability. 
6. The Royal Falcon Hotel in Lowestoft, England insured its staff and customers against death and disability caused by ghosts, poltergeists and other abnormal activity.
7. Dutch winemaker, Llja Gort purchased an $8 million policy on his nose after hearing about a man who lost his sense of smell in a car accident. The terms and conditions of his policy forbid him from riding a motorcycle, working as a knife thrower's assistant, fire-breather and other activities that put him at risk of losing his sense of smell.
8. International businesses are notorious for purchasing insurance policies for kidnapping in case one of their executives are abducted in another country while on a trip. But now you don't have to be a multinational business worker to purchase this type of coverage! The insurance company will send a team of negotiators to rescue you and will reimburse the kidnappers with a compensation price up to your policy limits. 
9. Miley Cyrus and Gene Simmons have one thing in common and it's not being iconic singers. The Kiss rock and roll legend and former Disney pop star both have $1 million insurance policies on their tongues.
10. Hot tubs can be a relaxing place to unwind after a long day, but be sure to always check the temperature before you hop in. One man unfortunately jumped into a hot tub that malfunctioned and it had risen to a skin-burning 150 degrees. He had to quickly rush to the emergency room and was treated for third-degree burns. Yikes! 
Weird things can happen, luckily there is insurance to help cover you in ANY event. The team at TGS Insurance is here to help provide you insurance for any situation and will walk you through the claims process from start to finish- no matter how strange. Give our team a shout today for all of your insurance needs! 
Sources: Webb Insurance, Trusted Choice, GEICO, and Hippo