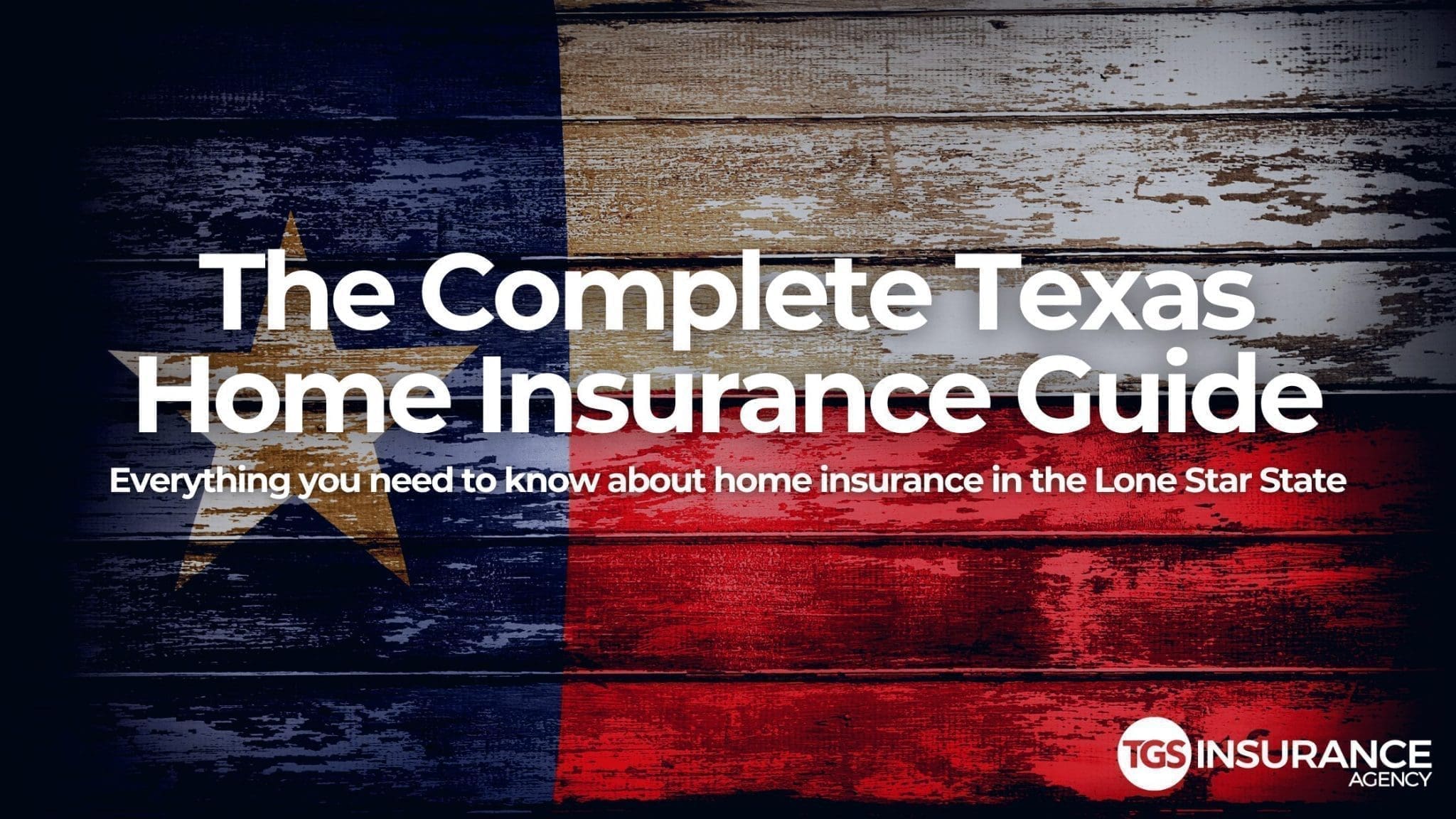 The great state of Texas spans over 268,597 square miles making it the second-largest state in the United States. Texas is a state like no other because we have a varied landscape that makes the Lone Star State vulnerable to weather-related perils, such as hail, hurricanes, tornadoes, and windstorms. Whether you live in the desert in most western points of the state in El Paso or enjoy the beautiful sandy beaches of South Padre Island, you need to have a comprehensive home insurance policy in place to make sure your home and personal belongings are well-guarded for any event. 
How Much is Home Insurance in Texas? 
Everything is bigger in Texas, including our home insurance premiums. Texas ranks #3 in the nation for most expensive home insurance premiums, with the average Texan paying about $1,955 per year just behind Oklahoma (1) and Florida (2). The reason why Texas has such high home insurance premiums is because of the sheer number of weather-related risks that leave our great state vulnerable. However, no two homes are the same so what you pay for home insurance will be different than that of someone across the state or even your neighbor. 
Your home insurance rates are calculated by several things, but it mostly drills down to: 
Your home's location (Does your area get a lot of tornadoes?) 

Your home's characteristics (Building materials, age, type of plumbing, etc.) 

Coverage amounts (How much are you looking to insure?) 

Deductible (The higher the deductible, the less you pay) 

Credit history (Higher credit = better rate) 

Claims history (More claims = higher rate) 
Here's what the average Texan pays based on coverage amount in Texas: 
| Coverage Amount | Average Texas Home Insurance Premium |
| --- | --- |
| $100K-$200K | $1,119 |
| $200K-$300K | $1,391 |
| $300K-$400K | $1,709 |
| $400K-$500K | $1,995 |
| $500K+ | $2,454 |
*Premiums are based on TGS Insurance customers' policy averages. 
It's always a good idea to see how much you're paying against the average because if you're paying too much you could be overpaying for insurance, but if you're paying much less, you could be underinsured which is never a good thing. 
Top Home Insurance Providers in Texas 
Getting a home insurance policy at a great rate is a must, but you also need to know more about the company you're looking to insure your home with. Your home insurance carrier will be who you look to for financial protection when you need it most, so be sure to look at things like financial rating (A or better), good claims process, multiple policy options, good discounts, and of course- coverage! 
Take at some of the top home insurance providers in Texas and the average policies per carrier: 
| Insurance Carrier | Average Texas Home Insurance Premium by Carrier | Carrier Financial Rating |
| --- | --- | --- |
| Allied Trust | $1,744 | "A, Exceptional" by Demotech |
| Anchor | $1,537 | "A, Exceptional" by Demotech |
| Guard | $1,528 | A+ (Superior) by A.M. Best |
| LightHouse | $2,138 | "A, Exceptional" by Demotech |
| Maison | $1,296 | "A, Exceptional" by Demotech |
| State Auto | $1,418 | A- (Excellent) by A.M. Best |
| Swyfft | $1,296 | A- (Excellent) by A.M. Best |
*Premiums are based on TGS Insurance customers' policy averages by carrier. 
One of the best ways to save on home insurance in Texas is to shop your policy across at least 5 different carriers to compare rates and coverage. This, however, can be a time-consuming and tedious process, which is where TGS Insurance steps in! We're your one-stop-shop for all things home insurance. We'll shop and compare your policy across 35+ A-rated (or better) carriers to find you a policy that's perfectly balanced in the coverage you need at a rate that doesn't break the bank. We'll maximize every discount possible to always ensure you're getting the best home insurance policy on the market at a fair price. 
Average Cost of Home Insurance by City in Texas 
As we stated above, what you pay in Galveston may be completely different from what you see in Lubbock, and that's because the perils in each area are completely different from one another. Based on the 18 most populated cities, here's what you can expect to pay for home insurance: 
| City (By population) | Average Home Insurance Policy |
| --- | --- |
| Houston | $1,637 |
| San Antonio | $733 |
| Dallas | $1,639 |
| Austin | $875 |
| Fort Worth | $1,312 |
| Arlington | $1,417 |
| Corpus Christi | $1,603 |
| Plano | $1,580 |
| Lubbock | $1,179 |
| Garland | $1,249 |
| Irving | $1,444 |
| Amarillo | $1,238 |
| Grand Prairie | $1,318 |
| McKinney | $1,163 |
| Frisco | $1,426 |
| Brownsville | $1,319 |
| Pasadena | $1,720 |
| Killeen | $709 |
*Premiums are based on TGS Insurance customers' policy averages by city. If the city is not included, we did not have enough data to present a comprehensive average. 
5 Easy Ways to Save on Home Insurance in Texas
Your home insurance premium is calculated on several different things and often varies by carrier. From shopping your policy around (Use TGS Insurance!) to making home improvements, there are several things homeowners can do that can help save you some money on your home insurance policy. 
Raise your deductible:

Raising your deductible is an easy way to pay less for home insurance. But keep in mind, the higher the deductible, the more you're responsible for paying out-of-pocket should you need to file a claim. 

Shop your policy around:

Shopping your policy across different providers is a great way to save some money but as we mentioned before, it can be a bit tedious. Use services like

TGS Insurance

to help save you find the best coverage all while saving you the most money! 

Bundle your policies together:

If you've got multiple policies, try bundling them under the same provider. Some customers can save as much as 20% a year when they bundle home and auto together. Talk to your

TGS Insurance

agent today about what savings are available to you when you bundle! 

Make home improvements:

If you live in an area that's more disaster-prone (lots of hurricanes) try making upgrades to your home- like installing storm shutters, or shatterproof glass. Consider modernizing your older electrical systems to reduce your fire risks. Making upgrades like these can help mitigate any excessive damage and can help save you some headaches and money. 

Install home security devices:

Simple home security upgrades like smoke detectors, burglar alarms, and even deadbolt locks can give you up to a 5% discount on your home insurance policy. If you're looking to take things a step further, you can save upwards of 20% by adding a comprehensive security system. 
There is no shortage of ways to save on your home insurance policy in Texas. Other things include removing attractive nuisances (ex. a trampoline), building your credit score, not filing small claims, or even other lesser-known discounts (ex. no smokers in the home) can all help you save! 
Additional Coverages All Texans Will Want to Think About: Flood and Windstorm Insurance 
Windstorm Coverage
Windstorm insurance is a specialty type of property and casualty insurance that covers any damage to your home caused by wind or hail. Usually, your home insurance provider will provide coverage for this weather-related peril (with a deductible), but depending on where you live in Texas your home insurance provider may exclude wind coverage, forcing you to purchase a separate wind policy through the Texas Windstorm Insurance Association (TWIA). 
TWIA provides windstorm coverage when homeowners have been rejected by at least one private insurer. TWIA is mostly used in counties along the Texas coastline and some parts of Harris County. The 15 TWIA-eligible counties include: 
Aransas

Brazoria

Calhoun

Cameron

Chambers

Harris (East of Highway 146)

Galveston

Jefferson

Kenedy

Kleberg 

Matagorda

Nueces

Refugio

San Patricio

Willacy 
It's imperative that homeowners get the proper windstorm coverage before June 1, 2021 (the official start of hurricane season) because some carriers will put a moratorium on coverage after a specific date. On average, homeowners who purchase windstorm coverage through TWIA will pay about $1,700 for a policy. 
However, we do windstorm insurance a bit differently at TGS Insurance. We don't believe that you should be forced to purchase a separate policy just to get the coverage you need. This is why we automatically include a 2% wind/hail deductible into every single home insurance policy we write. Our coastal customers have reported huge savings since getting insured with TGS Insurance! Get a free home insurance policy quote in 15 seconds or less (including windstorm coverage) using just your address here! 
How to Save on Windstorm Insurance in Texas
There are easy ways you can save on windstorm insurance that will help make your home sturdier against strong winds and hail, therefore lowering your windstorm insurance costs. Common home upgrades include: 
Hurricane shutters

Impact-rated glass on windows and doors

Impact-resistant doors and garage doors

Secondary water resistance 

Reinforced wall-to-wall connections

Roof-deck attachment 

Roof covering, shape, and bracing 
Be sure to talk to your TGS Insurance agent about what discounts are available to you! 
Flood Insurance
It's an unfortunate misconception that flood damage is covered by your homeowners insurance policy. This is untrue. Flood insurance will protect your home and personal belongings from floods due to long periods of rain, heavy rain, storm surges, blocked storm drainage systems, or levee dam failures. Flood insurance is comprised of two main components: 
Building coverage:

This coverage will help rebuild the physical structure of your home. The coverage limit is $250,000. 

Contents coverage:

This coverage replaces everything

inside

your home. The coverage limit is $100,000. 
The average cost for flood insurance in Texas is about $700 per year but the amount can vary depending on where you live and how much coverage you're seeking. At TGS Insurance, our average customer pays $528 per year for flood insurance, which is $172 less than the state average! See how much you could pay for a flood insurance policy here.  
Depending on where you live, you'll be required to purchase a flood insurance policy because the area has been deemed "high-risk" for flooding. It's important to keep in mind, though you may not live in a high-risk area, more than 20% of flood insurance claims come from homes living outside a flood risk zone. In terms of dollars, just one inch of water can cause $25,000 of damage to your home. To see if your home is in a high-risk area, visit FEMA's flood map here. 
How to Save on Flood Insurance in Texas
Your insurance carrier will determine your flood insurance rates based on the risk it's taking on to insure your home. The higher the risk, the higher the rate. But there are things you can do to help lower your policy rate including:
Elevate your utilities

Install flood openings

Fill in basements 

Elevate your property

Re-locate your home or business (We know, this is an extreme measure) 
Save on Home Insurance in Texas with TGS Insurance 
As a Houston-based insurance agency with over 14,000 customers across the state, we know what Texas homeowners need- a great home insurance policy at a great price. Visit our website here to get your hassle-free quote in just 15 seconds or less, using just your address. We'll then compare your policy across our suite of 35+ carriers to ensure you're getting the lowest-priced policy available with even better protection, including a 2% wind/hail deductible! Don't wait to see how much you could be saving, get your hassle-free quote today and see why TGS Insurance is one of the leading insurance providers in the Lone Star State.