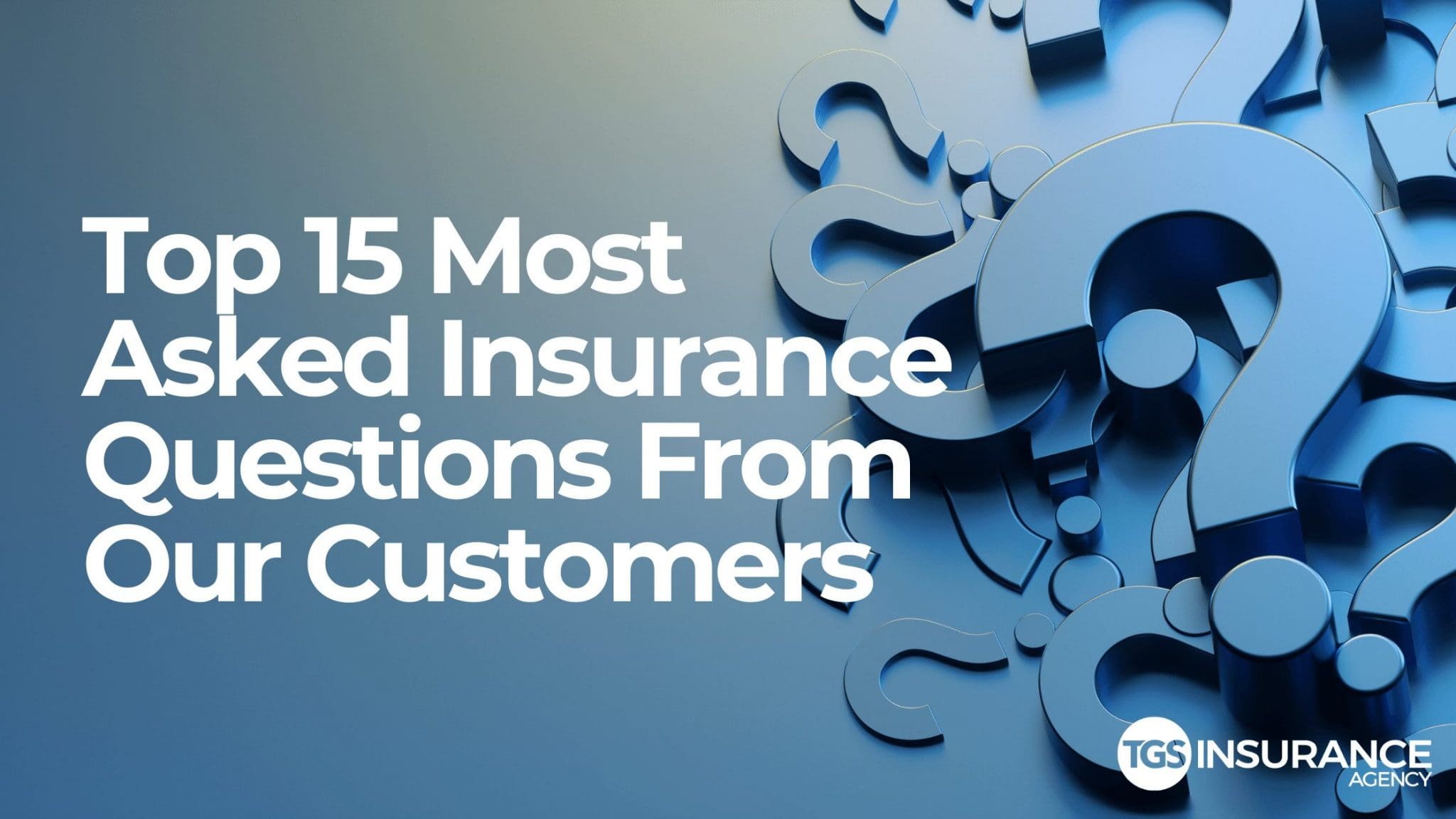 We all need insurance to protect almost every aspect of our lives such as your home and car but sometimes the topic of insurance can be a complex subject. The reason insurance can be so complex is because different coverages within your policy protect different things and it might be confusing on what protects what. It's important that you are fully aware of what coverage you have and how it works so you can be an expert on your insurance policy.
We asked our TGS insurance agents to share the most common questions they get from their customers about home, auto, and flood insurance. Below are the questions and answers to help you better understand how each policy works.
Top Home Insurance Questions
What is all included in the home insurance quote?
Your home insurance quote is an estimate of how much it will cost to insure your home and personal belongings. The estimate is inclusive of dwelling coverage, other structures coverage (like a detached garage), personal property coverage, loss-of-use coverage, liability, medical payments, and any other endorsements. The quote will detail how much the insurance carrier will insure, what your deductibles are, what named perils are covered, and other important information.  Each home insurance quote is different because no two homes or homeowners are the same and you can easily change your coverage options to either low or raise your home insurance premium.
Is flood damage included with a homeowners insurance policy?
No, flood damage is not covered by a homeowners insurance policy. To stay protected against floods, you must purchase a flood insurance policy. The average cost for flood insurance in Texas according to the NFIP is $634 per year, but at TGS Insurance our customers pay an average of $528 per year. 
What is a replacement cost for personal property?
Replacement cost is how much it would cost to buy a new item at the time the claim is made. Replacement cost is usually about 10% higher than actual cash value coverage, but could end up helping you should you need to replace your personal possessions after a loss. 
Are there discounts when bundling home and auto insurance policies together?
Most insurance providers offer a bundling discount if you purchase two policies such as auto and home insurance. On average, you can save anywhere between 20% to 25% when you bundle your policies together! 
Does my insurance rate increase after a year?
This can vary depending on your carrier and rates can be either small increases, such as a few dollars, or large increases going up several hundred. However, most of the time you can expect your home insurance rates to increase due to insurance carriers trying to keep up with the rise in repair costs and inflation. Other factors that can increase your home insurance rates include the age of your home, number of claims made, credit changes, any new additions to your home, and other factors. 
Luckily, TGS Insurance is here to help save you money year after year on home insurance! When you become a client of ours, we'll shop your home insurance policy year after year to ensure you're always getting the best rate (or better) without sacrificing coverage. You'll never have to worry about overpaying for insurance again!
For more information on how your homeowners insurance policy works and understanding the basics, click here!
Top Auto Insurance Questions 
What is an auto insurance deductible?
An auto insurance deductible is the amount you are responsible for paying before your auto insurance carrier will pay. So for example, you have a $500 deductible and get into a car accident. You as the driver, are responsible for paying $500 before your carrier puts forth the rest of the money. You have the power to raise or lower your deductible, but typically if you have a higher deductible you will have a lower monthly premium and vice versa. 
What is liability coverage?
Within your auto insurance policy, there is liability coverage that helps cover the costs for other driver's property or medical injuries if you are responsible for a car accident. Your insurance provider will pay for the property damage and injuries up to your coverage limits.
What does uninsured/underinsured cover?
If you were involved in a car accident with a driver who doesn't have auto insurance or doesn't have enough coverage to cover your property's damage, uninsured/underinsured insurance covers damages, medical bills, pain and suffering, lost wages, and funeral expenses up to your policy limits.
Is towing included in my auto insurance policy?
This optional policy add-on will cover the costs for labor related to common roadside breakdowns such as a flat tire if you lock your keys in your car and other types of breakdowns. Depending on which carrier you have, this add-on could be free or as little as $5 to $10 per month. 
Are car modifications covered by my auto insurance?
Car modifications aren't covered under your auto insurance policy. Most providers only cover the car as it originally was built by the manufacturer. This may be because adding any modifications will bring more attention to your car, raising the possibility of theft. If you want coverage for your modified car, you will need to add-on supplemental coverage, which provides coverage for modifications and aftermarket components on your car. You can also purchase classic/collectible car insurance that is offered by insurance providers who specialize in insuring collectible/classic vehicles, which also includes modified cars.
What is gap insurance and how does it work?
Gap insurance is an optional car insurance coverage that helps cover the costs of your car loan in the event your car is totaled or stolen and you owe more than the vehicle's depreciated value. According to the Texas Department of Insurance, the "gap" can be more than thousands of dollars if your down payment is less than 20% or you finance your loans for 60 months or more. 
Top Flood Insurance Questions
How much does flood insurance cost?
The average cost for flood insurance in Texas is about $700 a year. With TGS Insurance, our customers can spend anywhere between $400 to over $1,000 each year, with an average policy of about $528. The price fluctuates depending on where you live and how-risk your area is for flooding.
What does flood insurance cover?
Flood insurance protects your home and personal belongings from water damage caused by a flooding event. You can purchase two different types of coverages, building property coverage or personal contents coverage, or both. Building property coverage protects the physical structure of your home and anything attached to it, such as your plumbing, heating and cooling system, etc. with a max coverage limit of $250,000. Personal contents coverage protects your personal belongings, such as furniture, clothes, electronics, and other valuables up to a policy limit of $100,000. 
Why is there a 30 day waiting period before my flood insurance policy is effective?
Flood insurance has a waiting period before the policy takes effect, which means if your home and personal belongings are damaged by flooding within the waiting period, you won't receive protection. Flood insurance through the National Flood Insurance Program (NFIP) has a waiting period of 30 days, however, private flood insurance providers can have a waiting period of 10 to 14 days. Congress increased the waiting period to 30 days from five days in 1994 to combat last-minute policy purchases before a flood. 
What does personal property cover in flood insurance?
Personal property coverage protects all of your personal items including artwork, clothes, electronics, furniture, and other valuables up to a policy limit of $100,000. Coverage pays out on an actual cash value basis, meaning the carrier considers depreciation when determining how much you'll get for your damaged items. 
Save Money on Flood Insurance with TGS Insurance 
At TGS Insurance, our goal is to provide each customer an exceptional insurance policy with the coverages you need, at a great rate. Whether you're looking for home, auto, flood, motorcycle, or another line of insurance, we've got you covered. We shop your policy with over 35+ A-rated (or better) insurance carriers to get you the best deal on the market. We'll even look at bundling options to help you save even more! 
See why over 14,000 Texans trust TGS Insurance with all of their insurance needs and get a quick, hassle-free quote for whichever type of insurance policy (or policies!) you're needing.