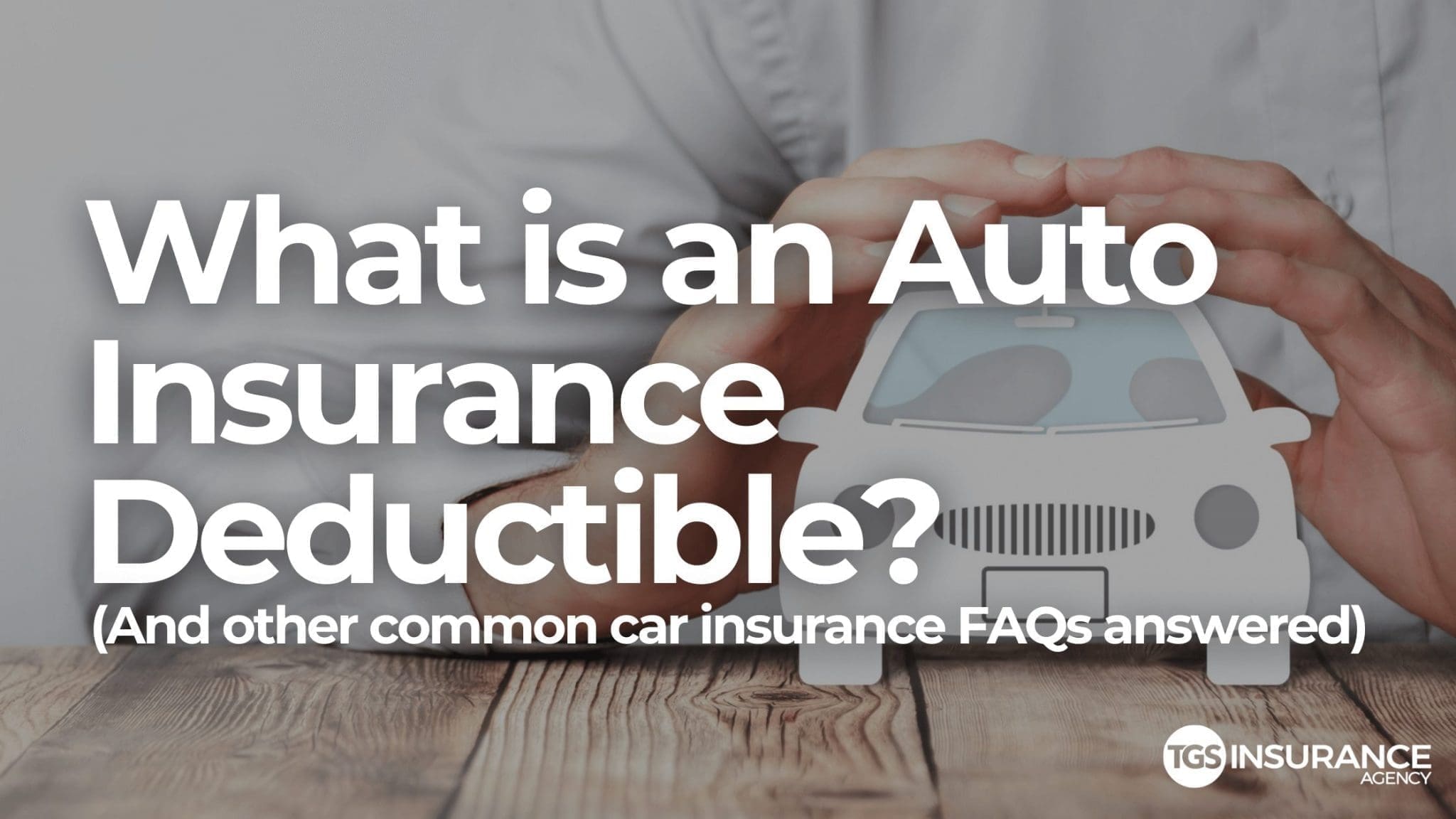 Your auto insurance deductible is the amount you pay when you file a claim with your insurance provider before they pay you the amount to help restore what was lost in your claim. The deductible is paid before your claim payment is sent by your insurance carrier. Your deductible can range between $100 to as high as $1,000 with $500 being a popular choice for most motorists.
There are a variety of useful questions just like this one that can help even experienced motorists understand their auto insurance policies better. TGS Insurance prides itself on being a resource for motorists and providing the answers to important questions that can help you navigate what can feel like an intimidating industry. Take a look below at other frequently asked questions (FAQs) that can help you get the most out of your auto insurance.
Which Types of Auto Insurance Coverage Carry Deductibles?
Both collision and comprehensive coverages require deductibles from the insured before payment is released.
What Are Liability Limits?
Your auto insurance's liability limits are the maximum payment you can receive for the claims on your policy. According to the Texas Department of Insurance, Texas law mandates that motorists carry at least $30,000 in coverage per person for injuries with a total of $60,000 per accident accompanied with $25,000 in coverage for property damage.
How Are Auto Insurance Premiums Calculated?
Auto insurance companies calculate your premiums based on several factors that can include:
Your driving record.

The number of claims you have submitted.

The number of accidents you have been at fault in.

The automobile you are driving.

The coverages you choose.

Discounts including bundling that you are eligible for.

Your credit score.

The number of accidents that occur near your home.

Your gender.

Your age. 

The primary use of your vehicle.

A variety of different factors are associated by insurance providers with the risk they will take on to insure your vehicle.
Many different factors go into calculating your premium, some of which you can control and others you cannot. Furthermore, insurance companies will all have their own method of determining which factors should be weighted higher than others. All of this combined makes it very difficult to pinpoint the exact method used to create your auto insurance premium.
Do I Need Additional Insurance for Ridesharing?
Yes, if you want to stay protected during all times when participating in ridesharing, you'll need to rely on ridesharing insurance to fill in the gaps left by having auto insurance alone. Different ridesharing companies will provide different levels of protection but there are still opportunities in which drivers can find themselves exposed. To learn more about ridesharing insurance and how it can benefit you, please click here.
What Makes a Vehicle Totaled?
If your vehicle's repairs will cost more than its value, insurance companies will declare it as totaled. As the cost of labor and parts continues to rise, a vehicle being declared totaled can arise from more accidents than you might think.
Can I Drive Without Auto Insurance?
Driving without auto insurance is never a good idea and of course, illegal. The risks that come with driving uninsured are far too great when you consider the hundreds of dollars in fines you can be subjected to if you are caught. This is nothing compared to the thousands upon thousands of dollars that you may be held liable for when it comes to repairs, medical bills, and even legal fees. Almost every state in the country requires a bare minimum of liability coverage. Let TGS Insurance save you money by finding you the right coverage for your auto insurance needs all for the lowest price on the market.
What Auto Insurance Covers Theft?
To protect your vehicle and its contents from theft, you'll need a comprehensive insurance policy. There are different types of auto insurance coverage but only comprehensive coverage pays to restore theft and damage as a result of an event that is not a collision. Comprehensive coverage is an optional add-on, so be sure to talk to your insurance agent about adding this to your policy. 
Can I Buy Auto Insurance With a Bad Driving Record?
Yes, you can purchase auto insurance even with a not-so-favorable driving record in many cases. Your premiums will be higher than those with better driving records, so you'll likely pay more depending on the level of risk your insurance carrier determines ensuring you to be; however, you should note that if an insurance company does determine that you are too much of a risk due to your driving record, you may not be able to purchase an auto policy with that company.
Where Can I Get the Lowest Rate for My Auto Insurance?
You can find the lowest rate for your auto insurance policy by comparison shopping through all of the available brands on the market, or, you can allow the experts at TGS Insurance to do this for you. We help customers save an average of $1,237 a year on their auto insurance by comparison shopping through more than 35 top-rated auto insurance providers for the best coverage available to you at the lowest price on the market. You can even save more by bundling your auto insurance with a homeowners policy. Contact us today and begin saving more while staying protected.