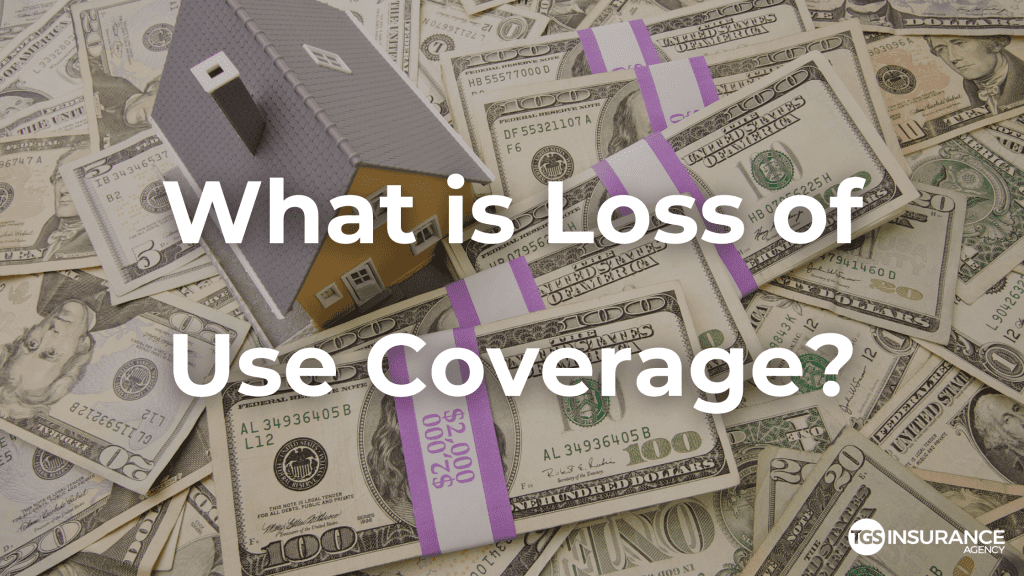 Your homeowners insurance policy protects you, your home, and everything in it. But if a disaster were to strike and your home was unlivable, what would you do? How much would it cost? Luckily, your home insurance policy offers some coverage for such an event, commonly called loss of use coverage.
What is Loss of Use Coverage?
Loss of use coverage, or also known as additional living expenses or Coverage D (in your policy) will help you pay for things like hotel bills, groceries, fuel, and other expenses should your home need to be repaired or rebuilt after a covered loss. If you have renters, loss of use coverage can help you recoup the lost rent should your tenants need to live somewhere else temporarily.
But what happens if the local authorities won't let you go home? Or the area around your home is deemed hazardous? For example, if your town is hit by a tornado and your home is untouched but the roads and/or area around your home are destroyed and the surrounding area is dangerous, the loss of use claim would be covered by insurance.
How Much is Loss of Use Coverage? 
Loss of use coverage is typically anywhere between 20% to 30% of your home's insured value and is baked into your home insurance premium. So if your home's loss of use coverage is 30% then your loss of use benefits would be $90,000. It's important to keep in mind that there may be limits for temporary living expenses so check your declarations page.
What is Covered by Loss of Use Coverage? 
If you're forced to leave your home temporarily due to damage sustained from a covered peril, your home insurance policy will help cover those costs under the loss of use coverage part of your policy. For example, if your home were to catch fire and you can't live there while repairs are being done, your insurance company would help with the bill. If your hotel didn't have a kitchenette and you had to eat out more, insurance would help with that too.
However, just because you have this coverage doesn't mean you can go on a spending spree and expect insurance to cover it all like with any insurance coverage there are limits. Loss of use coverage will only cover what's deemed "necessary," even then, what's "necessary" will have dollar limits. Expenses usually covered under loss of use coverage include:
Car rental
Clothing expenses
Food expenses
Fuel or mileage expenses (Ex. your hotel is farther from work)
Hotel expenses
Laundry expenses
Parking fees
Pet boarding costs
Public transportation
Rent for a temporary apartment (if needed)
Storage until bills
Insurance companies will have a list of things not covered by loss of use coverage so be sure to know what they are before you spend money. That way, you're not trying to get reimbursed for something that the insurance is going to deny.
What is Not Covered by Loss of Use? 
Your living expenses are covered if your home was damaged as a result of a covered peril. For example, if your home sustains damage to hail, you're covered; but if there's an earthquake or flood, you would not be eligible for loss of use coverage. Both of these perils require a separate insurance policy and aren't covered under a home insurance policy. In addition, you can't use loss of coverage for elective events like home renovations or general home maintenance.
How Do I Get Reimbursed For My Living Expenses? 
If you find yourself in a situation where you're living outside of your home while it's being fixed, there are a few things you will want to do to help not only with your reimbursement process but the claims process as well.
File your claim as soon as possible! The faster you can get your claim filed, the better it will be for you. Most companies prefer online submissions because it's quick and convenient for all!
Get a timeline from your insurance carrier on what you can expect during the claims process. Be sure to also get a list of everything needed, to help speed the process along and so you don't miss anything.
Save all documentation including pictures.
Be sure to save all your receipts! This will help your insurance carrier know exactly how much to reimburse you for and will help expedite things!
Is There a Deductible for Loss of Use? 
No, there's no deductible for loss of use coverage, but there are limits. Should you need to file a claim, the only deductible you'd be responsible for paying is for your dwelling or personal property.
Get the Right Home Insurance Coverage With TGS Insurance 
Getting a home insurance policy with the right coverages is always easy with TGS Insurance! Get a hassle-free quote today using just your address in 15 seconds or less. No gimmicks, no BS, just great savings. We shop every home insurance policy through our bank of 35+ carriers for the best policy the market has to offer. See why over 15,000 Texans are insured with TGS Insurance today!