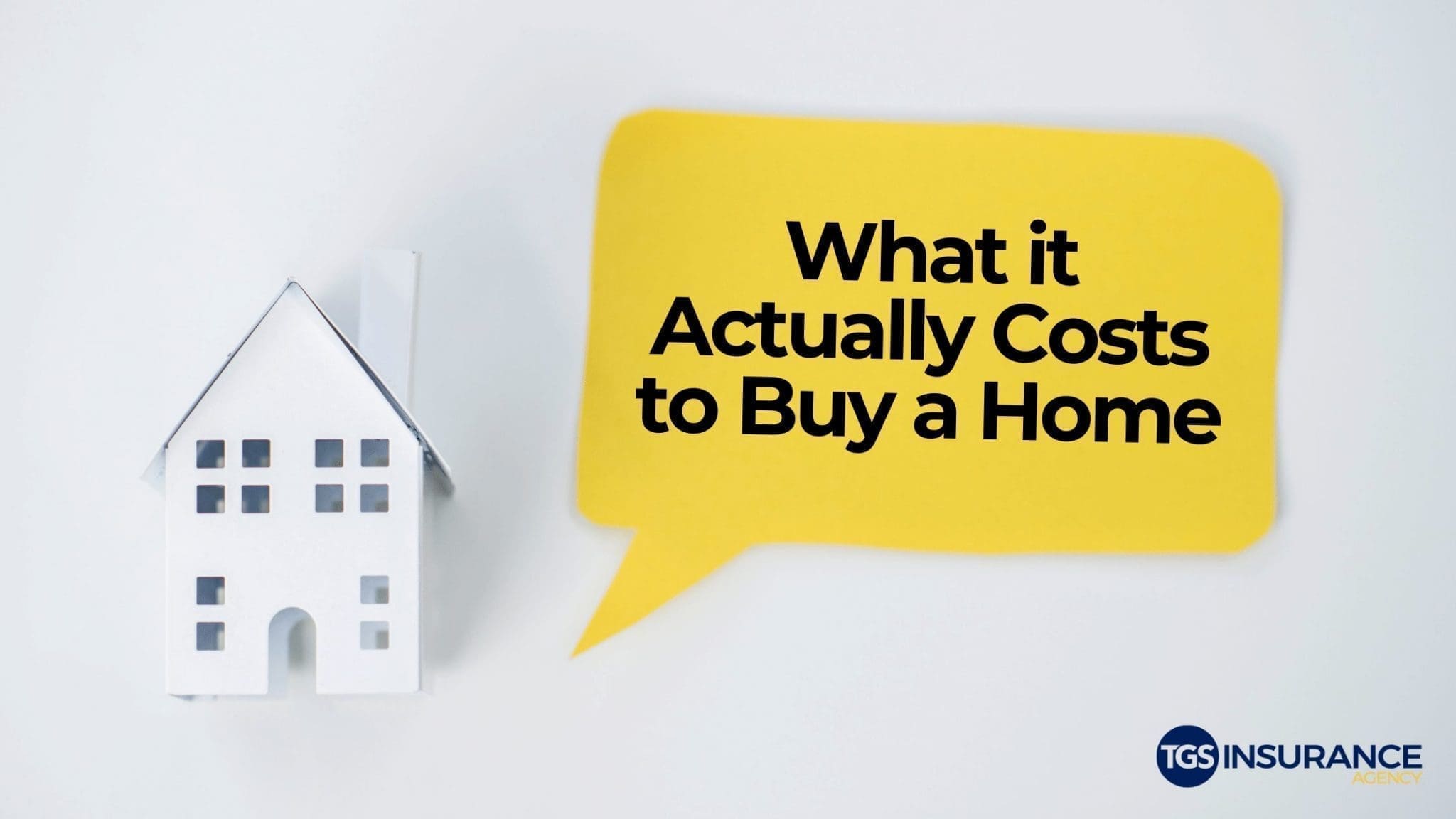 Buying a home is an exciting time for any homeowner, but especially for first-time homeowners. Whether you've rented for years or lived with family, there's nothing quite like getting the keys to something that's officially yours! Owning a home is a huge financial responsibility and before you take the plunge, there are some costs you need to take into consideration just before you sign the dotted line. Let's review what it actually costs to buy a home. 
Closing Costs 
Something new homeowners often overlook in the home buying process is the closing costs. Costs can range anywhere between 2%-5% of your home's purchase price and are usually paid at the time of sale. Below is a list of the most common things you'll pay for at closing and depending on what state you live in, you may or may not see some of these fees. 
Application Fee 

Appraisal Fee

Attorney Fee

Broker Fee

Closing Fee/Escrow Fee 

Courier Fee 

Credit Report 

Discount Points 

Escrow Deposit for Property Taxes & Mortgage Insurance 

FHA Up-Front Mortgage Insurance Premium (UPMIP) (If applicable) 

Flood Determination/Life of Loan Coverage (If applicable) 

Home Inspection 

Homeowners Association Fees 

Homeowners Insurance 

Lender's Policy Title Insurance

Lead-Based Paint Inspection 

Origination Fee 

Pest Inspection 

Prepaid Interest

Private Mortgage Insurance (PMI) (If applicable) 

Property Tax 

Recording Fees 

Survey Fee (Not required in all states) 

Title Company Title Search/Exam Fee 

Transfer Tax 

Underwriting and Origination Fee 

VA Funding Fee (If applicable) 

Wire Transfer Fee (If you wired payment) 
Property Taxes
It's not just your mortgage that you'll be paying every month, there are also property taxes to consider. Texas has the seventh-highest average property tax rate in the country at 1.69%, compared to the national average at 1.07% according to SmartAsset. The average Texas homeowner pays about $3,390 every year in property taxes and depending on where you live, your rates could be higher or lower. Homeowners in the Dallas-Fort Worth metro area pay some of the highest property taxes in the state, with an average of about 1.86% and 1.49% respectively. Homeowners can either pay their property taxes all at once before February 1st or have their property taxes lumped into your monthly mortgage payment managed by your lender through an escrow account. 
Helpful tip: An escrow account is an account that's been made through a contractual arrangement with a third party that receives and distributes your money to the agreed upon transacting parties, such as home insurance or property taxes.
Homeowners Insurance 
Homeowners insurance is not legally required in the state of Texas but it usually is a lender requirement if you're seeking a home loan. However, as an insurance agency, we always recommend homeowners carry a home insurance policy because the financial risk of not having one is far too great. Homeowners insurance provides coverage to repair or rebuild your home or personal possessions after a covered peril, such as fire, theft, lightning, or other events. In Texas, the average cost for home insurance is $3,429 but that rate can vary depending on where you live. 
Here's a breakdown of the top 10 cities in Texas and the average cost of home insurance in each. 
| | |
| --- | --- |
| City | Average Yearly Premium |
| Houston, TX | $2,554 |
| San Antonio, TX | $1,714 |
| Dallas, TX | $2,799 |
| Austin, TX | $1,717 |
| Fort Worth, TX | $2,913 |
| El Paso, TX | $1,420 |
| Arlington, TX | $2,935 |
| Corpus Christi, TX | $2,854 |
| Plano, TX | $2,667 |
| Laredo, TX  | $1,624 |
Source: ValuePenguin
You can go one of two ways with your home insurance payment. Much like your property taxes, you can either pay your insurance carrier separately once a year in one big payment or pay in 12 monthly payments. The second option is to have your home insurance as part of your mortgage payment if you have an escrow account. 
You don't have much control over property taxes, but you can control how much you pay for homeowners insurance (to a point). One of the best ways to save on home insurance is to compare and shop your rates amongst the different insurance carriers out there. This, however, can be a tedious and time-consuming process, and sometimes homeowners often know to shop their rates yearly when it's time for renewal. At TGS Insurance, we do all of this heavy lifting for you. For first-time or seasoned homeowners alike, we'll help you save on home insurance without sacrificing coverage. We'll comparison shop your policy across 35+ different A-rated (or better) home insurance providers to find you a policy that is perfectly balanced in the coverage you need at a rate that doesn't break the bank. And to make things even easier, we'll work with your mortgage lender to help get payments set up through your escrow account, or if you prefer, set up monthly (or yearly) payments for a seamless, stress-free process. Get your hassle-free quote in just 15 seconds or less using just your address! No B.S., no hassle, just shopping for home insurance made easy! 
Private Mortgage Insurance 
The old rule of thumb is to save enough to put 20% down on your home, however, that's not always the case for everyone seeking to purchase a home. For homeowners who get an FHA, USDA mortgage, or put less than 20% down on a conventional loan, will have to pay what's called private mortgage insurance (PMI). This type of mortgage insurance protects the lender, should the homeowner default on their loan. You will no longer have to pay PMI when you've reached enough equity in your home, which is usually around 20%. So for first-time homeowners who will need to pay PMI, be sure to calculate this into your budget when deciding how much home you want to buy! 
Homeowners Association Fees 
Depending on where you choose to live, you may have to pay homeowners association (HOA) fees. Your homeowners association is an organization made up of member residents that enforce rules for your neighborhood and its residents. If you purchase within a neighborhood that has an HOA, you automatically become a member and are legally required to pay HOA fees. HOA fees can range anywhere between $100 a year to several thousands of dollars, depending on where you live and what amenities your neighborhood provides. The average HOA fee in Texas is about $700 per year. If you're purchasing a home, your HOA fees are usually due at closing and then every year after that you will pay your fees depending on your HOA's collection calendar. These fees can often surprise homeowners (especially new ones) when it's time for payment, so it's a great idea to set a calendar alarm six months, three months, and one month out to remind yourself to set aside money for your yearly HOA dues. 
Home Warranty
A home warranty is often confused with homeowners insurance, but it's a completely separate thing. Home insurance is a type of property insurance that covers your home and everything in it from any named perils. A home warranty is a yearly contract with a company that will cover the cost of any repairs or replacements on any systems or appliances in your home. Home warranty companies will either opt to cover the cost to repair or replace the item (though rare) or provide some sort of compensation to help cover any costs incurred. Home warranties usually cover the cost of things like pools, spas, appliances, HVACs, plumbing, and electrical systems. If you plan on purchasing a home warranty with your new home, that fee can either be paid for by either the buyer or the seller, whatever your real estate agent negotiates. You can buy a home warranty at any time and not necessarily at closing, so as a first-time homeowner if you're wanting that extra safety net should an appliance or system break, you'll need to consider the yearly or monthly cost of a home warranty. The average cost of a home warranty can range anywhere between $300-$600 per year and if you want extended coverages, a few hundred dollars more. 
Save on Your Home with TGS Insurance 
Purchasing a home of your own is a feeling like no other and something that comes with a lot of responsibility. It's imperative for any first time homeowner to set a budget with all the costs associated in mind and not just the monthly mortgage payment since homeownership is more than just that. 
At TGS Insurance, our goal is to provide each client with an excellent home insurance policy at a great rate. That's why seasoned homeowners and new homeowners alike can save on their homeowners insurance with TGS Insurance. From getting your initial quote to shopping your rate, setting up payment, and everything in between- our team will handle all the details for the easiest insurance shopping experience ever. Our average customer saves $870 a year on homeowners insurance! Don't wait, see how much you could be saving today in 15 seconds or less.