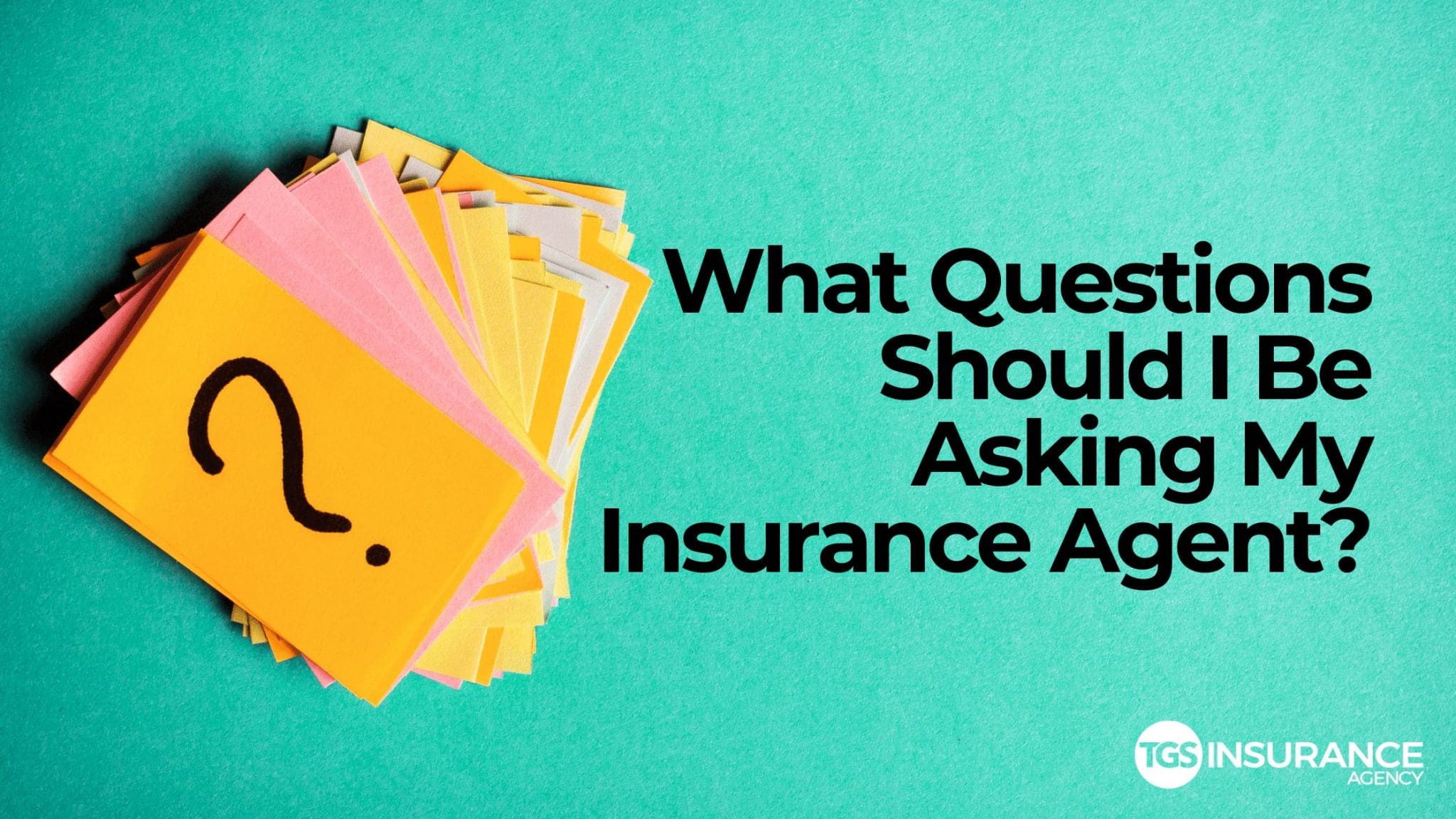 Do you ever get the feeling that you should be asking something but you don't know what it is? That there is helpful information right around the corner but you are unsure of what questions to ask to receive the answers you seek? Sure, you could ask a friend or even rely on social media, but each of these sources can come with drawbacks of its own. Asking your friend can feel like a great option but they might not be experts on the subject and when it comes to social media…well…by now I think we all know you can't believe everything you read on social media. Gaining insight from the experts can help you better understand the subject from an insider's point of view.
TGS Insurance is proud to be a resource for our clients and others seeking to learn more about how insurance can help protect their property, finances, and more. Together, our team has compiled a list of real questions you, the customer, should be asking your insurance agent about home and auto insurance. Knowing what to ask will ensure that you not only understand your policy, but you can gain peace-of-mind knowing you've got the best coverage for your needs all at the lowest price possible. Learn more on how to better protect yourself with the following questions. Let's begin with car insurance.
Common Questions to Ask About Your Car Insurance:
What Should I Do if I Am in An Accident?
The first thing you'll want to do is to remain calm. Accidents can be a scary experience but the calmer you are, the better you'll be able to respond during what can be a hectic event. Health is priority one, so you'll want to make sure you and no other parties are injured as a result of the wreck. From here, find a safe location and if medical assistance is needed or if the vehicles involved are inoperable, you should contact the appropriate emergency services.
If there is no need for emergency services, the next major step is to document. Documentation is a critical step in the aftermath of a wreck and can go much farther than you think:

Exchange license and insurance information (be sure to grab their license plate number as well).

Always take video and photos of both vehicles involved, the surrounding area, and of the other driver.

A police report when appropriate.

*Note: This is a great time to mention that you should never admit fault. Even phrases such as "I'm sorry" can be used against you during these times. Document and allow insurance companies, adjusters, and if need be, legal counsel to determine the rest or you could be held liable for more than you realize.
After documenting the accident, drivers should then speak with their insurance agent. Send the documents that you have and explain what happened using specific names, locations, actions, and driving conditions that were involved. It is important, to tell the truth, because if it is determined that you are not truthful, serious consequences could ensue such as receiving fault or becoming the subject of legal action as a result.
Why is My Premium High and How Can I Lower It?
To understand why your auto insurance premium costs as much as it does, it is important to understand how your premium is crafted. Insurance companies determine your premium by considering a variety of factors regarding how risky it is to insure you as a driver and will then create a premium that reflects that risk. These factors are all weighted differently depending on which car insurance brand you enroll with and can include the following:
Your claims history.

The coverages you choose.

Your deductible.

Your credit score.

Your driving record.

The discounts you qualify for.

Your zip code.

The make, model, and year of your car.

Your age, gender, and marital status.
Some of these factors are out of your control, however, there are also many things you can do to help lower your auto insurance premium:
Drive safely.

Speak with your insurance agent about available discounts.

Improve your credit score.

Adding multiple vehicles onto one policy.

Take courses such as defensive driving classes.

Students and younger drivers can receive discounts for good grades.
These are all reasonable ways drivers can lower their car insurance rates, but the two best ways will always be comparison shopping and bundling. By comparing different rates among a variety of brands, you can be sure that you are receiving the best rate for your coverage needs. On top of this, bundling your auto insurance with a homeowners or umbrella policy can help you save even further.
What Documents Do I Need to Receive Discounts on Car Insurance?
There are a range of documents that may be needed depending on the discounts you are eligible for/wish to receive from your car insurance provider. For example, many car insurance brands offer military discounts, therefore, it makes sense that some sort of official document such as a military ID would be necessary to receive said discount. Another popular discount involves students with good grades and often require proof that particular GPA standards are being kept. Speak with your car insurance agent about the different discounts you qualify for and which documents you'll need to bring to achieve those savings.
What Are the Differences Between Coverages?
Liability Coverage is a non-negotiable in most states including Texas. All drivers must stay covered with this coverage as the bare minimum to stay legal while driving. There are two different types of liability protections for drivers, bodily injury and property damage:
Bodily Injury

protects drivers who are at fault and cause injury to another party in an accident.

Property Damage

assists at fault drivers by paying for property damage as a result of an accident to another's personal property.
In Texas, the limits of these liability coverages to keep drivers legal are known as 30/60/25 and are as follows:
$30,000 in Bodily Injury Liability coverage per person.

$60,000 in Bodily Injury Liability coverage per accident.

$25,000 in Property Damage Liability coverage per accident.
These limits keep drivers covered while on the road and avoid fines, having their license suspended, and major liability issues that could lead to expensive bills to restore the property, cover medical costs, legal fees, and much more.
Collision Coverage is great for protecting against various collisions including damage from another vehicle, foreign objects (think a runaway shopping cart), flipping your vehicle, and even potholes for drivers in Texas. The beauty of this protection is that you receive coverage whether or not you are at fault.
*Note: Collision coverage comes with a deductible that drivers must choose from. The most common are $500 or $1,000 and the higher your deductible, the lower your monthly premium is likely to be.
Comprehensive Coverage protects drivers against the many different perils that can come from incidents other than collisions with another vehicle or an object. This includes damage from events not involving a wreck, flood damage, theft, vandalism, damage from hail and windstorms, and even hitting an animal such as a deer. Comprehensive coverage is there for you during events that can often be overlooked.
*Note: Similar to collision coverage, comprehensive coverage requires drivers to pay a deductible with the amount ranging from $100 to $2,500. Remember, the higher your deductible, the lower your monthly premium will be.
Medical Payments or Personal Injury Protection (PIP) Coverage covers the costs of medical expenses when there are injuries that occur while driving. PIP is there to help pay for medical costs that continue to rise in the aftermath of an accident. Without PIP, drivers run the risk of paying for these bills including those of their passengers. Medical bills, lost wages as a result of injury, and funerals when necessary can all be covered by PIP insurance.
Uninsured and Underinsured Motorist Coverage can be a lifesaver by helping drivers restore losses to their vehicles when dealing with a hit-and-run situation or when another driver is at fault but is not insured enough to restore the loss suffered at their hands.
How Much More Does it Cost to Add These Coverages?
Because there are so many factors that we previously discussed, it can be difficult to pinpoint the exact cost of how much coverage will cost to add a specific coverage to your auto insurance policy. Luckily, the experts at TGS Insurance can help find the coverage you need for the lowest price through comparison shopping and gaining an understanding of what you need to stay protected without overpaying for what you don't.
Are Rental Cars Covered After an Accident?
Rental cars can be a complicated matter. Overall, it comes down to the specifics of your policy, the type of car insurance coverage you choose, and even the brand you select. To learn more about all things rental and insurance-related, click here. 
Common Questions to Ask About Your Homeowners Insurance:
Protecting your vehicle is important as is protecting your home. There are a lot of different things to consider when signing up for homeowners insurance, but the common non-negotiable element is that you always need home insurance no matter what. This is because the risk of restoring a loss to your home or its contents is too great to go uninsured even if you have paid off your home. Learn more about some of the most common questions our agents get from customers to stay better prepared and covered for whatever comes your way.
What is the Process of Filing a Homeowners Claim?
The first step is always safety. This means that if there has been a burglary or fire or similar incident, get to a safe area, check for injuries, and contact the appropriate emergency services. The next step is to document what you can and contact your insurance agency as soon as possible. Documentation is important after speaking with your insurance company, however, as many things may not be able to be documented at the moment due to a variety of reasons.
In the aftermath, you can go ahead and begin restoring your home as soon as possible while waiting on your insurance company. Having repairs done quickly is important because you'll need to restore where you reside into a livable space and insurance will only pay for what is covered due to your peril. You wouldn't want to be left paying the bill due to damages that occurred after the initial incident causing your claim through exposure. Remember to document every repair and to keep important documents such as receipts of repairs to turn into your insurance carrier.
Bonus: Don't throw things away because you think they are destroyed or not needed. Keep things well documented before discarding because you'll need evidence and could be surprised as to what you may assume is not covered but actually is.
The final step is to consider the use of a public adjuster if you are unhappy with the amount your insurance carrier determines to pay you for your damages. This is optional but is a great consideration if you feel you are being shortchanged by your payout to gain additional money from your claim.
Why Do I Need Flood Insurance? Doesn't My Homeowners Insurance Cover Floods?
Your homeowners insurance policy covers a lot but flooding events is not one of them. Flood events can be expensive and destructive. Even as many as 25% of all flood insurance claims come from homeowners outside of flood zones. This means no matter where you live, homeowners need to protect themselves with a separate flood insurance policy. As natural disasters continue to rise, you don't have to look too far to see just how destructive these events can be. Flood insurance helps protect your home from flood perils that you may otherwise be left exposed to. The average flood insurance policy in Texas is $634 per year but at TGS Insurance our customers pay an average of $528. The rate will vary depending on where you live. 
What is Water Backup and Water Coverage?
Having sewer back up in your home can cause severe damage and quite a messy situation. Repairing these damages can easily reach thousands to tens of thousands of dollars as plumbing costs continue to rise. Unfortunately, many homeowners who face these perils find out in their time of need that it is not included in their homeowners insurance policy. TGS Insurance offers sewer and water coverage at an affordable rate with protections reaching between $5,000 and $25,000 to keep our clients protected. The average policy add-on is anywhere between $50-$250 per year depending on how much coverage you want. This is unique protection that can come in handy when facing unexpected sewer and water backup issues.
Are the Contents of My Home Covered?
Though there are limits, a typical homeowners insurance policy will protect the contents of your home. There are a couple of important things to remember here:
Be sure to disclose any and everything you wish to have covered to your insurance agent when enrolling. The more you wish to put into your policy, the more you can expect to pay each month, so be prepared.

Keep an accurate and detailed inventory list of what is covered including important documents in the event of a loss. To learn more on how to properly create your home inventory list,

check out our previous article here

.

Even homeowners insurance policies with higher limits may exclude certain valuables such as art, jewelry, and other collectibles. To protect against perils for these rarities, you'll likely need a separate policy specific for said item(s).
How Much is My Wind Deductible?
TGS Insurance understands the perils of windstorm and hail to homes and automatically includes 2% (1% in certain markets) deductibles into our clients' homeowner insurance policies. This means that if you were to suffer damage due to winds from a tropical storm, gales, hurricane, tornado, or even a line of severe thunderstorms, your homeowners insurance policy would have you protected after paying the appropriate deductible of 2% of your home's value towards your damages. We provide customizable windstorm insurance built to keep you protected and save you money.
What is My Medical Coverage Limit Should Someone Injure Themselves at My Home?
Most homeowners insurance policies will provide you with up to $5,000 in protection. It is important to note that while your homeowners policy can protect you against rising medical costs, the members of your household are not included and will require separate medical insurance to cover their medical expenses.
What's the Difference Between Replacement Cost and Actual Cash Value?
Replacement cost will pay you back for the amount it will take to restore what is lost due to a covered peril. Actual cash value is usually a lesser payment in which homeowners suffering a loss will receive the replacement cost minus any depreciation. Because replacement cost policies pay more, homeowners can expect a higher homeowners insurance premium as opposed to a cheaper premium when they choose an actual cash value policy.
TGS Insurance is Your Go-To Insurance Resource
Whether it's finding the lowest rate for your home and auto insurance coverage or simply seeking an answer to your questions on all things insurance, we are here to help. At TGS Insurance we offer our clients the lowest rates on homeowners, car, flood, RV, umbrella, motorcycle, and plenty of other insurance policies by comparing policies across 35+ top-rated insurance carriers. This allows our clients to find the best coverage for the lowest rate on the market. Through comparison shopping and a dedication to exceptional customer service, we continue to serve our clients through enrollment and beyond. Contact us and begin receiving savings without compromising your coverage today!