Trust TGS Insurance to Protect Your Home and Personal Property
How Much is Home Insurance in Aledo?
Homeowners in Aledo, TX pay an average of $1,930 a year on home insurance. By using TGS Insurance to shop for homeowners insurance, our average insurance policy costs Aledo homeowners $1,624 a year for an average savings of $306 a year with some clients saving even more!
Average Home Value in Aledo, TX
The average home in Aledo, TX is valued at $345,127 and has risen since 2011 by $117,277!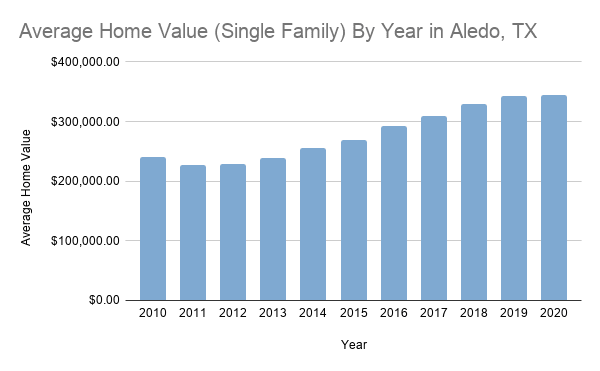 *This data is provided by Zillow.com. Zillow Home Value Index (ZHVI): A smoothed, seasonally adjusted measure of the typical home value and market changes across a given region and housing type. It reflects the typical value for homes in the 35th to 65th percentile range.
Comparing the Average Cost of Homeowners Insurance in Aledo, TX By Dwelling Coverage Limit
| Coverage Level | Average Annual Premium |
| --- | --- |
| $75k Dwelling | $1,730 |
| $150k Dwelling | $2,321 |
| $200k Dwelling | $2,709 |
| $350k Dwelling | $3,815 |
*Information used from Help Insure from the Texas Department of Insurance. We applied a methodology of a homeowner with average credit, a home between 10-34 years of age, made of brick in Aledo, TX. 
What Does Aledo Home Insurance Cover?
Homes in Aledo, TX have many home insurance policy options to protect them from many perils. The most popular policy is the HO3 and it protects you, your home, and personal possessions from several named perils including fire, smoke damage, vandalism, theft, sudden and accidental damage of specific household systems, falling objects, and many others!
What Additional Coverage Options Are Available?
We offer several additional coverage options for homeowners to choose from. Each home is different and TGS Insurance understands this and the challenges our clients face. We assist our policyholders by tailoring their homeowners policies to their specific needs. Learn more about some of the add-ons TGS Insurance provides its clients:
Windstorm coverage: Homeowners can also get protection against windstorms and hail damage with coverage that protects them from the damage brought on by tornadoes, severe thunderstorms, tropical storms, and hurricanes. We automatically write in a 2% wind/hail deductible into every homeowners insurance policy we issue, with coverages that can be easily customized for you.
Water Backup Damage: Drainage sewer issues can set you back thousands of dollars. TGS Insurance provides Water Back-Up/Sump Discharge Coverage to our clients to avoid paying for these costly repairs out of pocket. Our coverage protects damages starting at $5,000 and can even beyond $25,000 depending on your policy limits.
Umbrella Policy: Protecting yourself from lawsuits is always important and for homeowners with even more to lose such as swimming pools or luxury cars, they may find themselves involved in lawsuits that exceed what their standard homeowners policy covers. An umbrella liability policy protects you and the things you've worked so hard for from lawsuits.
Advantages of Teaming Up with TGS Insurance for Your Aledo Home Insurance Needs:
With over 35 top-rated insurance companies, TGS Insurance works to find you the best rate in the market. By comparison shopping, we are able to find the best coverage for the lowest price for your home all while providing our clients with more coverage options.
From A to Z, TGS Insurance will take care of everything. We make sure your enrollment is handled the right way and can even work with your mortgage company to ensure that everything is in place.
Worrying about rate increases? We feel you. This is why here at TGS Insurance, we treat our clients like clients and not policy numbers. Year after year, your agent will find you the best coverage options for the lowest price on the market should your renewal face an increase.
Zip Codes in Aledo, TX That We Insure:
Don't see your zip code listed? Don't worry, as long as it's in Texas, we've got you covered!