Start Your Free ATV Insurance Quote Now
Texas ATV Insurance
Whether you're a thrill-seeker and love to ride on undiscovered paths or work full-time in agriculture or a profession that requires an off-road vehicle, TGS Insurance can keep you protected from any bump with ATV insurance. ATV insurance works similarly to auto insurance because ATVs can be just as risky as a car for both drivers and riders. ATV insurance helps cover you financially from the costs associated with accidents or mishaps so you're not left to pay out-of-pocket.
What Does ATV Insurance Cover?
ATV insurance offers financial protection in the event of an accident, injury, loss, damage, or even theft of your ATV. Your ATV insurance policy is usually broken down into four categories:
Liability coverage covers the costs of property damage and bodily injury up to your policy limit. On average, the bodily injury limit for an ATV policy is $25,000 per person/accident, and the average property damage limit is $25,000 or lower. Liability coverage will also cover the cost of your legal fees if you're sued.
Collision coverage will pay for the cost of repairs for your ATV after an accident. This type of coverage is usually optional, so it's not a must-have for every ATV owner.
Comprehensive coverage is an optional add-on to your ATV insurance policy that will provide financial protection if your ATV is stolen or becomes damaged due to a fire, severe weather, or vandalism.
Uninsured/underinsured motorist coverage is another optional ATV insurance add-on that will cover the costs if another rider causes an accident and doesn't have the proper insurance (or no insurance) to pay for any of your expenses.
Medical Payments is an optional add-on that will offer coverage for any medical expenses (X-rays, hospital stays, etc.) by those riding in your ATV.
To get the best ATV insurance policy for you, we recommend speaking with a TGS Insurance agent to get a curated ATV insurance policy for your needs and budget. Your dedicated agent will shop your ATV insurance policy across our bank of A-rated (or better) providers to find you something that meets all of your coverage needs without breaking the bank.
You may be able to cover your ATV under your homeowners insurance policy if the ATV is used on your property, but coverage may only be for a very small amount and with set limitations. For example, if a friend was riding your ATV and got injured on your property, your homeowners insurance liability coverage would help cover the costs of the accident, but that's only if ATV protection is within your policy limits. It's best to just carry an ATV insurance policy to ensure you're fully protected.
How Much Does ATV Insurance Cost?
Your ATV insurance policy cost will vary depending on the type of policy you have. Based on the usage and age of your ATV, premiums can be as low as $100! The average U.S. ATV insurance policy is about $519 per year but can exceed $1,500 if you opt for a policy with all of the optional add-ons, such as comprehensive, collision, or even uninsured/underinsured protection. To get the best rate on your ATV insurance policy, our team will shop your rate across various carriers so you always get a winning rate. Based on the usage and age of your ATV, premiums can be as low as $100!
There are bundling options available for ATV insurance policyholders. If you have multiple ATVs, a motorcycle, or a home or auto policy within the same provider, all of these can help lower your annual ATV insurance premium. Some carriers even offer discounts for "mature riders" or those who are above a certain age or by taking specific safety courses. Be sure to talk to your insurance agent about what discounts are available to you!
Is ATV Insurance Required in Texas?
In the state of Texas, ATV insurance is not required by law nor do you have to register your ATV vehicle, but you do need a title. However, some state-owned places and parks will allow ATV riders if they carry ATV liability insurance. Though it's not required by the law in the state of Texas to carry an ATV insurance policy, we highly recommend carrying a basic ATV policy to protect you financially should an accident or incident occur so you're not left on the hook to pay for everything.
How To Get ATV Insurance
The best way to get ATV insurance is to shop your policy around to various carriers to compare your coverage and pricing options. If you're interested in bundling options, talk to your current home or auto insurance provider about what bundling discounts may be available to you!
However, the easiest way to get ATV insurance is to shop your policy with TGS Insurance. Our team will shop your ATV insurance policy in our bank of carriers as well as your current insurance providers to find you the best ATV insurance policy option for you. We strive to take the hassle out of shopping for ATV insurance by doing all the heavy lifting for you, so you can ride knowing you're protected for any bump or off-road path that comes your way.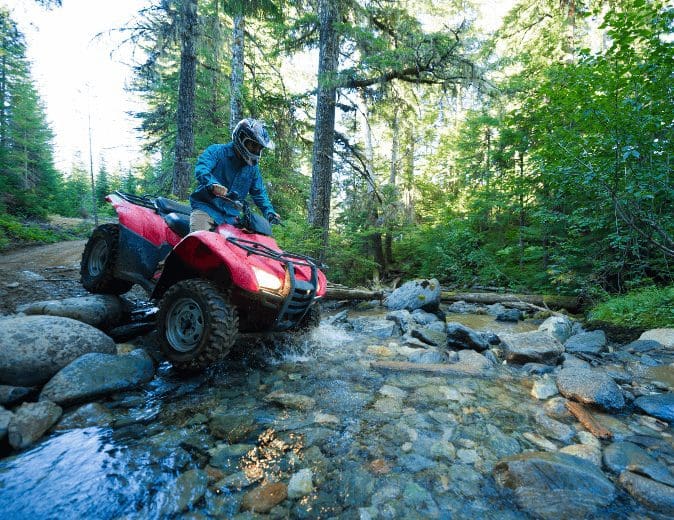 Recent ATV Insurance Articles:
ATV Insurance FAQs
Does Homeowners Insurance Cover ATV Theft?
No, your homeowners insurance policy will not cover your ATV in the event it is stolen. Your homeowners insurance policy may cover you for some liability if someone were to get injured on your property riding an ATV, but that's subject to your individual policy. If you want protection against theft of your ATV, you'll need to purchase an ATV insurance policy that has comprehensive coverage.
Does Health Insurance Cover ATV Accidents?
Your health insurance may cover your medical expenses related to an ATV accident if it is listed as a protection in your health insurance policy. Some health insurance policies exclude "hazardous activities" so be sure to talk to your health insurance representative to see if ATV accidents are covered under your policy
Can You Insure an ATV Without a Title?
In the state of Texas, it's required by the law to have a title for your ATV as well as getting an ATV insurance policy.
Does ATV Insurance Cover Water Damage?
Yes your ATV insurance policy will cover water damage (such as a flood) if you've got comprehensive coverage as part of your ATV insurance policy. Be sure to talk to your insurance agent about what specific types of water damage is covered for your policy.