Texas Auto Insurance
Do you own a car? Are you thinking of buying a new car or leasing a car? When it comes to Texas car insurance, you've got plenty of options. Some types of coverage are required by state law and others are optional. Utilizing our partnership with more than 35 top-rated auto insurance carriers, TGS Insurance Agency takes the guesswork and hassle out of buying car insurance to deliver you the right coverage at the right price for your needs. On average, TGS Insurance Agency saves our customers $1,237 per year on their car insurance policy!
Types of Texas Auto Insurance Coverage:
Property Damage Liability Coverage pays for the damage you, as the driver, may cause to someone else's property. Typically this means damage to someone else's car, but it also includes damage to telephone poles, lamp posts, buildings, fences, or other structures hit in an accident.
Bodily Injury Liability Coverage helps to cover the cost of injuries of others involved in an accident that you cause. It can also help cover their lost wages.
Collision Coverage pays for damage to your car resulting from a collision with another car, object, or as a result of flipping over. (An important note for Texans, it can also cover damage caused by potholes!)
Medical Payments or Personal Injury Protection (PIP) Coverage pays for the treatment of injuries to you and the passengers of your car. At its broadest, PIP can cover medical payments, lost wages, and even funeral costs, if necessary.
Comprehensive Coverage reimburses for loss due to theft or damage caused by something other than a collision with another car or object, such as fire, falling objects, earthquakes, windstorms, hail, flood, vandalism, or contact with animals such as deer.
Uninsured and Underinsured Motorist Coverage: Uninsured motorist coverage will reimburse you if you are hit by an uninsured or a hit-and-run driver. Underinsured motorist coverage comes into play when an at-fault driver has insufficient insurance to pay for the other driver's total loss.
In addition to these most common types of coverage, you can add optional coverage options to help fill in even more gaps such as Gap Insurance, New Car Replacement Insurance, Rental Car Insurance, Roadside Assistance, and more.
Texas Auto Insurance Requirements
Texas drivers are required to meet the state's minimum auto insurance requirements by carrying 30/60/25 coverage. This means:
$30,000 Bodily Injury Liability coverage per person
$60,000 Bodily Injury Liability coverage per accident
$25,000 Property Damage Liability coverage per accident
Depending on how and where you finance your vehicle, your lender may require additional coverage.
Even if you aren't required to purchase additional coverage options, they may be of great benefit to you during your time of need. Have you ever considered how you would pay for a new vehicle should you be hit by a driver without insurance? Or consider how you would cover the costs of expensive repairs should you hit a pole or sustain damage to your vehicle due to hail? All this and more can be mitigated with the right insurance policies and TGS Insurance works diligently to provide motorists with the right coverage options and resources to keep them protected for less.
How Much Does Texas Auto Insurance Cost?
The average Texan pays about $1,800 per year for full coverage auto insurance or $530 per year for minimum-coverage auto insurance; that is a range of $1,270 based on differences in coverage alone which shows just how situational the cost truly is.
The cost of your auto insurance is dependent not only on your coverage selection but also on several independent factors.
Factors that Affect Your Car Insurance Rates
There are numerous factors that insurance providers take into account when determining your auto insurance rates. Some of these include:
Driving Record: In general, the better your record, the lower your premium.
Vehicle Usage: Someone who has a long commute to work may pay more for insurance than someone who only uses their vehicle to run errands on weekends — since more time behind the wheel means more exposure to risk.
Type of Vehicle: Collision and comprehensive rates are highest for luxury, high-performance, and sports cars. Rates are also higher for cars that cost more to repair, including a lot of foreign cars.
Your Age: Younger, less experienced drivers often pay more for car insurance than experienced drivers. In general, insurance companies generally charge higher rates for drivers younger than 25.
Location: Where you live and where you park your car overnight may affect your car insurance premium. Urban neighborhoods typically have higher rates of accidents, theft, and vandalism than rural areas, which means premiums may be higher.
Prior Insurance Coverage: Just like when you bought your car, your history will be reviewed to look at how many claims you have filed and if you have paid your premiums on time.
How to Buy Auto Insurance in Texas
Shopping for auto insurance can be frustrating, time-consuming, complicated, and an inconvenience in general. At TGS Insurance we eliminate the need for comparison-shopping, and timely searches, and simplify the process by instantly searching across our top-rated insurance carriers for the right coverage options for your needs. We can even bundle your auto insurance with other policies to help save you, even more, each month. So, whether you're looking to just stay legal, fill in the gaps, or just save money our team is here to keep you rolling for less at TGS Insurance. Get started with your free auto insurance quote by providing your address above!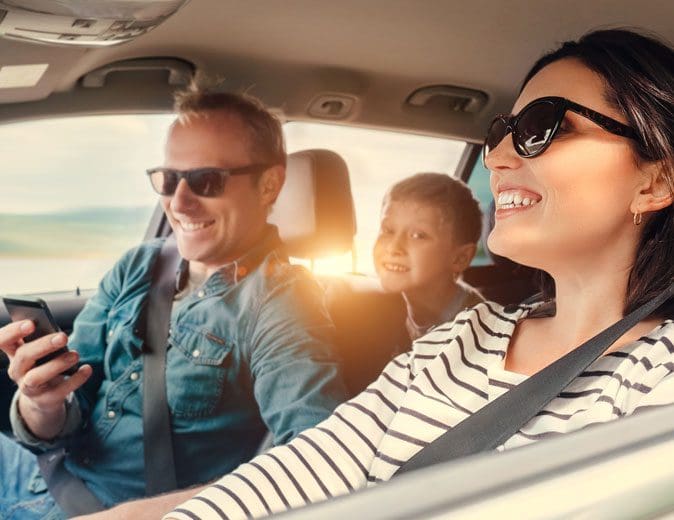 Learn More About Auto Insurance:
Car Insurance Discounts for 2023
Texas Car Insurance Laws: 30/60/25 Coverage
Causes for Home and Auto Insurance Rate Increases in 2022
Understanding New Car Replacement Coverage
What Happens When Insurance Totals Your Car
Does My Credit Card Cover Rental Car Insurance?
Does My Auto Insurance Cover Me in Mexico?
More Articles on Auto Insurance
Looking for More Information on Your Area?
Texas Auto Insurance FAQs
Does insurance follow the car or the driver in Texas?
A standard auto insurance policy follows the car, not the driver.
What happens if I buy a new car? Is it covered?
Yes. Most companies will provide you with a grace period where a new vehicle is automatically covered on your policy. If you are replacing one vehicle with a new one, it will have the same insurance as the one being replaced. If you are adding a new vehicle to your policy, it will have the same policy as the vehicle with the most coverage. Confirm with your provider the exact window for this grace period as it varies by carrier.
Does Texas allow electronic proof of car insurance?
Yes. As of 2013, Texans are allowed to show their proof of auto insurance on their phone.