Personal injury protection (PIP) coverage is an optional addition to your auto insurance policy. If you get in an accident, PIP covers your and your passengers' medical expenses and losses.
What is Personal Injury Protection (PIP) Coverage?
Personal Injury Protection (PIP), sometimes referred to as 'no-fault insurance', can help you cover your and your passengers' medical expenses associated with a car accident, no matter who is at-fault. It is a part of an automobile insurance plan that can be applied even if someone doesn't have health insurance.
Examples of what is covered for you and your passengers:
Reasonable medical costs

Necessary surgeries
X-rays
Dental or eye treatment
Medical procedures
Prosthetic devices

Ambulance services
Rehabilitation therapies
Funeral services
Lost income from the accident if you or your passenger is unable to return to work for a period of time after the accident
Do I Need Personal Injury Protection in Texas?
Texas law requires that your insurance provider offers you a minimum of $2,500 of PIP insurance when you purchase any automobile liability policy. The amount of coverage you choose can go up more than the minimum offered. If you do not want to accept the PIP coverage, you must do so in writing. If there is no signed written rejection, then you are covered. Since in Texas it is optional to accept PIP insurance into your auto policy, you should consider if your health insurance covers expenses related to car crashes, as well as your deductible and out-of-pocket maximums to help you decide if this coverage is right for you.
How Much Personal Injury Protection Do I Need?
If you have health insurance, you may not need personal injury protection. Since Texas does not require you to have PIP included in your auto insurance policy, then you can use your health insurance to cover medical expenses. It is important to consider your health insurance deductible. If you have a low health insurance deductible, then you could opt for a higher deductible on your PIP coverage to reduce your auto policy rate. Considering what PIP offers and the way it differs from your health insurance can help you determine if it's the right fit for you.
If you don't have health insurance, PIP can be an affordable way to cover medical expenses and other expenses associated with a car accident. If you don't.
If you don't have life insurance, PIP may pay for funeral costs and other expenses if your auto accident is fatal.
Even if you have health insurance, most plans do not offer coverage for lost wages or help pay for services you can no longer perform (childcare, house cleaning, etc.). PIP may pay for these services, as well as offer more than standard health plans don't, up to your policy's limit.
What is the Difference Between Personal Injury Protection and Bodily Injury Liability Coverage?
Bodily injury is any physical harm that you suffer as a result of an accident. This could include:
Cuts
Bruises
Broken bones
Whiplash
Traumatic brain injuries
Spinal cord injuries
Anything that physically damaged your body is considered bodily injury. On the other hand, personal injury includes bodily injury but also reaches out to cover emotional or mental harm that occured due to an accident. This could be:
Anxiety
Depression
Post-traumatic stress disorder
Both personal injury and bodily injury can be compensated for in a personal injury claim, but it is important to know the difference in coverage options.
Personal injury protection (PIP) insurance coverage includes payment for injury related medical and rehabilitation expenses.
Bodily injury liability coverage includes payment for any physical injuries that occur in an accident you cause.
What is the difference between Personal Injury Protection and Medical Payments Coverage?
In Texas, insurance companies are not required to offer medical payments coverage like they are with PIP insurance. If your insurer does offer you both, you can only choose one. Texas law does not allow both to be on an auto insurance policy.
Medical payment coverage extends to medical expenses, hospital bills and will cover you no matter who is at-fault. The difference between the two is that PIP covers lost wages and medical payment coverage does not. If you were to have to be out of work for 10 days after a car accident, PIP would reimburse you. Overall, Medical payment coverage is less expensive than PIP because it is essentially one component of PIP insurance.
Get The Right Coverage For Your Auto Policy
At TGS Insurance, we work hard to find a policy that provides you with the right coverage from over 35+ A-rated (or better) auto insurance carriers. Your diligent agent will work for you to get the best coverage at a rate that makes you excited about insurance! Whether it is the bare minimum policy or has the most coverage available- TGS has you covered! Get a fast and accurate free instant auto insurance quote in seconds, and see why over 16,000 Texans are insured with TGS Insurance.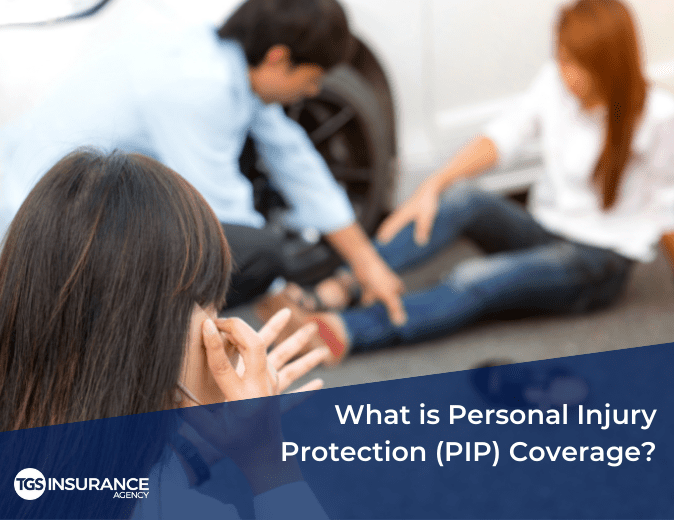 Learn More About Auto Insurance Coverages:
Most Recent Auto Insurance Articles: