TGS Insurance » Auto Insurance »
What Does Bodily Injury Liability Cover?
Bodily injury liability, often referred to simply as 'BI', is one of the major coverage types on your auto policy. This coverage helps to pay for the medical costs of other parties who are injured in an accident where you are at fault.
Examples of what is covered:
Medical expenses for the other party's hospital fees, follow-up care, and other related medical or health care
Legal fees that you may encounter if the other party chooses to sue you
Loss of income for other parties involved who may have been injured and unable to work for a period of time
Funeral costs if the accident results in a fatality of the other party
It is important to note that bodily injury will not cover any of the above for you (with the exception of the legal fees). Coverage for yourself falls under comprehensive and collision coverage, which you pay for separately.
How Much Bodily Injury Liability Do I Need?
Most states require a minimum amount of bodily injury liability to be held by every driver. The amount of bodily injury liability is written as two different limits: per person and per accident.
States typically write their minimum liability coverage limits as a series of three numbers such as 25/50/30. The first number is the minimum amount of bodily injury coverage per person and the second is per accident. In this example, having these minimums would mean that your insurance would pay up to $25,000 for injury-related expenses per person up to a total of $50,000 per accident. You would be liable to pay out of pocket for any expenses beyond this coverage.
The minimum coverage limits vary from state to state. Nationwide, the required per person minimum coverage limits range from $15,000 to $50,000. $25,000 is the most common bodily injury liability coverage limit requirement per accident; it is the law in 35 states. The required per accident minimum coverage limits range from $30,000 to $100,000 with $50,000 being the most common.
In Texas, you are required to carry at least $30,000 in bodily injury liability insurance per person and $60,000 per accident.
Related Reading: 30/60/25 Coverage – Understanding Texas' Minimum Auto Insurance Requirements
Keep in mind, that the minimum limits that a state mandates are typically low and may not provide you with the level of protection you actually need. It is recommended that you get limits that match the value of assets you have, or the highest limits you can afford. If you are involved in an accident and at fault, you are liable for any damages that exceed what your insurance covers. According to the Insurance Information Institute, bodily injury claims are the most expensive claims associated with an auto policy.
Get Insured With TGS Insurance Agency!
Looking for better auto insurance? At TGS Insurance, we work with over 35+ A-rated (or better) auto insurance carriers to find you a policy that provides you the coverage you need at a competitive rate you can afford.
Get your hassle-free quote today and see why over 15,000 Texans trust TGS Insurance for all of their insurance needs!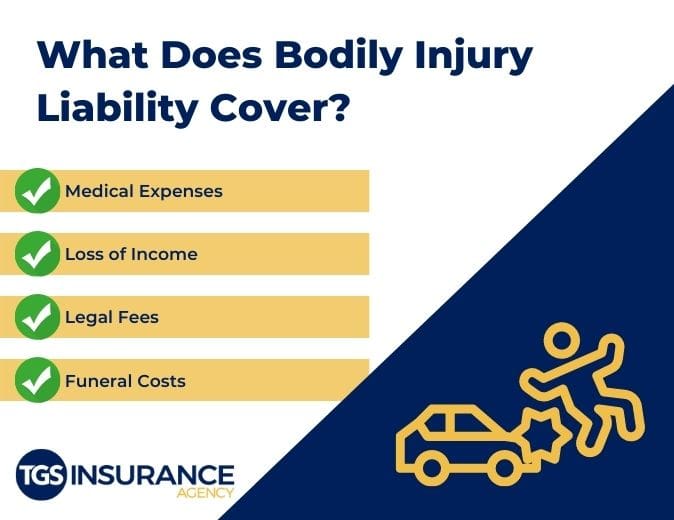 Learn More About Auto Insurance Coverages:
Most Recent Auto Insurance Articles: