TGS Insurance » Auto Insurance »
What is Comprehensive Coverage Auto Insurance?
Auto insurance is meant to protect you financially should an accident occur. Plain and simple! But, not all auto insurance policies are created equal, which is why it's imperative for any driver to fully understand what coverages they do and don't have. Comprehensive coverage is a type of auto insurance that will help compensate you should your vehicle need to be replaced or repaired due to an event that's not a collision. Comprehensive coverage isn't always standard with everyone's auto policy, though you may want to consider adding it.
What Does Comprehensive Insurance Cover?
As mentioned previously, comprehensive coverage pays to repair or replace your vehicle after damages from something other than a collision. But what exactly are those damages that are not a collision? Most comprehensive coverage includes coverage for the following damages:
Natural disasters (earthquakes, floods, hurricanes, tornadoes, and volcanic eruptions)
Contact with animals such as a deer or moose
Fire
Vandalism
Riots
Theft (either of the entire vehicle or parts of the car)
Fallen objects such as trees, branches, ice, or projectiles
Broken windshield
How is Comprehensive Coverage Different Than Collision Coverage?
Comprehensive coverage differs from collision coverage because it offers financial protection for damage to your vehicle that occurred by something other than a wreck. Examples include a falling object, flood, fire, other natural hazards, or vandalism. Collision coverage assists with repairs when you hit another vehicle, object, or road hazard.
Neither of these coverages is required by state laws, but you may find it required by your lender if you lease or finance your car.
How Much Does Comprehensive Coverage Cost?
Similar to the other coverages of your auto policy, the premium you pay for comprehensive coverage varies from driver to driver and policy to policy based on numerous factors. Personal details such as your age, gender, marital status, and driving record factor into the cost of an auto policy, as do details about the vehicle you drive and where you live within your state.
The average cost of comprehensive coverage among TGS Insurance customers in the state of Texas is $183.57 per year. Throughout Texas, we see ranges from sub $150 to over $250, which resolidifies just how much this number can vary on a case-by-case basis. Below is a table comparing the average premium for cities in both the Houston and Dallas areas.
Should I Buy Comprehensive Coverage?
Everyone needs auto insurance, but just how much is based on each person's individual needs and other factors. It's easy to get caught up in wanting all sorts of coverage options to keep yourself financially protected, but some drivers can be overinsured and pay for insurance they don't actually need. So ask yourself a few questions before you decide to buy comprehensive coverage.
What's The Value of My Vehicle?
The insurance company will only pay for your vehicle's worth at the time it's damaged. So if your comprehensive and collision coverage exceeds 10% of your car's vehicle, it may not be necessary to carry the extra coverage.
What Are My Driving Habits?
How often are you in your car? Do you drive a lot? How far is your commute? This question boils down to how often you are driving. The more you drive, the higher the risk of you getting into an accident or sustaining damage to your vehicle.
Where Do I Live?
Depending on where you live, comprehensive coverage may be a smart choice for you, especially if you live in an area that has a high crime rate or is susceptible to natural disasters (ex., hurricanes or tornadoes). For example, if you live in Houston, Texas, where flooding is a real threat, comprehensive coverage makes sense.
But the most important question might be…
What is My Current Financial Situation?
If your vehicle was damaged or totaled, do you have the money to pay for the repairs or replace it entirely out of pocket? If not, comprehensive AND collision coverage are must-haves to avoid a financial headache.
Get Properly Covered With TGS Insurance
About 1 in 8 drivers are underinsured. At TGS Insurance, you never have to overpay for the coverage you need. We shop your auto policy through our bank of 35+ A-rated (or better) carriers to find you the best deal on auto insurance the market has to offer. Get your hassle-free auto insurance quote today and see why over 15,000 Texans are insured with TGS Insurance!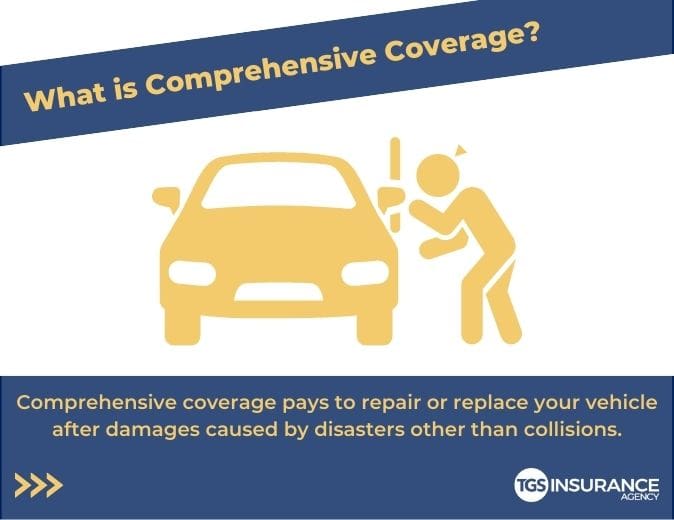 Learn More About Auto Insurance Coverages:
Most Recent Auto Insurance Articles: