Start Your Free Auto Insurance Quote Now
TGS Insurance
»
Auto Insurance
»
Cypress
Cypress Auto Insurance
Cypress, Texas, an unincorporated community in Harris County, is a great place to live if you want to work and play in Houston without actually having to live there. Over time, Cypress has rapidly become one of the more popular suburban communities of Houston. With this sudden growth comes congestion on roadways. Cypress auto insurance is required legally; financially, holding the proper coverage can save you from major problems.
What Affects My Car Insurance Rate in Cypress?
As mentioned above, many factors go into calculating your car insurance premium.
Age
Car make and model
High-risk violations
Yearly mileage
Credit history
Driving record
Zip code
Marital status
Gender
Another factor that alters your premium price is the coverage you select. Full coverage auto insurance will be more expensive but is well worth it. Full coverage auto insurance includes the minimum level of liability coverage required by the state plus comprehensive coverage and collision coverage.
What is the Average Car Insurance Cost in Cypress?
Cypress auto insurance costs an average of $1,077.98 per year among TGS Insurance Agency customers. From a driver's perspective, figuring out what determines your car insurance premium can be puzzling. Insurance providers use multiple factors to price your premium, typically considering the risks you pose as a driver.
How Does My Zip Code Affect My Auto Insurance Rate?
Location is a huge factor in determining your auto insurance cost in Cypress. Your rates could be higher if you experience higher crime rates in your neighborhood compared to the neighborhood on the other side of the highway. In Cypress, the ZIP code 77034 is the area with the lowest premium of $985.67 from TGS customers. The ZIP code with the highest premium is 77410 costing TGS customers an average of $1,494.61 a year. See below for a breakdown of the average premiums around Cypress based on zip code.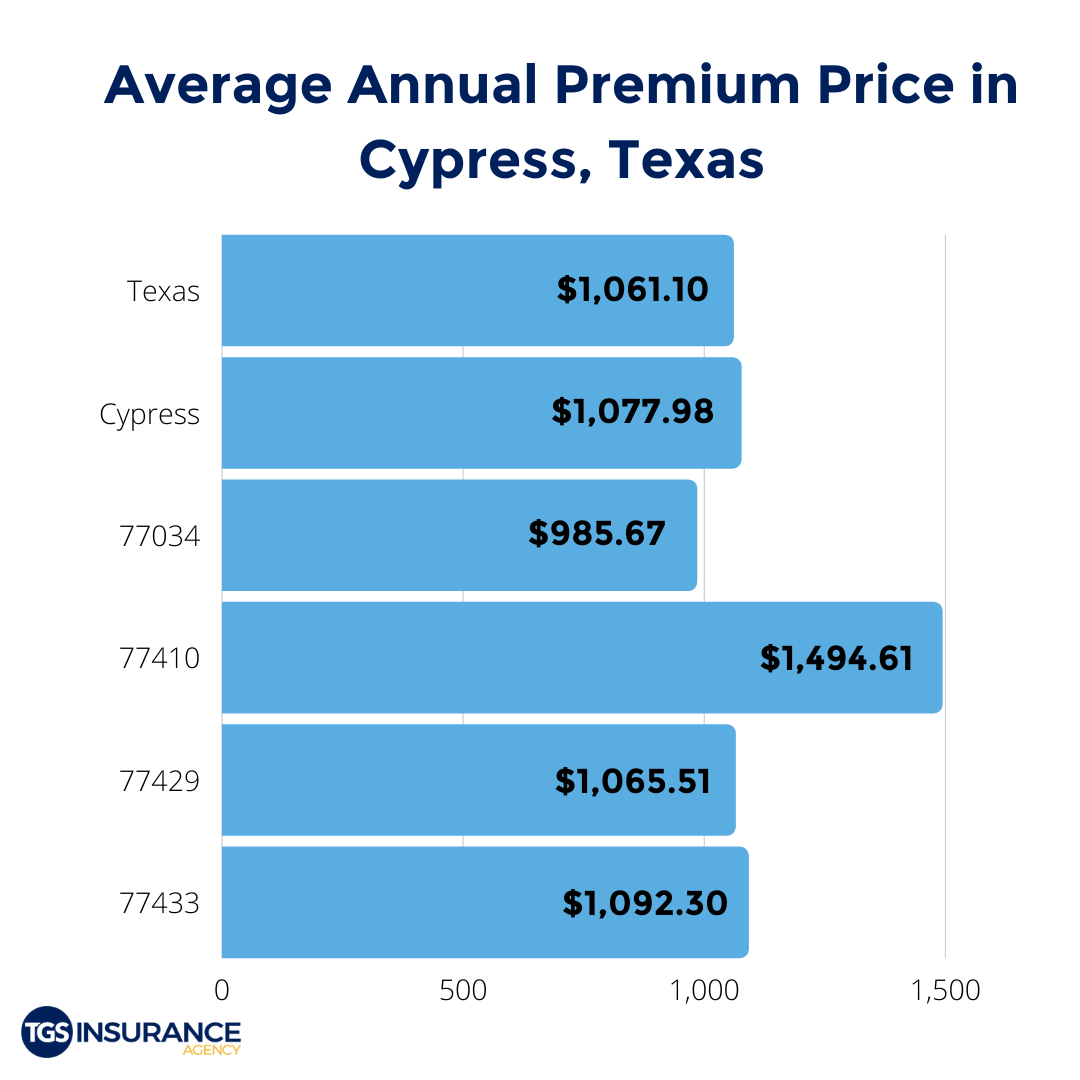 Cypress Car Insurance Rates by Insurer
Choosing your car insurance provider is about more than just the price, even though we know the cost is undoubtedly a factor. Because each provider is in charge of setting their own rates, the same coverage can vary between carriers. The top carrier in Cypress is Progressive. TGS customers in Cypress pay an average of $1,041.18 when insured by Progressive. Looking at the numbers, an overwhelming number of people in your area have chosen Progressive over our next most popular carrier, Safeco. The average premium for Safeco is $1,133.05 for TGS Insurance customers. Here is a breakdown of the different carriers used in Cypress.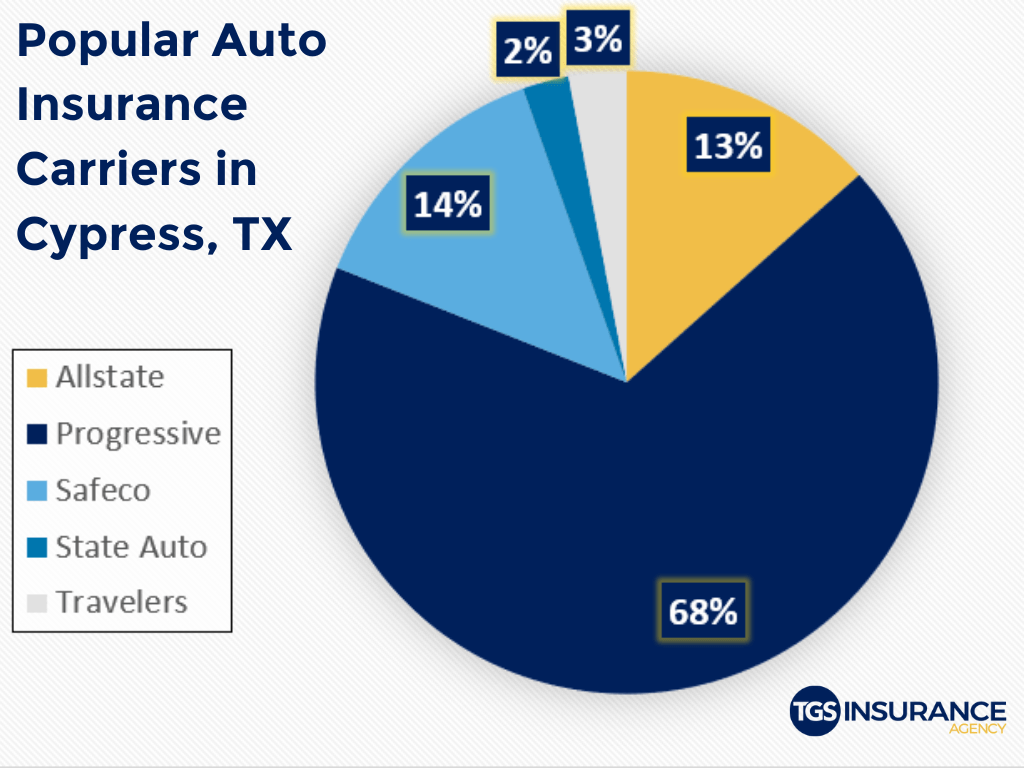 Comparison Shop Car Insurance in Cypress from Multiple Carriers in Minutes!
Shopping for car insurance can be exhausting, dull, and downright stressful. TGS Insurance Agency is here to change that. At TGS Insurance, we do all the nitty-gritty work for you, so you don't have to! Our agents will shop your car insurance policy across our bank of 35+ carriers to find you the best policy at the best price, so you never have to compromise on coverage to save money. How do you get started? Easy! All we need is your address, and you'll get an accurate quote in 15 seconds or less. After that, our agents will further customize your policy so it's tailored to your specific insurance needs. Shopping for car insurance has never been so simple!
Disclaimer
Every driver is unique. Insurance premium costs are impacted by several factors; therefore, we recommend obtaining an individualized quote to find your rates. Our data is representative of quality, publicly sourced, and internal data, but should not be deciphered as bindable.