Start Your Free Auto Insurance Quote Now
TGS Insurance
»
Auto Insurance
»
Kingwood
Kingwood Auto Insurance
Kingwood, Texas, is home to 64,309 residents, which is almost a 72% increase from previous years. Part of Harris and Montgomery Counties, Kingwood residents commute an average of 33 minutes daily on increasingly congested roadways. This amount of time on the roads makes you more susceptible to accidents. Auto insurance in Kingwood is not only a legal obligation but an ethical and monetary necessity to protect yourself, your passengers, other drivers, and pedestrians.
How Much Auto Insurance Do I Need in Kingwood?
In Texas, by law, you must have at least $30,000 in bodily injury liability coverage for each person, $60,000 per accident, and $25,000 for property damage per accident. These legal requirements should be the starting point but not the only consideration for determining how much coverage you need. In fact, less than 0.20% of auto policies that we write in Texas are state minimum liability only. In addition to satisfying legal requirements, you must meet your lender's requirements if you have a lease or loan on your vehicle. Finally, assessing your personal assets and ensuring your coverage limits exceed that value is critical. If you are involved in an accident, you may be liable for damages beyond your coverage limits which could lead to a financial disaster if you are not prepared.
What is the Average Auto Insurance Cost in Kingwood?
Kingwood auto insurance costs an average of $1,045.03 per year among TGS Insurance Agency customers. From a driver's perspective, figuring out what determines your car insurance premium can be puzzling. Insurance providers use multiple factors to price your premium, typically considering the risks you pose as a driver. These factors often include, but are not limited to:
Age
Car make and model
High-risk violations
Yearly mileage
Credit history
Driving record
Zip code
Marital status
Gender
Another factor that influences your premium is the coverage you select. Full coverage auto insurance will be more expensive but is well worth it. Full coverage auto insurance includes the minimum level of liability coverage required by the state plus comprehensive coverage and collision coverage.
How Does My ZIP Code Affect My Auto Insurance Rate?
While some factors regarding your location, such as the probability of an accident, are calculated at the city or even county level, some factors are analyzed as granular as your zip code or neighborhood. Since theft and vandalism typically happen while your car is parked, the location your vehicle is housed plays a significant role in determining your risk of such incidents. In Kingwood, the ZIP code 77345 is the area with the lowest premium of $1,008.68 from TGS customers. The ZIP code with the highest premium is 77339 costing TGS customers an average of $1,044.63 a year.
Kingwood Auto Insurance Rates by Company
Choosing your car insurance provider is about more than just the price, even though we know the cost is certainly a factor. Because each provider is in charge of setting their own rates, the same coverage can vary between carriers. The top carrier in Kingwood is Progressive. TGS customers in Kingwood pay an average of $990.18 when insured by Progressive. Looking at the numbers, an overwhelming number of people in your area have chosen Progressive over our next most popular carrier, Safeco. The average premium for Safeco is $1,005.12 for TGS Insurance customers. Here is a breakdown of the different carriers used in Kingwood.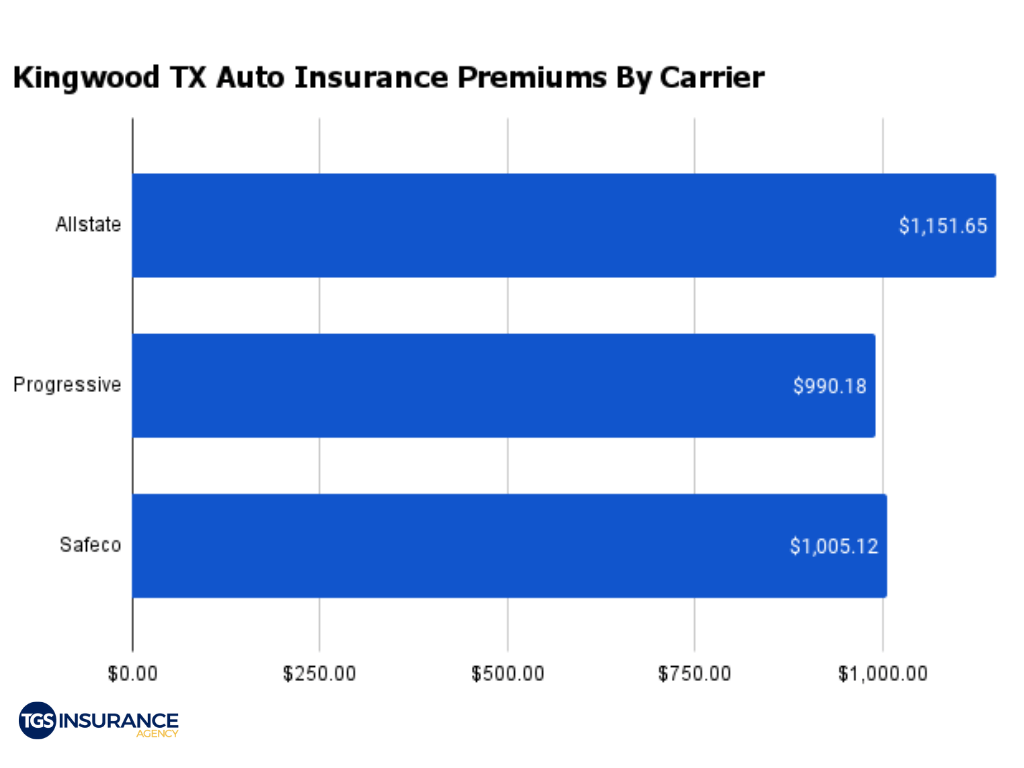 Finding Affordable Kingwood Auto Insurance Is Easier Than You Think.
Looking for car insurance can be tedious, boring, and overwhelming… you name it, we've heard it. And we agree! That's why TGS Insurance Agency is dedicated to doing the heavy lifting for you, instantly comparing quotes from 35+ A-rated (or better) carriers to find you the best possible price in your area without compromising coverage. We can provide you with your initial quote within 30 seconds with just your name and address. From there, if you would like to customize your policy, any of our dedicated independent agents are ready to work for you to create a policy that covers everything you need. We shop. You Save. Yes, it really is that easy.
Disclaimer
Every driver is unique. Insurance premium costs are impacted by several factors; therefore, we recommend obtaining an individualized quote to find your rates. Our data is representative of quality, publicly sourced, and internal data, but should not be deciphered as bindable.