Start Your Free Auto Insurance Quote Now
TGS Insurance
»
Auto Insurance
»
Pearland
Pearland Car Insurance
Pearland, Texas, located in Brazoria, Harris, and Fort Bend Counties, is the most populated suburb of Houston. According to the US Census, Pearland was home to 128,828 people as of 2020, a 37% increase from 2010. With the growing population leading to congested roads and almost a 30-minute average commute time, keeping safe on the roads is essential. Pearland car insurance is legally required to keep you safe and is a smart financial move to help prevent you from paying out-of-pocket for accidents on the road.
What Does Auto Insurance in Pearland Cover?
Most basic car insurance policies consist of 6 different coverage types; however, except for state requirements, you can opt in or out of the coverages to create a policy that best suits your needs. In Texas, the state requires that you have $30,000 in bodily injury liability coverage for each person in an accident, $60,000 in bodily injury liability coverage for each accident, and $25,000 for property damage per accident; this is often referred to as 30/60/25. The other main coverages on most standard auto policies include:
| Type of Coverage | Description |
| --- | --- |
| Property Damage Liability | Pays for the damage you may cause to someone else's property. |
| Bodily Injury Liability | Helps you cover the cost of injuries of others involved in an accident you caused. |
| Collision | Pays for the damage to your car from a collision with another car or object. |
| Personal Injury Protection | Pays for treating injuries to you or the passengers of your car. |
| Comprehensive | Reimburses you for loss due to theft or damage caused by something else other than a collision. |
| Uninsured and Underinsured Motorist Coverage | Reimburse you if you are hit by a driver who is either completely uninsured or does not have enough coverage to pay for the damages they caused. |
What is the Cost of Car Insurance in Pearland?
The average car insurance policy for Pearland residents is $1.075.11 annually among TGS Insurance Agency customers. It is important to note that many factors determine the price of your premium. While many people know that insurers factor in the car they drive, their own driving record, and the coverages they select, some may be surprised to hear that factors such as gender, credit history, and marital status are also considered.
Does My Location Affect Car Insurance Rates in Pearland?
Determining auto insurance rates is very similar to determining home insurance rates. Providers look at factors in your areas like the potential dangers you face and the crime rates. Your premiums could be lower if you live in a relatively low crime rate neighborhood. You could be a perfectly safe driver, but it is not just you on the road! If your area is known for having a higher-than-average amount of uninsured motorists, you may have to pay more for your premium. The ZIP code with the highest average premium in Pearland is 77089 for TGS customers. The average cost for that ZIP code is $1,461. Below is a comparison of the average cost of auto insurance within ZIP codes of Pearland from our customers at TGS: In Pearland, the ZIP code with the highest average premium is 77089 for TGS customers. The average cost for that ZIP code is $1,461. Below is a comparison of the average cost of auto insurance within ZIP codes of Pearland from our customers at TGS Insurance Agency: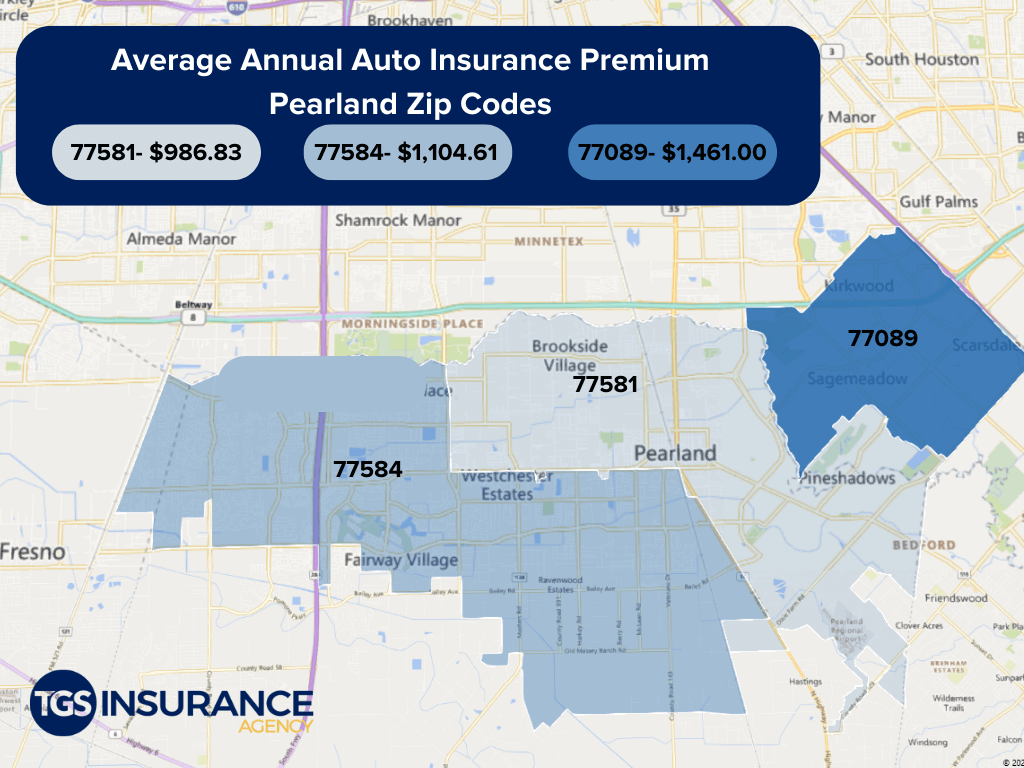 Cheapest Pearland Auto Insurance Carriers
Drivers in Pearland all want the same thing- an excellent car insurance policy that doesn't break the bank. Cost is one of the most influential things people look at when purchasing insurance, alongside the amount of coverage they will receive. This is why it's imperative for drivers to compare and shop their policy across multiple carriers! Insurance carriers set their own rates, so your premium could vary across multiple carriers with the same coverage. Our two most affordable (and popular) insurance providers in Pearland, Texas, are Safeco and Progressive. On average, TGS Insurance Agency drivers in Safeco pay $1,059.39 for Progressive annually and $1,062.76 for Progressive.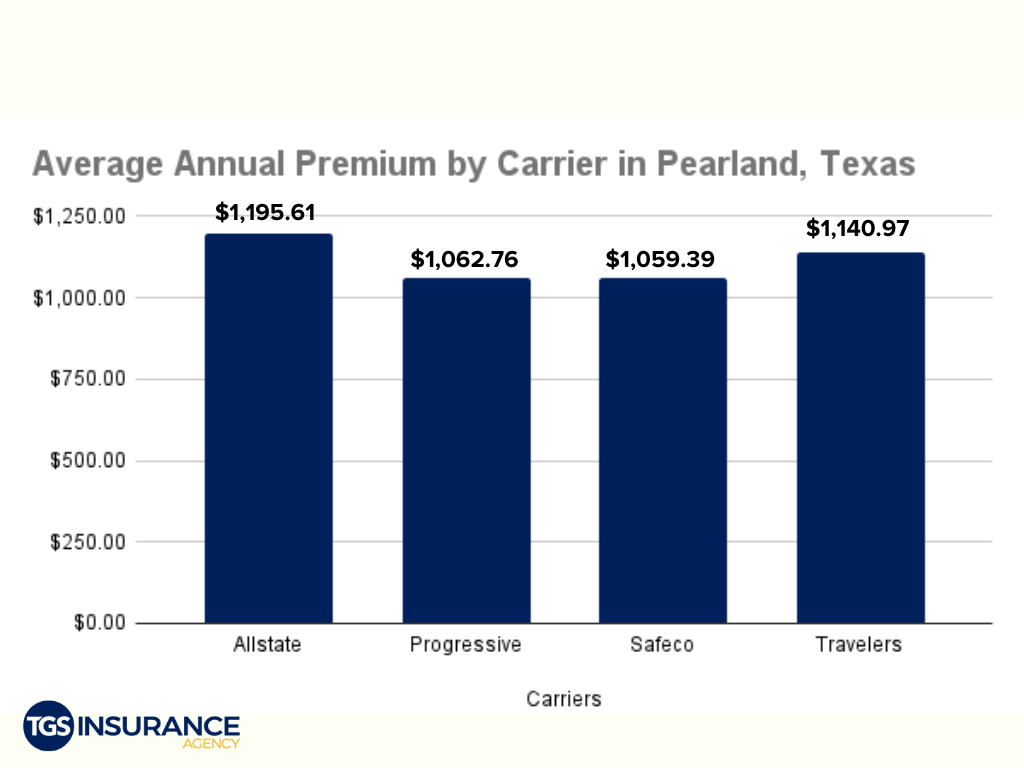 Getting a Pearland Car Insurance Quote is as Easy as 1-2-3!
Getting the best car insurance in Pearland is simple when you use TGS Insurance's proprietary online quoting tool for a free, no-obligation quote.
Enter your name and address
View your quote
Customize your coverage with the guidance of one of our expert independent agents
Disclaimer
Every driver is unique. Insurance premium costs are impacted by several factors; therefore, we recommend obtaining an individualized quote to find your rates. Our data is representative of quality, publicly sourced, and internal data, but should not be deciphered as bindable.