Start Your Free Auto Insurance Quote Now
TGS Insurance
»
Auto Insurance
»
Baytown
Baytown Car Insurance
Baytown, Texas, is home to 76,895 Texans as of 2020, according to the US Census. This is a 7.09% increase from 2010. With the growing population leading to increasingly congested roads and almost a 25-minute daily commute time, keeping safe on the roads is essential. Texas requires Baytown car insurance, but understanding your policy and ensuring you have adequate coverage is a personal responsibility that protects you and your assets financially.
What Does Baytown Car Insurance Cover?
You love your car. It goes with you most places, and you take good care of it. You want it covered if something happens to it. Texas has a required minimum auto insurance limit that is called 30/60/25. After minimum requirements are met, you should look at your other needs. Minimum liability coverage does NOT cover your car or injuries, just the other party in the accident and their property. Your passengers are also not protected. This is why many people opt into full coverage auto insurance, including the minimum state requirements and comprehensive and collision coverage. This coverage combination offers protection against damage to your car from an accident, theft, or another object hitting your car. You can add extra coverage to your policy if you want more protection, like against uninsured motorists. Here is a breakdown of different coverage options you can add to your car insurance policy:
| Type of Coverage | Description |
| --- | --- |
| Property Damage Liability | Pays for the damage you may cause to someone else's property. |
| Bodily Injury Liability | Helps you cover the cost of injuries of others involved in an accident you caused. |
| Collision | Pays for the damage to your car from a collision with another car or object. |
| Personal Injury Protection | Pays for treating injuries to you or the passengers of your car. |
| Comprehensive | Reimburses you for loss due to theft or damage caused by something else other than a collision. |
| Uninsured and Underinsured Motorist Coverage | Reimburse you if you are hit by a driver who is either completely uninsured or does not have enough coverage to pay for the damages they caused. |
How Much Does Car Insurance Cost in Baytown?
The average cost of insurance in Baytown is $1,049.52 per year among TGS Insurance customers. Auto insurance rates can vary significantly due to several particulars, based on your vehicle, location, and the coverage you choose, among many other things. Below is an example of some factors that influence your premium and how they do so.
Age/Driving Experience: Young drivers will pay the most for car insurance because their lack of experience behind the wheel equates to a higher risk. Typically, rates will decline with experience after the age of 25 and then start increasing again after 60.
Driving history: Car insurance providers look at your driving history to accurately predict your driving future. If you have a history riddled with speeding tickets, you will be paying for it.
Credit Score: Drivers with excellent credit may see considerably better rates than those with poor credit.
Vehicle: Insurance for a brand-new car will be more expensive because it will be more expensive to fix and/or replace than an older car. The value of your car itself also plays into your premium for the same reasons.
Annual Mileage: Statistically, the more time a driver spends on the road, the more likely they will have an accident so higher annual mileage can mean higher premiums.
Location: Insurance providers consider many things regarding your location,, such as vandalism, theft, and accident rates in the area, and where you park your car (in a garage versus in a street or outside exposed to the elements). Urban drivers who park on the street often see higher rates than those who live in a more rural areas and park in the garage.
How Does My ZIP Code Affect My Auto Insurance Rate?
While some factors regarding your location, such as the probability of an accident, are calculated at the city or even county level, some factors are analyzed as granular as your zip code or neighborhood. Since theft and vandalism typically happen while your car is parked, the location your vehicle is housed plays a significant role in determining your risk of such incidents. In Baytown, the ZIP code 77520 is the area with the lowest premium of $1,002.41 from TGS customers. The ZIP code with the highest premium is 77523 costing TGS customers an average of $1,074.93 a year.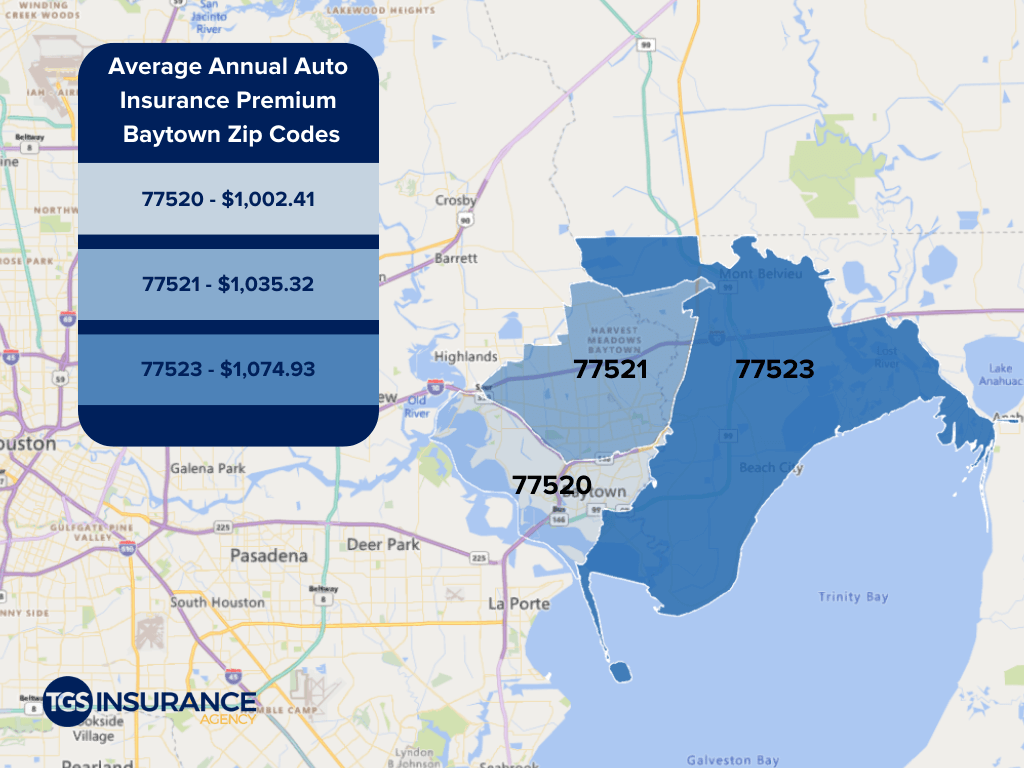 Best Baytown Auto Insurance Companies
Knowing who will give you a good rate in your area is a big part of choosing your car insurance. Among TGS customers, the most popular carrier in Baytown is Progressive. The average premium with Progressive is $1,026.50. Other popular carriers are Safeco and Travelers. Choosing a carrier is more than just the price; here at TGS, we know that is a factor. Check out the table below to see the average price for Baytown based on insurance provider.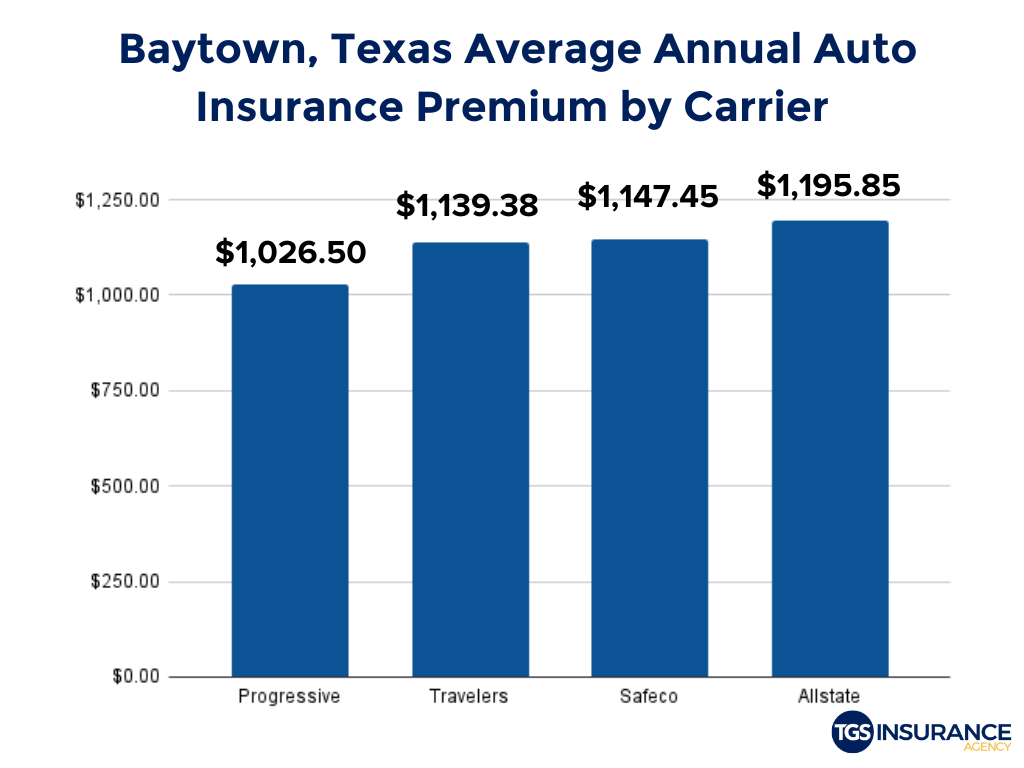 Comparison Shop Car Insurance in Baytown from Multiple Carriers in Minutes!
Shopping for car insurance can be exhausting, dull, and downright stressful. TGS Insurance Agency is here to change that. At TGS Insurance, we do all the nitty-gritty work for you, so you don't have to! Our agents will shop your car insurance policy across our bank of 35+ carriers to find you the best policy at the best price, so you never have to compromise on coverage to save money. How do you get started? Easy! All we need is your name and address, and you'll get an accurate quote in 15 seconds or less. After that, our agents will further customize your policy so it's tailored to your specific insurance needs. Shopping for car insurance has never been so simple!
Disclaimer
Every driver is unique. Insurance premium costs are impacted by several factors; therefore, we recommend obtaining an individualized quote to find your rates. Our data is representative of quality, publicly sourced, and internal data, but should not be deciphered as bindable.