Prepare for Hurricane Season With A Free Home Insurance Quote Now
Texas Hurricane Insurance
Hurricane season begins June 1 and runs through November 30. Since 1980, hurricanes have caused more damage than any other weather-related event and have cost an average of $21.5 billion per event. The NOAA has already predicted another active, above-average hurricane season for 2023. The time to prepare is now. One of those preparations for those living in regions affected by hurricanes is making certain that you have the proper insurance in place before it's too late. Many insurers won't write new policies once a storm has developed, and a standard home insurance policy won't cover all hurricane-related damages.
What is Hurricane Insurance?
Hurricane Insurance is not a stand-alone policy but rather the proper combination of policies that cover you from a hurricane's two most devastating elements: wind and water.

Flood Insurance: Flood coverage is not included in your homeowners insurance policy; therefore, for full protection against floods caused by long periods of rain, heavy rain, storm surges, blocked storm drainage systems, or levee dam failures, you'll need a flood insurance policy.

Windstorm Insurance: Windstorm insurance covers direct damages to your home and property caused by wind and/or hail. The coverage includes damages from windstorms such as hurricanes, tropical storms, tornados, thunderstorms, and other natural disasters. Some private insurers offer wind and hail coverage, but for those who have been denied coverage from them, homeowners can turn to Texas Windstorm Insurance Association (TWIA). Be sure to check your home insurance policy to ensure you're fully covered against the harsh winds hurricanes can produce.
How Much Is Hurricane Insurance in Texas?
The average cost of full hurricane insurance coverage in Texas is about $2,214 per year among TGS Insurance customers; this average includes homeowners insurance, flood insurance, and windstorm coverage written at a 2% deductible. On average, TGS Insurance customers save $2,118 per year compared to the state's average rates for complete hurricane protection. The cost will vary depending on many factors, including your home's location and hurricane risk, your home's value, and the deductible amount you select. Here is a breakdown of the average amount in Texas for TGS Insurance customers compared to the statewide averages (when wind coverage is purchased through TWIA) for each component of Hurricane Insurance:
Texas Average (Annual Premium)
TGS Insurance- Texas Average
(Annual Premium)
Avg. Home Insurance
$1,982
$1,722
Avg. Windstorm/Hail Insurance
$1,650
- (Included, 2% deductible)
Avg. Flood Insurance
$700
$492
Total
$4,332
$2,214
Purchasing Hurricane Insurance Coverage in Texas
TGS Insurance Agency has been helping Texans get the coverage they need since 2017 and is ready to help get you the Hurricane Insurance coverage you need today. Start with a free, instant home insurance quote by providing your address above, and we'll take it from there! If you are looking to supplement your existing homeowners policy, start your quote for either flood insurance or windstorm insurance and one of our agents will help you!
At TGS Insurance, we automatically include windstorm/hail coverage with a 2% deductible written into all home insurance policies; this coverage is customizable based on your needs. From there, we can round out your hurricane protection with the best flood insurance quotes available!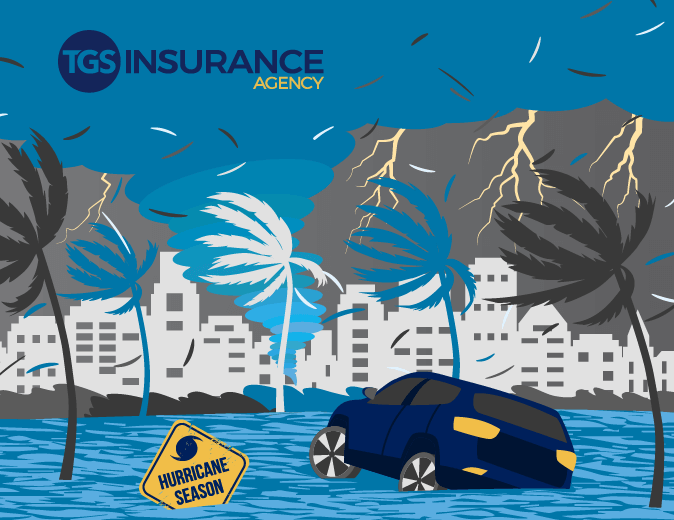 Hurricane Preparation Checklists:
2023 Hurricane Season News:
Hurricane Season Resources:
Hurricane Insurance FAQs
Does homeowners insurance cover hurricane damage?
No, not completely. The two most destructive elements of a hurricane are wind and water. To be fully protected from a hurricane, residents in Texas will also need to add a windstorm/hail policy and a flood insurance policy in addition to their homeowners insurance policy.
Does renters insurance cover hurricane damage?
No, similar to homeowners insurance, a renters policy will need to be supplemented by flood insurance and a windstorm/hail policy to be fully covered from a hurricane.
Are hurricane insurance and flood insurance the same thing?
No. Flood insurance covers your home and personal belongings against water damage caused by flooding, including high tides, hurricane storm surge, heavy rain, and other sources of natural flooding. Hurricane insurance includes flood insurance in addition to homeowners insurance and windstorm/hail coverage.