Start Your Free Boat Insurance Quote Now
Texas Boat Insurance
There is a common phrase "the two best days of a sailor's life are the day he buys a boat and the day he sells a boat." Owning a boat provides a way to make memories on the water with friends and family. Owning a boat also entails an abundance of responsibilities and risks. One crucial thing a boat owner should do is to make sure you obtain boat insurance.
What Does Boat Insurance Cover?
Depending on how and where you use your boat will dictate how much and the kind of coverage you'll need. Below are different types of coverage that a boat insurance policy typically protects:
Collision damage: Involves restorations and repairs on your boat, but this might not include cleaning up the debris unless you opt-in additional protection.
Property damage liability: This protects you from harm you could possibly cause to another individual's boat. For example, a dock or other structures.
Bodily injury liability: Protects injury you could possibly cause another individual while on your boat. This includes medical expenses, lost earnings, discomfort and pain as well as legal fees.
Comprehensive: Offers coverage in the event your boat is demolished, taken, harmed in an event other than an accident.
Add-on coverage options: You can add on protection for fishing gear, oil spill accidents, personal possessions as well as protecting someone who gets injured and is not insured.
What is the Average Cost of Boat Insurance in Texas?
Insurance providers consider different factors when determining, the coverage needed and the cost of that coverage, or if they will offer a boat insurance policy or not. Below are some factors you'll want to consider:
How old the boat is
The length of the boat
How fast the boat goes
Does it meet the standards of the US Coast Guard at the time the boat was built?
Primary residence
Type of boat
Houseboats that do not have a motor
Homemade boats without a serial number
Having more than two owners
What type of body of water will it operate in (ocean, lakes, bays, rivers)
With so many factors playing a role in individual insurance coverage costs, it is hard to estimate a policy cost without more information. However, on average, personal boat insurance runs $500 to $1,000 a year with the average boat insurance policy in Texas costing around $348 per year.
Is Boat Insurance Required in Texas?
No, Texas does not have a law that requires boaters to carry minimum levels of boat insurance. That being said, it is very strongly recommended that you do not own a boat without boat insurance. The purpose of boat insurance is to protect you financially from the challenges that come with owning a boat. Boat Insurance can help with injuries that occur on the boat or harm that can happen from the off-season. Boat safety and prevention is the most important thing you can do to reduce your risk of an accident, but they do happen. With the right boat insurance coverage, you can rest assured you're protected in any event when it matters most.
How to Buy Boat Insurance
Selecting the right coverage for your boat policy is crucial, but it's also just as important to select the right insurance provider to cover your boat insurance. At TGS Insurance, our team will shop your policy with top-rated carriers, and then explain to you the different boat insurance policies you can pick from that are best for your lifestyle and budget.
Shopping for boat insurance is easy at TGS Insurance and our team will ensure a smooth-sailing process from start to finish.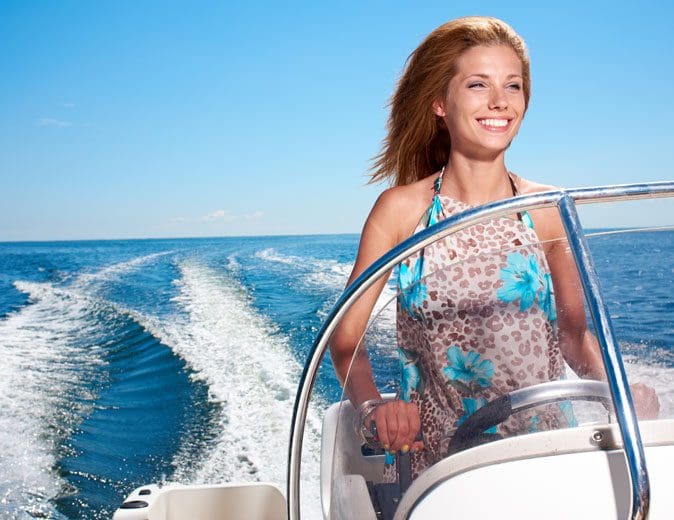 Learn More About Boat Insurance On Our Blog:
Boat Insurance FAQs
Does Boat Insurance Cover Hitting a Rock?
Yes, your boat insurance can cover hitting a rock, provided you have the right coverage in your policy. A collision insurance coverage in your boat insurance can help protect you if your boat hits a rock, tree, or other submerged objects.
Does Boat Insurance Cover the Motor?
Your boat's motor is covered against physical damage by most carriers' policies. Normal wear and tear may not be covered, however, some boat insurance policies may cover a blown motor when it is due to a defect from the manufacturer. Physical damage liability and comprehensive coverage work best here.
Does Boat Insurance Cover Theft?
A comprehensive boat insurance policy will protect your watercraft against theft, vandalism, and other acts that may befall your boat. Policies vary and the location your boat is located and the manner it is stolen may also affect which policies are needed to protect against theft.