Instant Home Insurance Quote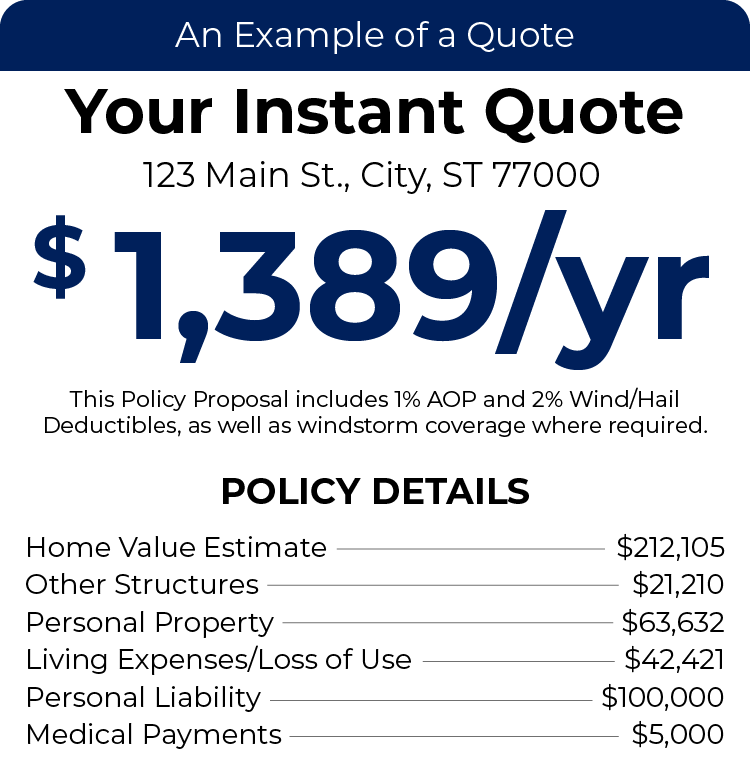 TGS Insurance »
Texas Homeowners Insurance
Your home is many things but most of all, it is a safe haven for you and the ones you love. Protecting your home through homeowners insurance is an important step and discovering the right coverage options can give you peace of mind and the protection you need without overpaying. Knowing how your home is covered and finding the right policy that fits your needs is made simple when you use TGS Insurance.
What Does Texas Homeowners Insurance Cover?
Homeowners insurance offers coverages that are designed to help you protect your home, personal belongings, and your liability should your home become a victim of specified perils including a visitor's medical bills, fire, theft/vandalism, etc. Policies vary, but take a look at some of the most common coverage options below:
In addition to these policy coverage options, many homeowners elect to add endorsements or riders to their insurance policies to fill in gaps that may exist when relying on a standard policy alone.
Equipment Breakdown Coverage: a way to protect important appliances under the same policy against breaking down due to a fault of the manufacturer such as an electrical or mechanical failure. Equipment breakdown coverage does not protect against the natural wear and tear of an appliance.
Personal Property Replacement Cost Coverage: additional coverage that helps protect personal property from being destroyed or stolen under the provided coverage terms of your policy. Remember, items such as expensive artwork or precious metals may require more than a standard policy. Personal property replacement cost coverage mitigates your replacement costs.
Water/Sewer Backup Coverage: if your home's sewage or drains should become backed up into your home, this coverage protects you from the costs of the damages that occurred, fixing the problem, and even damage from mold caused by these backups.
Is Homeowners Insurance Required in Texas?
While homeowners insurance is not required in the state of Texas, your lender can legally require it up to the value of what will be insured, with no regard to the amount of your mortgage. Homeowners insurance is also highly recommended because should an event such as a fire take place, many homeowners would struggle to secure the funds necessary to rebuild their home without the right policies. Even if you were to suffer from something more minor such as roof damage due to lightning or stolen items due to a burglary, the costs associated with either event can be difficult to sustain and homeowners insurance can help you mitigate these issues by enrolling.
How Much Does Texas Home Insurance Cost?
With homeowners insurance averaging Texans more than $3,400 a year, it is no wonder that Texas has the fifth-highest costs in the country, but there is hope! TGS Insurance is proud to help homeowners throughout the Lone Star State save on average $870 a year on their policy.
You can find out how much you could save by switching to one of our top-rated providers in a matter of seconds through our instant online quote or by contacting one of our qualified agents ready to serve. We have the tools and relationships with top-rated insurance providers to determine a completely customized quote for your home.
To determine your finalized policy, the carriers represented by TGS Insurance Agency take into consideration a wide variety of factors including:
The value of your home
The location of your home.
How old your home is.
The number of residents within your home.
Your credit score.
And more.
Your quote is then crafted using your unique information and sent by one of our agents to the insurance provider that will best fit your needs and budget. From there, the policy is formed so that you receive the coverage you deserve without overpaying.
How to Buy Homeowners Insurance
Finding the homeowners policy that fits your home the best is an important step in protecting yourself and the people and things you love most, but finding the right provider is an equally important endeavor. TGS Insurance has been helping Texans save on their homeowners insurance since 2017 and provides our customers with over 55 top-rated insurance providers that protect and save customers each day. You can even bundle your home with other coverages such as auto insurance to increase the amount of money you save every month. Get started today by contacting TGS Insurance.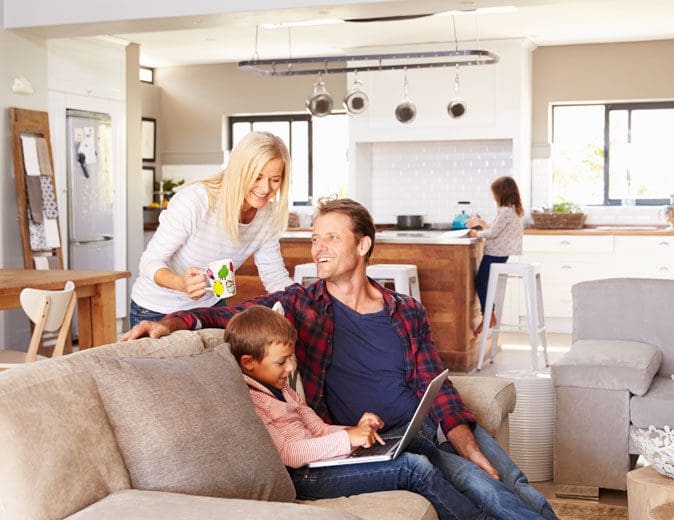 Learn More About Home Insurance on Our Blog:
Causes for Home and Auto Insurance Rate Increases in 2022
Actual Cash Value vs Replacement Cost
Comparing HO2 and HO3 Policies
Comparing HO3 and HO5 Policies
Comparing HO2 and HO5 Policies
Does a New Roof Lower Home Insurance?
More Articles on Home Insurance
Looking for More Information on Your Area?
Jersey Village Homeowners Insurance
Missouri City Homeowners Insurance
Sugar Land Homeowners Insurance
The Woodlands Homeowners Insurance
San Antonio Homeowners Insurance
Not In Texas?
TGS Insurance now offers:
Home Insurance FAQs 
Does homeowners insurance cover mold?
Mold is not normally covered by your homeowners insurance policy unless it is listed as a specific peril in your policy. The use of Water/Sewer Backup Coverage through an endorsement can help protect you against mold as a result of backup from your sewer or plumbing.
Does homeowners insurance cover water damage?
Many homeowners insurance policies protect against water damage inside of your home from recent leaks that are from problems caused within your home. Flooding from outside of your home will not be covered and will require a separate flood insurance policy.
Does homeowners insurance cover faulty wiring?
Should your home's wiring suffer from damage or is deemed faulty, most homeowners insurance policies have you covered. Your rates may vary depending on the type of wiring and the age of the wires as older wires may be more of a fire hazard.
Is foundation repair covered under homeowners insurance?
Your foundation is covered under your homeowners insurance through your home's dwelling coverage; however, not all foundation repairs fall under this coverage. Damages that may occur due to an earthquake or flood event would require separate policies to remedy your repair needs.
Will home insurance cover plumbing?
Your homeowners insurance won't cover a leaky pipe, old pipes, or damages that happen over a long period, but it will protect your home against recent leaks and rapid plumbing problems that are the result of an accident.
Will home insurance cover termite damage?
Because termite damage occurs over an extended period of time and is not a sudden event, your home insurance policy will not protect against it. Your best protection against termites is proper pest control maintenance and extermination practices to prevent termites before they start.