Instant Home Insurance Quote
TGS Insurance » Homeowners Insurance »
In 2020, 97.7% of homeowners claims were due to personal property damage and theft, according to the Insurance Information Institute. This illustrates how crucial personal property coverage is. This coverage can save you thousands of dollars in replacement costs for your favorite items.
What is Personal Property Coverage?
Personal property is the stuff you own! This can be clothing, jewelry, furniture, electronics, and anything inside your home. Insurance policies typically include personal property coverage when you own a home or rent an apartment.
What Does Personal Property Insurance Cover?
Personal property coverage insures the stuff you own if a covered peril damages them. Generally, this coverage is a percentage of your overall dwelling limit. Therefore, you may want a higher personal property limit if you have valuable items. This is why it is essential to know how personal property insurance works, your limitations, and how to calculate the value of your items.
Your personal property coverage protects all of your personal belongings, no matter where you keep them. They are covered in the dwelling, yard, out in the garage, shed, and even in hotels when you travel!
Depending on your homeowners insurance policy, your dwelling and personal property will be covered differently. An HO-3 policy covers your dwelling on an open peril basis, but personal property is covered on a named peril basis. Another coverage type is on HO-5 policy, where your policy covers both dwelling and personal property on an open perils basis.
What is Not Covered Under Personal Property Insurance?
Certain damage is not covered in your homeowners insurance policy. For example, if an earthquake or flood damages your property, your homeowners insurance will not cover it. You would need to have separate insurance policies for those types of perils.
Related Reading: Types of Damage Your Homeowners Insurance Won't Cover
How Much Personal Property Coverage Do I Need?
The best way to determine how much personal property insurance you need is to calculate the value of your possessions. To put it into perspective, the coverage for a homeowners policy is typically 50-70% of the insurance on the structure, according to the Insurance Information Institute.
It is easy to say you don't need a lot of personal property coverage, but you have more stuff than you think. Taking an inventory of your belongings and estimating how much they each cost can put you in a practical, well-covered mindset.
TGSI Tip: To keep track, you can photograph more expensive items and log everything else with the TGS Insurance Personal Property Calculator.
Get The Right Coverage With TGS Insurance!
An excellent home insurance policy is the best way to get the right personal property insurance. At TGS Insurance, our team of experts will carefully craft you a homeowners insurance policy that meets all your coverage needs, all at a rate that doesn't break the bank. We do this by shopping every policy we issue through our bank of 35+ A-rated (or better) carriers to ensure that you get the best home insurance policy the market offers. Get your hassle-free home insurance quote today and see why over 15,000 Texans are insured with TGS Insurance!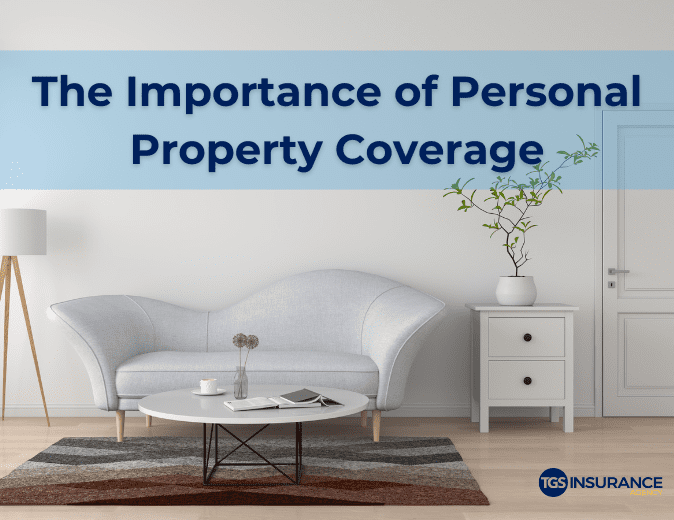 Explore Other Homeowners Insurance Coverages:
Recent Homeowners Insurance Articles: