Instant Home Insurance Quote
TGS Insurance » Homeowners Insurance »
Your homeowners insurance policy protects you, your home, and everything in it. But if a disaster were to strike and your home was unlivable, what would you do? How much would it cost? Luckily, your home insurance policy offers some coverage for such an event, commonly called loss of use coverage.
What is Loss of Use Coverage on Homeowners Insurance?
Loss of use coverage, also known as additional living expenses (ALE) or Coverage D (in your policy), will help you pay for things like hotel costs, groceries, fuel, and other expenses should your home need to be repaired or rebuilt after a covered loss. If you are a landlord of a property, loss of use coverage can help you recoup the lost rent should your tenants need to live somewhere else temporarily.
But what happens if the local authorities won't let you go home? Or the area around your home is deemed hazardous? For example, if your town is hit by a tornado and your home is untouched but the roads and/or area around your home are destroyed and the surrounding area is dangerous, the loss of use claim would be covered by insurance.
What Does Loss of Use Protection Cover?
If your home is deemed unlivable after damage from a covered peril, your home insurance policy will help cover those costs under the loss of use coverage part of your policy.
For example, if your home were to catch fire and you can't live there while repairs are being done, your insurance company would help with any living costs. If your hotel didn't have a kitchenette and you had to eat out more, insurance would help with that too.
However, just because you have this coverage doesn't mean you can go on a spending spree and expect insurance to cover it all like with any insurance coverage, there are limits. Loss of use coverage will only cover what's deemed "necessary," even then, what's "necessary" will have dollar limits. Expenses usually covered under loss of use coverage include:
Car rental
Clothing expenses
Food expenses
Fuel or mileage expenses (Ex. your hotel is farther from work)
Hotel expenses
Laundry expenses
Parking fees
Pet boarding costs
Public transportation
Rent for a temporary apartment (if needed)
Storage until bills
Insurance companies will have a list of things not covered by loss of use coverage so be sure to know what they are before you spend money.
That way, you're not trying to get reimbursed for something that the insurance is going to deny.
TGSI Tip: Hold on to every receipt! Your insurance carrier will likely ask for receipts for every purchase to validate any costs incurred. You can also organize everything in a folder or accordion for easy accessibility!
What Isn't Covered in Loss of Use?
Loss of use coverage does not protect us against everything. Our home insurance policy is meant to safeguard you against covered perils outside of your control. Loss of use coverage is there to pay for costs associated with your everyday life, not things you were already responsible for such as car payments, credit card payments, or other bills outside of basic necessities.
In addition, you can't use loss of use coverage for elective events like home renovations or general home maintenance.
Do I Have a Deductible on Loss of Use Insurance?
No, there isn't a separate deductible for loss of use coverage! You will still have your homeowners insurance deductible, but there will be no extra deductible for loss of use claims.
How Much Loss of Use Coverage Do I Need?
Everyone's needs are different when it comes to insurance. Loss of use coverage is usually based on your dwelling coverage and is calculated at about 20% to 30% of your dwelling coverage limit. Consider whether this is enough to cover any necessary increases in your living expenses if you need to be away from your home during repairs.
It's important to keep in mind there are limits to how much your carrier will reimburse you, so make sure you carry enough loss of use coverage and/or have a padded emergency fund should your living costs exceed your policy limits.
Get The Right Insurance Coverage With TGS Insurance!
Getting a home insurance policy with the right coverages is always easy with TGS Insurance! Get a hassle-free quote today using just your address in 15 seconds or less. No gimmicks, no BS, just great savings. We shop every home insurance policy through our bank of 35+ carriers for the best policy the market has to offer. See why over 15,000 Texans are insured with TGS Insurance today!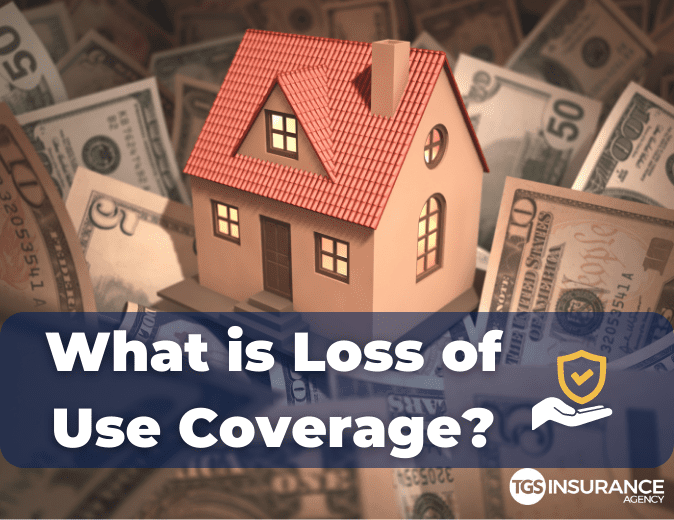 Explore Other Homeowners Insurance Coverages:
Recent Homeowners Insurance Articles: