Instant Home Insurance Quote
TGS Insurance » Homeowners Insurance »
What Does Other Structures Coverage Cover?
Other structures coverage, also known as Coverage B, is the part of your home insurance policy that helps to cover the costs to repair or replace structures on your property other than your home if they are damaged by a covered risk. Having the right amount of coverage B and an understanding of the coverage included is another crucial part of ensuring you have the best policy for the specific needs of your home. Typically, other structures coverage includes coverage for the following:
Construction supplies and materials for another structure
Detached patio
Garage
Guest home
Gazebo
Fence
In-ground pool (Some insurers will include this under dwelling coverage, will vary by carrier)
Mailboxes
Sheds
Walkways
Dock
It is vital to remember that, similar to dwelling coverage for the home, other structures coverage pays only for the damaged structures themselves- not anything you may have stored inside of them; those items would need to be included in your personal property coverage.
Other structures on your property are usually protected from the same perils as your home. So, if your home insurance policy covers falling objects, fire, hail, theft, and vandalism, then your other structures will most likely be covered for these as well. As always, don't forget to double-check your actual policy to confirm what your policy specifically says.
It's also important to keep in mind how your insurance company will reimburse you in the event of a covered loss. Most policies will reimburse you for your home's replacement cost value with dwelling coverage. This is the amount it would take to rebuild your home to the way it was before it was destroyed. But, other structures may work differently, depending on your policy. Some policies will reimburse you for what's called actual cash value, which means the total replacement cost plus depreciation.
What Isn't Covered Under Other Structures?
Since your other structures coverage will more or less mirror your dwelling coverage, you'll see the same limitations in terms of covered perils. Perils not included in other structures coverage include:
Earthquakes
Floods
General home wear and tear
Pests
Theft if your property is under construction or unoccupied
Water damage due to neglect
How Much Coverage Do I Need For Other Structures?
According to the Insurance Information Institute, your other structures' coverage limit is based on a percentage of your dwelling coverage- usually about 10%. So if you have $200,000 in dwelling coverage, it is recommended that you have other structures coverage for up to $20,000. However, if you need more protection, your insurance carrier can help you adjust your coverage limits.
Get The Right Home Insurance Policy
The best way to get the right coverage for you is to have a great home insurance policy to begin with. At TGS Insurance Agency, our team of experts will carefully craft you a homeowners insurance policy that meets all of your coverage needs, all at a rate that doesn't break the bank. We do this by shopping every policy we issue through our bank of 35+ A-rated (or better) carriers to ensure that you're getting the best home insurance policy the market has to offer. Get your hassle-free home insurance quote today and see why over 15,000 Texans are insured with TGS Insurance!
Other Structures Coverage FAQ's
Can I Remove Other Structures Coverage?
Even if your home has no additional structures, your carrier will not allow you to remove this coverage. There is no additional charge to your premium for this protection.
What is Not Covered Under Coverage B?
Coverage B is an extension under your dwelling coverage, so it follows similar guidelines. Your homeowners policy excludes damage to your other structures from earthquakes, floods, freezing, wear and tear, and mold or fungus.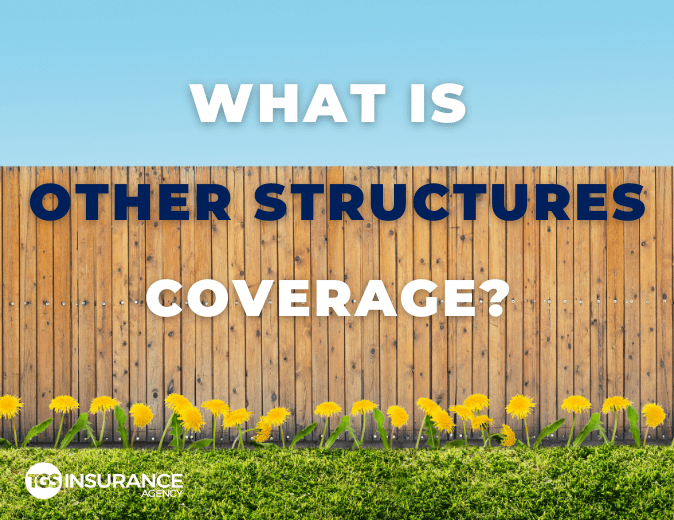 Explore Other Homeowners Insurance Coverages:
Recent Homeowners Insurance Articles: