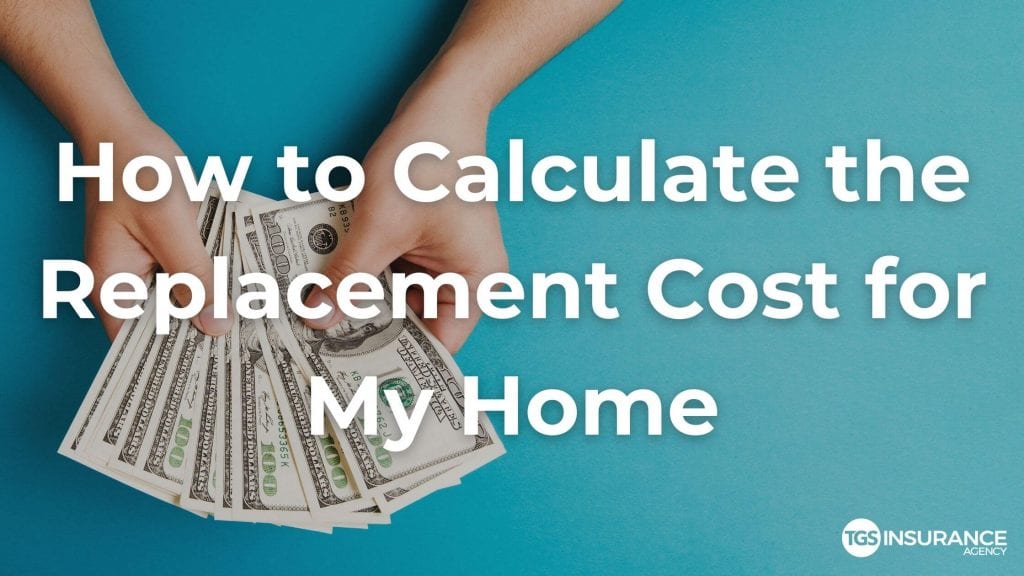 The amount of your replacement cost within your home insurance policy makes a significant impact when receiving compensation after a loss. There are common misconceptions when determining this amount, with many homeowners believing that their home's market value is equivalent to their replacement cost value. That is usually never the case. Understanding the difference in compensation and how to calculate the replacement cost value for your home can help you know how you're protected should you have to file a claim.
As a homeowner, you have a few options when calculating your home's replacement cost:
Do the math yourself by multiplying your home's square footage by the average cost per square foot to rebuild according to contractors in your area. Check local contractors' websites or speak to one over the phone for pricing.
For better accuracy, seek a local appraiser or contractor that is capable of assessing your property's unique features with more accuracy.
Use an online replacement cost calculator, but remember, these tools may not always be accurate as each property is unique.
Estimates are useful but should be taken with a grain of salt. Still, when done the correct way, they can provide an accurate look into the amount your home insurance policy will pay you should you suffer a loss.
Replacement Cost Value, Actual Cash Value, and Market Value
Your home's replacement cost is the amount it will cost to replace a loss with a brand-new item of equal value, but it doesn't consider depreciation. Actual cash value (ACV) considers depreciation and is often lower reimbursement as a result. You can learn more about the pros and cons of replacement cost and ACV, but it is also important to remember that market value should also be considered.
Market value is the amount you receive for selling your home, and often it can be difficult for homeowners to differentiate this value from replacement cost. There are a variety of factors that go into your home's market value including its proximity to desirable schools, the amount of land your home is on, your home's local crime rate, community features, commutes, etc. Replacement costs won't bother with these factors, however, there are many others you should be aware of.
Important Considerations for Your Home's Replacement Cost Value
Calculating your home's replacement cost is instrumental to determining the amount of coverage you'll need, and knowing what raises this cost is important to keep in mind while you figure this out. Take a closer look at the different factors that can raise your replacement cost and the considerations you should remember:
Total Square Footage: Larger homes generally cost more to restore because there are more materials, labor, and other factors that go into creating them.
The Building Materials Used for Your Home: The materials used to construct your home will play a role in how much your replacement cost value is and as a result, how much coverage you'll need. A common example is the type of roof your home has.
Your Home's Unique Features: Does your home have an outdoor patio? Or beautiful marble floors? If so, it'll cost more to replace and require more coverage.
Changing Building Codes: Because codes change over time, certain repairs may be much more costly than when your home was originally built. Older homes are more likely to be affected.
Fluctuating Construction Costs: Overall, the cost of building materials and labor has continued to rise, but sometimes these market fluctuations can reach extreme levels. Because of this, you may pay out-of-pocket if you are not properly covered.
The Amount of Personal Property Insured: The more personal possessions that require protection, the more your replacement cost is going to be. Homeowners with more valuables must remember to consider these things.
Your Dwelling Coverage and the 80% Threshold Rule
Dwelling coverage, also known as Coverage A in standard home policies (HO-3 policies), is the main protection in your homeowners insurance. Each insurer does things according to their own, but many companies will use an 80% threshold rule when it comes to your dwelling coverage.
What this means is that your insurance provider will require that you maintain a minimum amount of coverage that can cover 80% of the replacement cost should you need to rebuild your home. Anything under, and you will not be considered fully covered by your insurance provider. If you are not "fully covered", your insurance provider will not be responsible to cover your entire loss and will compensate for an amount that matches your coverage. For example:
If your home has a replacement cost value of $100,000, you'll need to be sure that your dwelling coverage is equivalent to $80,000 or you would not be considered fully covered. So, if you were to suffer a loss that is $60,000, you would be fully covered, though your deductible will still apply.
On the other hand, if your home has the same replacement cost value with only $70,000 in dwelling coverage, it would probably be enough to cover the loss but your insurer will only pay 87.5% of the damages, which equals to about $52,500, leaving you responsible for the rest of the loss.
On the other hand, if your home has the same replacement cost value but only has a dwelling coverage of $70,000, even if your coverage would be enough to cover the loss, your insurer will only pay 87.5% of the damages, or $52,500, leaving you to pay the rest out of pocket.
The amount of dwelling coverage you carry can also affect the amount of coverage in other areas of your policy, specifically, when it comes to your personal property. Coverage C is what protects your personal property and is usually equal to half of your total Coverage A amount. While replacement cost value can be a more expensive option than ACV, you may want to think twice before cutting corners. You're also receiving better protection with larger compensation in more ways than one.
TGS Insurance Helps Your Stay Adequately Insured
Having enough coverage is important for any homeowner and TGS Insurance is here to help. We understand that your home is unlike any other and will require a personalized approach to your home insurance coverage. Our agents take the time to get to know your personal needs to provide policies that are crafted to help you replace and rebuild should you experience a loss.
After determining the right coverage for you, our agents comparison shop the coverage you need through our impressive list of 35+ A-rated or better home insurance providers. We continue year after year to review your coverage to ensure that you're keeping the coverage you need without overpaying. If we do notice an increase in your home insurance policy, we'll re-shop your coverage all over again to keep you covered for less. See how much you can save on home insurance today!
Instant Home Insurance Quote
Recent Home Insurance Articles: