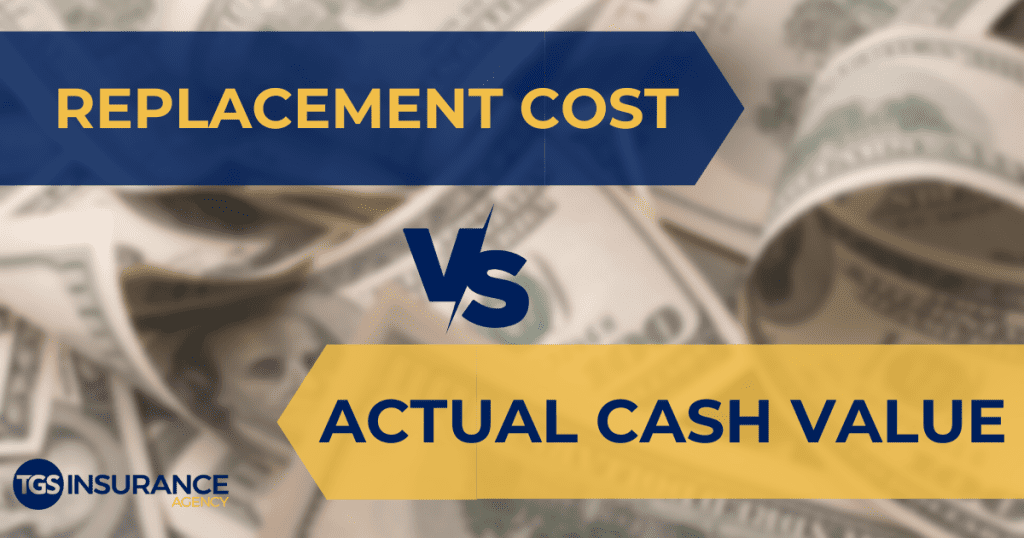 It's happened. Your home has been damaged or robbed, and now it's time to make a claim with your insurance provider. Understanding how your homeowners insurance coverage will work during a time of crisis is imperative to reducing stress and rebuilding after facing an unfavorable life event. How your insurance provider calculates your loss and determines how they will reimburse you can have real ramifications on how you are compensated during your time of need. Actual cash value (ACV), replacement cost, and how it's all determined, can seem a bit daunting from the outside looking in, but it doesn't have to be. Get to know the difference between actual cash value vs. replacement cost and more below so that you can make an informed decision in choosing the right coverage for you.
What is Replacement Cost?
Replacement cost is the cost of replacing something with a brand-new version of a comparable model; this type of coverage does not account for depreciation.
For personal property coverage, replacement cost is fairly straightforward and easy to determine: if your TV is stolen or damaged beyond repair by lightning, this coverage will help to cover the cost of buying a new item (comparable model) at today's price.
For your home or dwelling coverage, replacement cost is the cost of rebuilding. This coverage assesses and covers the current day cost of materials and labor to rebuild what you had as it was.
What is Actual Cash Value (ACV)?
Actual cash value is the replacement cost minus depreciation.
For personal property coverage, ACV would take the stolen or damaged TV from the above example and take into account factors such as its age, and provide you with a reimbursement that is oftentimes less than what it will cost you to go buy a brand-new one. This is because, in most cases, the older something is, the less valuable it becomes due to things like normal wear and tear.
For your home, the age of your home's roof, walls, appliances, lighting, etc. will all be taken into account, and you will be reimbursed based on their current value that incorporates that depreciation. Once again, oftentimes, this is less than what the materials and labor to replace and rebuild will cost you.
Replacement Cost or Actual Cash Value, Which to Choose?
By default, many homeowners policies provide replacement cost coverage, but in many cases, you will have the option to adjust this. Which option you decide to go with might depend on requirements from your lender or the conditions of your mortgage. It is also crucial to decide what makes sense for you financially. Replacement cost will allow you to replace your home and personal belongings without requiring additional funds from your savings account, but it will cost you more in the form of higher monthly premiums.
Home Insurance for Less
TGS Insurance has been helping homeowners save and bundle their insurance with other crucial policies for decades. We work tirelessly to provide your home with a resource they can trust from our talented team of agents and save money each month on your premium. Contact us today to choose from one of our many top-rated insurance providers with no hassle to you.
FAQs About Replacement Cost and Actual Cash Value
What Is the Main Difference Between Replacement Cost and Actual Cash Value?
Replacement cost will provide more coverage, and higher reimbursement values should you need to rely on it, but it comes with higher premiums. Meanwhile, the actual cash value will come with lower premiums. Still, when it comes to reimbursements, depreciation will be factored in, which oftentimes leaves you need to dip into savings to cover the full replacement of your home or belongings.
Is Actual Cash Value Equal to Trade-In Value?
Yes, your actual cash value equals the trade-in value of your covered item. Insurance companies will determine this amount with the method explained above. From here, insurance providers know how much to pay policyholders based on the trade-in market to provide compensation for a damaged item.
How Is Actual Cash Value Calculated?
Actual Cash Value = Replacement Cost Value – Depreciation.
Your Replacement Cost Value is the cost to replace your item with a brand-new version of a comparable model. Depreciation is the reduction of an item's value by considering its remaining life cycle based on its wear and tear.

Why is a Policy That Covers Replacement Cost Better Than one That Covers Actual Cash Value?
Replacement cost policies can be handy for policyholders as they produce higher payouts when insurance providers settle claims. The trade-off, however, is that while replacement cost policies pay more than actual cash value policies, they also have higher monthly premiums.
Instant Home Insurance Quote
Recent Home Insurance Articles: