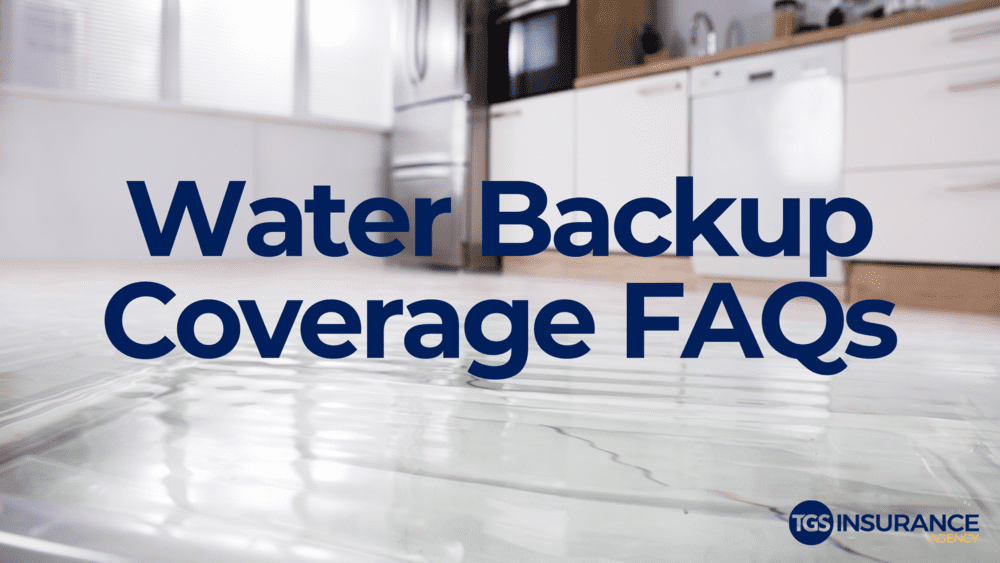 Water backup accidents can be a nightmare for homeowners and a costly mess to clean up. Water backup damage usually happens when a gutter, drain, or sewer backs up or when a sump pump stops working, leading water into your home. Homeowners can't sit idly by on these types of problems and time is of the essence to avoid even more repairs and damage.
Water backup coverage is one of the most common endorsements you can get in your homeowners insurance policy and is an excellent one to have. Let's review some FAQs about water backup coverage to help you better understand just how it works.
What Is Water Backup Coverage?
Water backup coverage is an optional add-on to your homeowners insurance policy. This type of protection would help you financially cover the repairs from water backing up into your home. Your standard homeowners insurance policy covers only certain types of water damage as long as it's deemed accidental, sudden, or stemmed on the insured property. So something like a broken pipe or water brought in by a rainstorm through a hole in your roof would be covered. However, things like flooding or water that backs up through drains, sewers, or sump pumps are all not included in your standard homeowners insurance policy- which is why water backup coverage is so important.
So for example, water backup coverage would cover the cost of replacing appliances and furniture, as well as removing the water by a professional when an unexpected backup happens.
What Does Water Backup Insurance Protect?
Water backup insurance offers protection for any damage to your home caused by a blocked sewer line, broken sump pump, or clogged drains. It also protects you from mold damages caused by water or sewer backup.
What Is Not Covered By Water Backup Insurance?
Water backup insurance offers protection for gaps in coverage not covered by your homeowners insurance policy, but there are some exclusions you'll want to remember. You will not be reimbursed if you need to repair or replace a broken sump pump- you'll need equipment breakdown coverage. Other things excluded are overflow or backups that are caused by maintenance issues or neglect and water damage caused by flooding, waves, your pool, or any other body of water.
What Causes Water Backup?
The most common reason for water backup is from clogged pipes. This can happen from too much toilet paper, hair build-up, soap scum, grease, or if you have a young child who likes to experiment with flushing toys down the toilet. Another way water backup can happen is when a drain, sewer, or gutter backs up or a pump fails, forcing water into your home.
Is Water Backup Insurance Included in My Homeowners Insurance Policy?
The standard homeowners insurance policy doesn't typically protect your home against water backup damage. But this optional type of coverage can be added to your homeowners policy.
What Is The Average Cost For Water Backup Insurance?
The average cost for water backup coverage is about $50 to $250 annually. There are options for replacement costs limits up to $5,000 or full replacement cost for your home. If you have questions about which option is best for your home, contact an agent at TGS Insurance. We will find you the best coverage options for your home's needs.
Do I Need Water Backup Insurance?
If you think about it, the entire foundation of your home is surrounded by water, whether it be in pipes or underground. Water backup damage is one of the most common homeowners insurance claims. According to the Insurance Information Institute, water backup damage is the third-highest insurance claim behind fire and liability lawsuits.
It is important to remember that water backup coverage is not included in your homeowners insurance policy and is an optional add-on. Because these types of accidents happen so often, adding this type of coverage to your homeowners policy might be something to consider.
How To Avoid Water Backup Damage
Keep your downspouts and gutters clear of leaves and debris.
During a rainstorm, check your gutters' capacity after 15 minutes. If it overflows you'll see to install additional downspouts.
Your downspouts should be at least ten feet away from your home.
Make sure your landscaping and irrigation are adjusted to where the water flows away from your home.
Use a sump pump that has battery backup and replacement warnings to drain subsurface groundwater.
Run your sump pump every few months and clean it yearly before the rainy season, which usually starts in March.
Install backflow valves and standpipes near sinks and toilets to prevent the backflow of sewage water.
If you have a basement, consider raising your washer, dryer, water heater, furnace, electrical wiring, and personal items above typical water backup levels.
Water backup damage is unpredictable, inconvenient, and can lead to serious damage to your home. Knowing how to prevent water backup and the types of coverage options you have is very important. If you want more information on water backup insurance, then talk with one of our team members at TGS Insurance. We have expert insurance agents ready to help you better understand your homeowners insurance policy. We shop from 35+ reputable insurance providers and find you the best coverage for a low price. For all your insurance needs, TGS Insurance is here to help you!
Sources: The Hanover Insurance Group and Liberty Mutual
Instant Home Insurance Quote
Recent Home Insurance Articles: