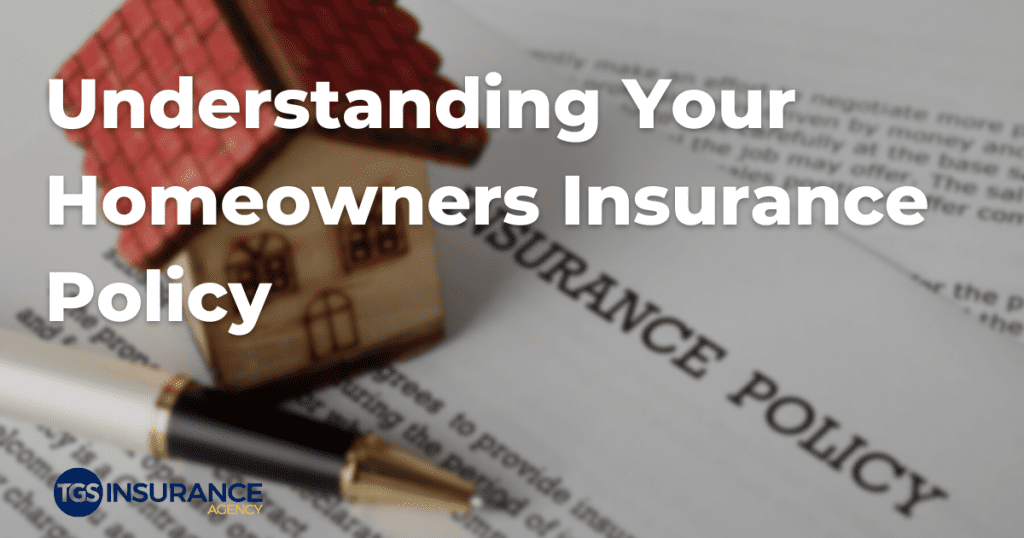 Your home is one of the most important investments you'll ever make. While it's important to insure it properly, it's imperative that you understand your homeowners insurance policy as well. Nationwide reports that some homes are underinsured as much as 60%, leaving homeowners with most of the financial responsibility should a disaster happen.
One of the biggest reasons why homeowners are underinsured is because they don't understand their homeowners insurance policy. While you don't need to understand all the insurance lingo in your policy, having a basic understanding of your policy will better prepare you should you need to file a claim and aren't left both unhappy and underinsured.
We'll break down the key elements of your homeowners insurance so you'll know how to better understand your policy. 
What is Homeowners Insurance?
Homeowners insurance is there to provide you with financial protection should your home or belongings become damaged due to a disaster. It also provides liability protection should someone have an accident on your property or financial assistance if your home becomes unlivable.
What Is A Homeowners Insurance Declaration Page?
The declaration page is a summary of your homeowners insurance policy. It lists the type of coverage you have, rates, and other key information. Declaration pages can look different depending on your carrier, but they usually all have the same information. Take a look at our example to learn about what each section means.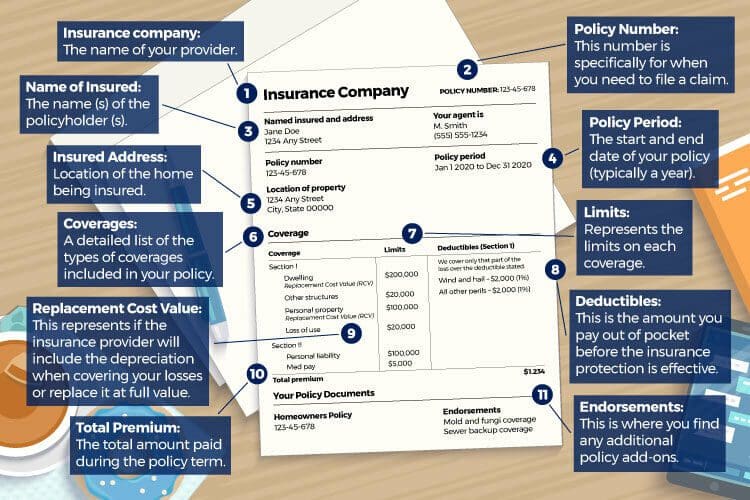 Insurance company: The name of your provider.
Policy Number: This number is specifically for when you need to file a claim.
Name of Mortgagee: Usually your mortgage company.
Policy Effective Date: This is when your insurance protection begins.
Name of Insured: The name (s) of the policyholder (s).
Policy Period: The start and end date of your policy (typically a year)
Insured Address: Location of the home being insured
Coverages: A detailed list of the types of coverages included in your policy.
Limits: Represents the limits on each coverage.
Deductibles: This is the amount you pay out of pocket before the insurance protection is effective.
Replacement Cost Value: This represents if the insurance provider will include the depreciation when covering your losses or replace it at full value.
Total Premium: The total amount paid during the policy term
Endorsements: Also known as a floater or rider, endorsements usually are extra protection for events in which a policy limits or excludes coverage.
Discounts: Some policies will include discounts if there are any.
How To Get Your Declarations Page
Your declarations page usually comes with your purchased homeowners insurance policy. If you don't have one, you can always contact your insurance agent or company to request one. It's important to hold onto your declarations page should you need to make a claim.
Knowing The Different Types of Coverages
Your homeowners insurance policy should offer enough financial protection should you need it after a disaster or named event. It should include coverage to: rebuild or repair your home, replace personal property, cost of living expenses should your home be deemed unlivable, and cover the cost of personal liability claims. Here are the different types of coverages usually found in your homeowners insurance policy:
| | |
| --- | --- |
| Coverage Type | Description |
| Coverage A: Damage to House | Covers damage to the house and other structures such as a garage, but only 10% of the damages. |
| Coverage B: Other Structures | This protects detached structures like garages and sheds. |
| Coverage C: Personal Property | Protects your personal belongings for you and your family. This includes furniture, electronics, jewelry, and other items. |
| Coverage D: Additional Living Expenses | This coverage provides financial assistance if you need a temporary place to live if your home becomes uninhabitable or destroyed. |
| Coverage E: Comprehensive Personal Liability | Protects you against loss or injuries caused by you or occurred on your property. |
| Coverage F: Medical Expenses | This covers a limited amount of medical expenses for someone else who might have injured themselves at your home. |
What Perils Are Covered By Your Homeowners Policy?
There are a variety of policies that homeowners can choose from. The most common policy is the HO-3, which protects the structure of your home, personal belongings, and personal liability. It also has wide-ranging coverage that consists of sixteen perils listed below:
Fire or lightning
Windstorm or hail
Explosion
Riot or civil commotion
Damage caused by aircraft
Damage caused by vehicles
Smoke
Vandalism or malicious mischief
Theft
Volcanic eruption
Falling object
Weight of ice, snow or sleet
Water damage from plumbing, heating or air conditioning
Water heater cracking, tearing or burning
Damage from electrical current
Pipes freezing
Homeowners Insurance Exclusions
HO-3 policies offer a variety of different coverages, but with every great insurance policy comes with exclusions. HO-3 policies specifically exclude:
Freezing pipes in a vacant home
Damage to foundation or sidewalks from ice or water
Theft from a house under construction
Settling wear and tear
Pets
Weather conditions that aggravate other excluded causes of loss
Government and association actions
Defective construction
Most Common Types of Homeowners Policies
This type of policy only covers particular perils like personal property, but it is the most basic type of protection.
Examples Perils: theft, vandalism, wind, fire, lightning, the weight of ice, snow, and sleet.
HO-3 is the most popular policy that offers a variety of coverages. It covers your personal property and named perils, which means that if your policy doesn't explicitly include a peril, you are not covered.
Common Exclusions: Earthquakes, floods, mudslides, sinkholes, nuclear accidents, and terrorism.
The HO-5 policy has the most comprehensive homeowners coverage. One main factor that makes this policy stand out is the open perils coverage for personal property. This means your personal items are covered unless it is specifically excluded.
Additional Coverage Options
Your declaration page will also include a list of any coverages you decide to add to your homeowners policy. Additional coverages give you the freedom to customize your policy to your lifestyle. Some common add-ons are a home-based business, sewer backup, or windstorm. Flood insurance is never included in your homeowners insurance policy, so if you'd like protection against floods, you'll need to purchase a separate policy. There are also additional coverages for your personal belongings. If you seek a higher limit for items that surpass your current personal property policy, you can get scheduled personal property coverage to protect those higher-valued items.
Homeowner Insurance Policy Renewal
Once your home insurance policy coverage period ends, you will be provided with a new declaration page. There will be changes like an updated premium, new policy period, new discounts, increased or decreased coverage, etc., or your policy may stay the same.
Homeowner policies typically last a year, but if you are looking to avoid annual premium increases, then contact an agent at TGS Insurance. We shop your policy every year to make sure you are maintaining the best rate with the most coverage.
Homeowner insurance policies are usually in effect for a year, and it's important to review your policy around renewal time to ensure your rate isn't increasing, and your policy coverages are still up-to-date. It can be easy to dismiss your rate going up $50 a year because you don't want to hassle with shopping for new homeowners insurance, but after a few years, you could be paying an extra $500 a year without any changes in coverage.
How do you avoid paying more for homeowners insurance?
Talk to TGS Insurance! When renewal time comes, our agents will get a copy of your homeowners insurance. They will automatically shop your renewal across 35+ top-rated carriers for either a cheaper rate with the same great coverage or decide that the current policy you have is the best one. Either way, you'll always pay the lowest for homeowners insurance, and we do all the heavy lifting. It's the easiest way to shop for homeowners insurance without ever overpaying!
Something To Consider…
Understanding your homeowners insurance policy is critical in ensuring you have the right coverage. The declaration page is a good source to know what type of coverage you have for protecting your home and everything in it. If you have questions about your homeowners policy or want to add more coverage options, contact one of our agents at TGS Insurance. Our team will provide you with the best homeowners insurance policy for your needs, and you can customize it to how you want it. Call, text, or email us today and see the TGS way!
Instant Home Insurance Quote
Recent Home Insurance Articles: