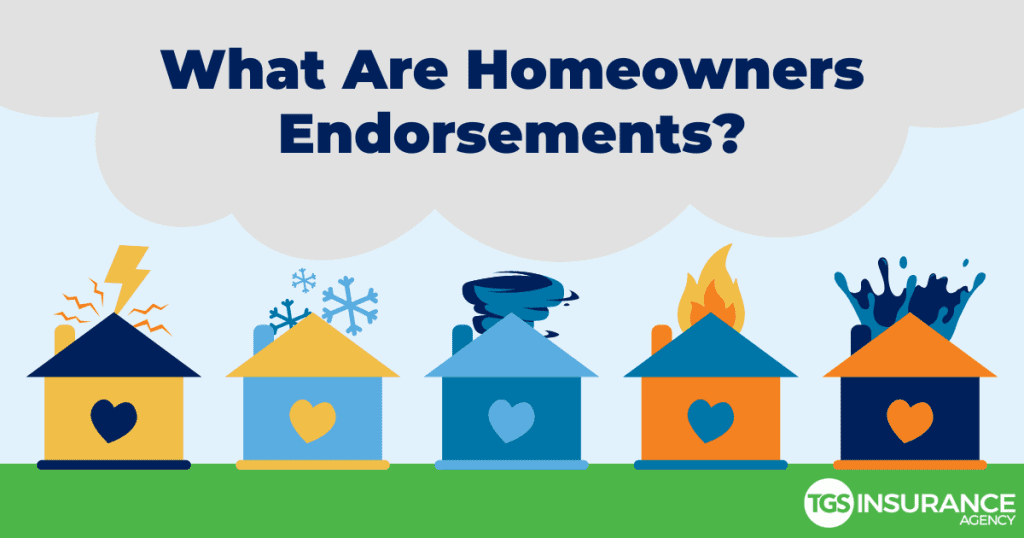 What Are Homeowners Endorsements?
Homeowners insurance policy endorsements, sometimes referred to as floaters or riders, are revisions to a home insurance policy. These endorsements customize your policy to make sure your coverage is just right for your insurance needs. Sometimes that revision is a reduction in coverage. Most endorsements, however, will provide extra coverage for gaps in a standard home insurance policy. Let's take a look at some common endorsements that could be great additions to your current coverage!
Most Common Homeowners Insurance Policy Endorsements

Personal Property Replacement Cost Endorsement
Homeowners insurance may be broken into six different types of coverage, usually referred to as Coverages A-F. Your personal property falls under Coverage C, which is meant to help you replace your belongings after disaster strikes. Unfortunately, most policies limit this coverage to the actual cash value, or ACV, of the property in its present-day condition. That includes depreciation, which is the decrease in the value of an item over time. In other words, your insurance won't give you enough money to replace your belongings in today's market with ACV coverage. An endorsement can add extra coverage for the full replacement cost value, or RCV, of the property. This endorsement covers the full amount you need to replace your possessions.
>> RELATED READING: Actual Cash Value vs. Replacement Cost
Inland Marine Endorsement for High-Value Items
In addition to limiting personal property coverage to the ACV, most policies set a limit on coverage for your valuables. If your vintage Rolex watch or your designer fur collection was stolen, for example, your standard home insurance policy may only cover up to $1,500 for those high-value items. A personal inland marine endorsement (also known as scheduled personal property coverage) gives you the opportunity to insure even your most expensive possessions, such as heirloom jewelry, at its full value. Be aware that it will almost always require an appraisal of the high-value item!
Equipment Breakdown Endorsement
You most likely use appliances or devices in your home, like your air conditioner or your refrigerator, almost every day. Coverage C of your insurance will fund the repair or replacement of these crucial possessions if they're damaged by an outside force, like a fire. However, it will not cover the breakdown of your equipment due to internal forces, such as a power surge. In order to fully cover home appliances or devices, you can add an equipment breakdown endorsement to your policy. Consult an insurance agent about factors like the age of your equipment that may impact your deductible and whether or not this is a good fit for you.
>> RELATED READING: Does Home Insurance Cover Appliances?

Windstorm and Hail Endorsement
Perils are causes of financial damage or loss, which you can find on your insurance policy. In areas at high risk for tornadoes, hurricanes, or hailstorms, your standard insurance policy will most likely exclude coverage for those perils. In order to cover wind or hail damage to your dwelling, other structures, and personal property, you will need to add a windstorm and hail endorsement to your policy. This windstorm coverage is also available as a standalone policy, depending on the carrier. Speak with your insurance agent to learn what options are available to you in your area.
Water Damage Endorsement vs. Water Backup Endorsement
Homeowners insurance policies are only designed to cover sudden and accidental damage. Some important perils, or causes, of water damage in your home will be excluded from your standard policy. Endorsements can help you make sure that you will be covered when you need it most.
Water damage due to slow leakage or seepage of plumbing over time isn't covered by most homeowners policies. Imagine learning that the pipes under your upstairs bathroom are leaking when a portion of your kitchen ceiling sags, drips, or even bursts! Although this water damage is news to you, your ceiling was catching the leak from your pipe for weeks. With a standard policy, your insurance carrier will not fund your repairs. To cover gradual water damage to your home over time, you will need a water damage endorsement.
>> RELATED READING: Smart Water Leak Detectors: The Impact of IoT on Home Insurance
A water backup endorsement is an easy and inexpensive addition to your home insurance policy, as well. Water backup can happen to anybody, and it's not covered by most homeowners policies! This endorsement provides coverage for repairing damages to your home due to a water backup and loss of use coverage. In other words, your insurance carrier will help with the cost of living in a hotel if you're temporarily displaced.
>> RELATED READING: Loss of Use Coverage
It's important to realize that flood insurance will always be a separate policy from your homeowners insurance. Speak with an insurance agent about your coastal tier and how the location of your home will impact your flood insurance rates.

Foundation Repair Endorsement
The majority of home insurance policies offer coverage for damages caused by sudden and accidental discharge of water or steam. If a pipe bursts under your house, your standard home insurance will cover the pipe repair. A common assumption is that this coverage includes fixing your foundation after any damage done to access the pipe.
Unfortunately, with a standard policy, your insurance carrier will not fund anything other than the actual pipe repair! This can be an expensive ordeal if your home is built on a slab foundation that must be drilled into for pipe access. A foundation repair endorsement will cover any foundation repair related to a sudden and accidental discharge of water. This is a very low-cost addition to your standard home insurance policy, and it could save you thousands of dollars if a burst pipe requires drilling into your foundation.
>> RELATED READING: Does Homeowners Insurance Cover Frozen Pipes?
Service Line Endorsement
A standard homeowners insurance policy will not extend coverage to the service line that runs beneath your yard. Unfortunately, any damages to that portion of your service line are your financial responsibility. That means you will be footing the bill for the service line repair, necessary excavation, landscaping to replace unearthed trees or other plants, sidewalk or driveway repair, and temporary relocation during any period of uninhabitability.
A service line endorsement will cover all of these costs, typically up to $10,000, with a small deductible. This can be a much more affordable and extensive option than purchasing insurance from each individual company (electric, water, gas, etc.) to cover their specific service line.
Who Needs Homeowners Endorsements?
Without adding any revisions, or endorsements, to your standard policy, your homeowners insurance will only include basic coverage for your dwelling and property. The most painful time to discover the holes in your policy is after a disaster has already struck! If you live in an area that is especially prone to natural disasters, if you have any high-value items or appliances that are costly to repair, or if you do not have savings set aside for worst-case scenarios, you could benefit enormously from homeowners endorsements.
Generally, the most common of these endorsements are personal property replacement cost, inland marine, equipment breakdown, windstorm and hail, water damage, water backup, foundation repair, and service line coverage. It's important to note that this is not a complete list! Endorsements or separate insurance policies can cover items such as boats or all-terrain vehicles. The same is true if you would like extra coverage for liability or personal injury in your home. Speak to an insurance expert to better understand which endorsements would be a good idea for you.
>> RELATED READING: 6 Commonly Overlooked Gaps in Home Insurance Coverage That Could Cost You
Let TGS Bridge the Gaps in Your Homeowners Insurance
Our goal at TGS Insurance is to listen to your needs, inform you of your options, and find you the best deal by shopping our roster of over 55 A-rated carriers. For more information about endorsements, or to learn more about your coverage, our expert agents are here to help. Give us a call to start filling the holes in your homeowners insurance policy today!
Instant Home Insurance Quote
Recent Home Insurance Articles: