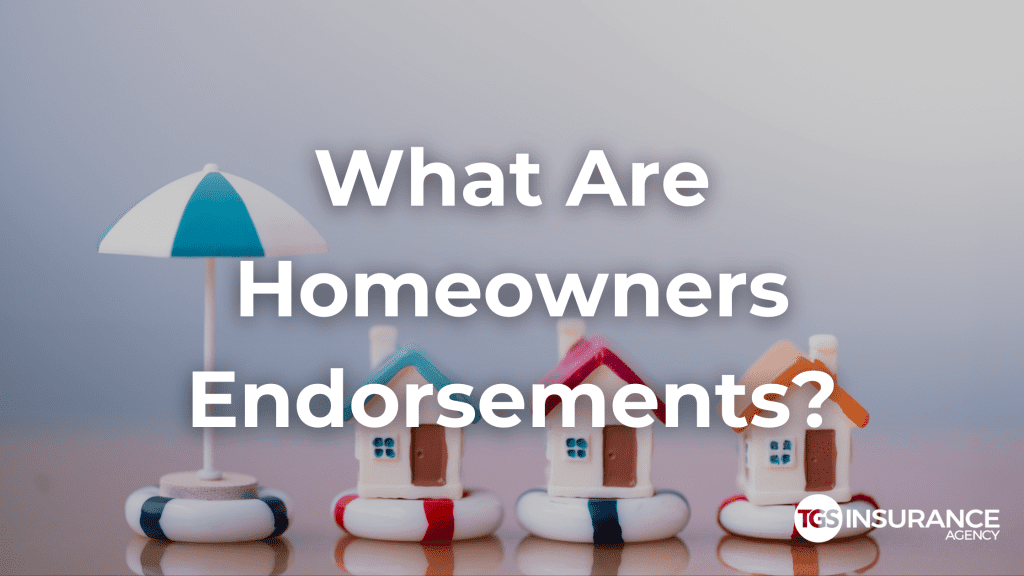 Homeowners insurance policy endorsements, also called a floater or rider, are an add-on you can get to customize your coverage further to protect you against perils not included in your standard home insurance policy.
Your home insurance policy is meant to financially safeguard your home, personal possessions, and family from perils such as hail damage, theft, or a fire. But, your policy limits how much coverage is offered and what events are considered "covered losses."
For example, if you have expensive jewelry pieces and they become damaged in a fire, your policy would cover those items under the personal property section of your home insurance policy IF the losses don't exceed your policy's category limits. On average, most policies cover up to $1,000 per item with a limit of $5,000 per event. (Ex. fire.)
Most Common Homeowners Insurance Policy Endorsements
Endorsements are a coverage extension of your home insurance policy and add coverage in areas otherwise not covered by your standard policy. Endorsements are a great way to fill gaps in coverage so you're never left underinsured. Let's review the most common homeowners endorsements and the average cost per year.
| Endorsement | What it Covers | Average Annual Cost |
| --- | --- | --- |
| Dwelling Under Construction Coverage | Covers damage and theft for building materials while your home is under construction. | Varies by project (Ask your insurance agent!) |
| Earthquake Coverage | Covers any damage to your home, personal property, as well as additional living expenses due to an earthquake. | $800-$500/year depending on your home's location and area's risk-level |
| Equipment Breakdown Coverage | Replaces or repairs household electronics or appliances breaking due to mechanical or electrical failure. | $20-$50/year |
| Extended Replacement Cost | Insurer will pay to rebuild your home to its current condition before the damage even if the loss exceeds your dwelling coverage. | $20-$50/year |
| Flood Insurance | Covers any damage to your home, personal property, and provides additional living expenses due to a flood. | $600-$900/year depending on your home's location and area's risk-level |
| Food Spoilage Coverage | Covers the cost of spoiled food due to a covered peril. (Ex. a snow storm knocks out your power.) | $36-$45/year with an average limit of $500 per event. |
| Home Business Coverage | Replacement or repairs for any tech items you use for work if your home office is damaged or burglarized. | $25/year |
| Home Daycare Coverage | Extends liability coverage to those in your care, with a maximum of 3-6 children. | $400-$1000/year |
| Identity Theft | Covers costs associated with identity theft recovery. | $25-$60/year |
| Inflation Guard Coverage | Automatically increases your dwelling coverage limits to accommodate inflation to rebuild your home at the current market cost. | $135-$300/year (Will vary depending on policy) |
| Mold and Fungus Coverage | Covers mold damage caused by a covered loss with an average maximum limit of $5,000. | $15-$35/year |
| Personal Cybersecurity | Provides protection for losses associated with cybercrimes including cyber fraud, extortion, or bullying. | Varies by coverage amount (Ask your insurance agent!) |
| Personal Injury Coverage | Goes beyond your home insurance policy's liability limits to protect you or members of your household in addition to emotional damages incurred. A standard home insurance policy only covers guests on your property. | $35-$50/year |
| Personal Property Replacement Cost | Replaces personal property based on replacement cost value and not actual cash value. | $35-$50/year |
| Scheduled Personal Property Coverage | Raises limits for expensive personal property and extends to misplaced items, not just stolen or damaged. | About $100/year for every $10,000 insured |
| Service Line Coverage | Repairs for utility service lines beneath your home. | $30/year depending on coverage amount |
| Sewer Backup Coverage | Damage from backups from a sewer or overflow from a sump pump. | $30-$70/year |
| Sinkhole Coverage | Pays for repairs to your home and stabilization to the ground if your home is experiencing sinkhole damage or earth movement. | Varies by state and carrier (Ask your insurance agent!) |
| Umbrella Insurance | Extends liability limits from an auto or home insurance policy to provide more coverage limits and situations. | $150-$300/year |
| Windstorm Coverage | Damage to your home due to wind and hail events. | Either 1% to 2% of your deductible (if not excluded) or around $1,600 if policy is purchased through TWIA. |
Common Homeowners Insurance Endorsements in Texas
Texans know all too well just how unpredictable our state's weather can be. Ice in the morning, sweltering heat by the afternoon, followed by a hail storm later in the week. To stay vigilant against our ever-changing weather patterns, homeowners need to have a home insurance policy with the proper endorsements! Here are the most common endorsements Texas homeowners purchase:
Windstorm coverage
Flood coverage
Equipment breakdown coverage
Sewer backup coverage
Scheduled personal property coverage
Umbrella insurance
Common Homeowners Insurance Endorsements in Arkansas
Arkansas, unlike Texas, is a southern state with four distinct seasons, including chilly winters and hot summers. But, Arkansans have to contend with a few different natural disasters that Texans don't. This is why Arkansas homeowners should have specific endorsements that protect their homes. The most common endorsements Arkansas homeowners purchase are:
Windstorm coverage
Flood coverage
Earthquake coverage (not needed, but recommended)
Equipment breakdown coverage
Sewer backup coverage
Scheduled personal property coverage
Umbrella insurance
Why Do I Need to Buy Homeowners Insurance Policy Add-Ons?
Buying homeowners endorsements are a smart way to fill perils your home policy doesn't cover, so you're not left with the bill because you're underinsured. You should consider homeowners endorsements if you:
Live in an area with lots of natural disasters (Ex. hurricanes, tropical storms, tornadoes)
Don't have savings on hand to cover damages from non-covered losses such as flood, a sewer backup, or replace high-value collectibles like artwork or jewelry.
Work from home (Ex. a home business endorsement)
Have a net worth higher than $500,000.
It's easy to forgo a policy endorsement to save on your home insurance premium. Still, those savings upfront could backfire if you experience a loss and your standard home insurance policy doesn't cover it.
For example, your home becomes flooded due to a blocked sewer, causing damage to your walls, floors, furniture, and more. Your home insurance policy will not cover this because sewer backup damage is not a covered loss, leaving you with the bill. Other sewer backup events include clogged pipes, tree roots damaging underground pipes, and a broken line.
With a sewer backup endorsement, for just $25 per year or $2 monthly, depending on how you pay your policy premium, you can have coverage for this event with coverage starting at $5,000 up to $25,000.
So in the example listed above, should your home take on that type of damage- you're covered! The average claim runs anywhere between $7,000 to $10,000, some going as high as $50,000. So for just $25 a year, you'd have that extra financial padding to save you from a hefty bill. This is why we advocate for homeowners endorsements. You can save thousands in the long run versus a small amount up front!
Related: 6 Commonly Overlooked Gaps in Home Insurance Coverage That Could Cost You
Save on Home Insurance with TGS Insurance
TGS Insurance works every day to save money on home, auto, boat, and more for our customers through our extensive industry knowledge and 35+ partnerships with A-rated carriers. Our agents can insure it all because we've seen it all, and we know what coverage homeowners need to stay financially covered without overpaying or being underinsured.
Get your hassle-free home insurance quote today in just 15 seconds or less using just your address. There are no gimmicks or B.S., just great savings and coverage all wrapped into one policy! 
.
Instant Home Insurance Quote
Recent Home Insurance Articles: