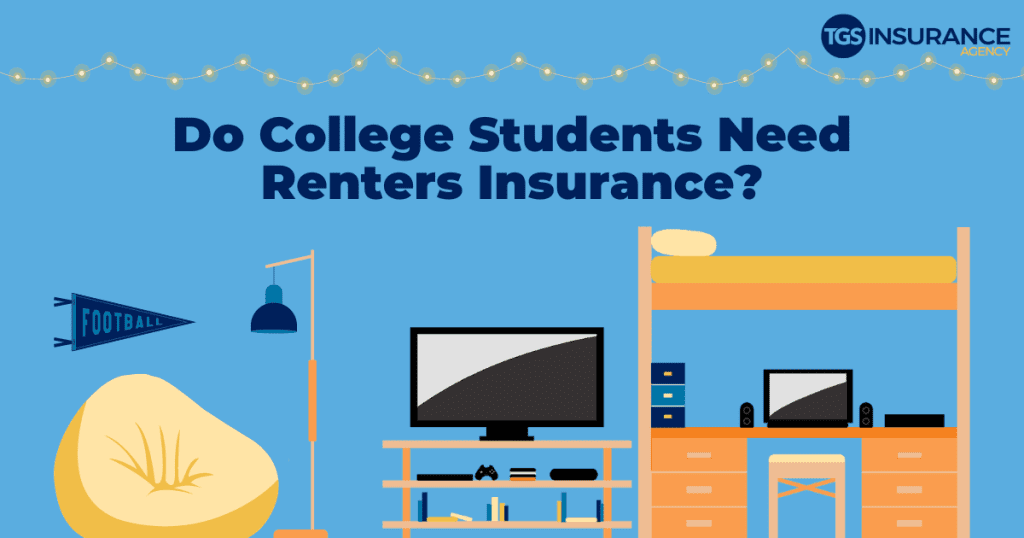 Do College Students Need Renters Insurance?
In addition to textbooks, dorm decor and football tickets, college students need renters insurance for their new home away from home. If you or your student will be living in an apartment, renters insurance is especially important. In fact, it may even be required by your lease. Let's take a closer look at what you're paying for and how much coverage you really need for college.
What Is Renters Insurance?
Renters insurance, also known as an HO-4 policy, protects your personal property from potential damages or losses due to certain covered perils. A peril is just an insurance term for the cause of financial damages or losses. Common perils covered by a standard policy include fire, theft, windstorms and riots.

If the damage or loss is due to a peril listed on your policy, then your insurance kicks in! A renters insurance policy may be broken down into three types of coverage:
Personal liability coverage will protect you from paying for a lawsuit or claim out of pocket if you accidentally hurt someone or if someone is injured in your residence.
Personal property coverage will protect your belongings from damages or losses.
Loss of use coverage will fund temporary housing and basic living expenses if your dwelling becomes uninhabitable while insured repairs take place.
Where You Live Impacts the Insurance You Need
The amount of renters insurance that college students need depends largely on their living situation! Some of the most important factors include whether or not a college student is still a resident of their family home when they're not at school, the type of student housing they choose, and the coverage requirements set by the school or landlord.
Are You Still on Your Parents' Homeowners Policy?
If you're a student living with your parents when you're not at college, you're probably on their homeowners policy. In this case, your belongings might be covered by your parents' homeowners policy even while the items are out of the house! How much coverage you get can vary, so ask your parents to go over their homeowners policy with an insurance agent to clarify your coverage limits.

Do You Live On-Campus?
If you're a college student living on-campus in a dorm, you most likely do not need renters insurance. That's because the coverage included in your parents' homeowners insurance policy for your personal property is probably enough to satisfy the requirements set by your college for on-campus student living.
Do You Live Off-Campus?
If you're a student living in an off-campus college apartment, the coverage you may get from your parents' homeowners policy won't cut it. While it can still be a good supplement, an off-campus college apartment will often require renters insurance for its residents. Talk to an insurance agent to make sure you get the coverage you need at the lowest possible cost.
Finding the Best Deal on Renters Insurance for College Students
Did you know that your parents' homeowners insurance carrier may offer a discount for bundling your renters insurance policy with them? Sometimes you can also save money by using the renters insurance recommended by your landlord directly. No matter what, you won't know if you have the best deal on your policy unless you compare several carriers. At TGS Insurance, we have experts eager to shop for your best deal with our A-rated roster of over 55 carriers. We pride ourselves on saving you money without sacrificing your coverage! Reach out to a TGS Insurance agent today to learn more about your options.
FAQs: Do College Students Need Renters Insurance?
How much will my parents' home insurance policy cover me while I'm at school?
Standard homeowners policies cover personal property off the premises for up to 10% of the home value. For example, if your parents' home is $200,000, your belongings could be covered for up to $20,000. Make sure to ask your parents and an insurance agent about the details of their policy so you know exactly how much coverage you get.
Can college students afford renters insurance?
Believe it or not, renters insurance is fairly inexpensive. While your parents' homeowners insurance might have a $1,000-$2,000 annual premium, your renters insurance as a college student will cost about $180 a year, or about $15 a month. That's like paying monthly for a streaming subscription! This is worth the peace of mind that you won't lose everything in the event of a worst-case-scenario.
Does my student renters insurance cover my college roommate?
No, your roommate will need a separate renters insurance policy for their personal belongings, liability and loss of use coverage.
How do I know how much my personal belongings are worth, or how much coverage I need?
A home inventory is a great way to make sure that your insurance covers all of your personal property. Here are a few easy steps to get started:
1) Write down the value of your most expensive items. That will probably include electronic devices, equipment, jewelry or heirlooms. If you have a receipt from your original purchase, keep it or take a picture! Every detail helps.
2) Create categories of other items, such as clothing or furniture. Then, do a quick tour of your space, taking pictures or videos along the way.
3) Always round up! If you calculate that your personal property is worth about $17,000, you should seek $20,000 of coverage.
Instant Home Insurance Quote
Recent Renters Insurance Articles: