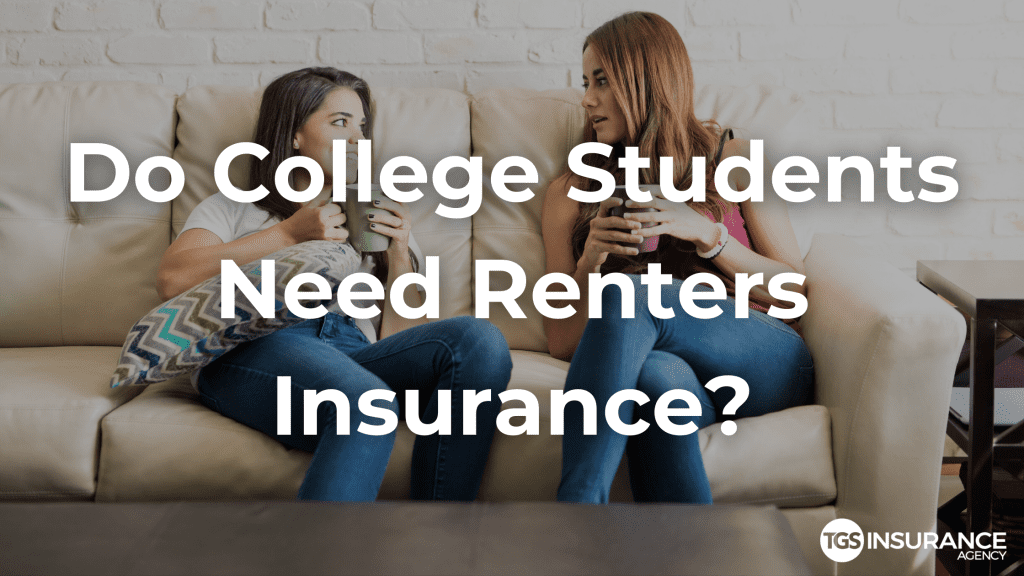 For anyone going to college, living on your own or with friends is a key part of the experience for all. Often renters insurance is overlooked when thinking of all the things you need for school, such as a laptop, furniture, and other necessities. Still, it's essential for protecting your personal possessions.
Some college students think that they're "too poor" for insurance, and that couldn't be further from the truth. Renters insurance is there to protect your belongings should they become damaged or stolen. According to the Insurance Information Institute, the average renter's policy costs around $180 per year, or about $15 per month. Let's review why college students need renters insurance and answer some commonly asked questions about it.
What Is Renters Insurance?
Renters insurance, also known as HO-4, protects your belongings from damage or theft. A renters insurance policy is broken down into three essential components:
Personal property coverage: Protects your belongings from a covered peril event such as a fire, loss, or theft.
Personal liability coverage: Protects you against a lawsuit or claim if you accidentally hurt someone or someone is hurt in your home.
Loss of use coverage: Pays for temporary housing and meals while repairs are made if your home is deemed inhabitable due to a covered peril.
What Will Renters Insurance Cover?
Your renters insurance policy will specifically call out what "perils" are covered in the event of a loss. It's important to note that if it's not listed, it's not covered, so if you're seeking a specific type of protection, talk to your insurance agent about a supplemental policy for that peril. Flooding and earthquakes, are not covered under your renters insurance policy therefore you'll need to purchase separate policies for such coverage.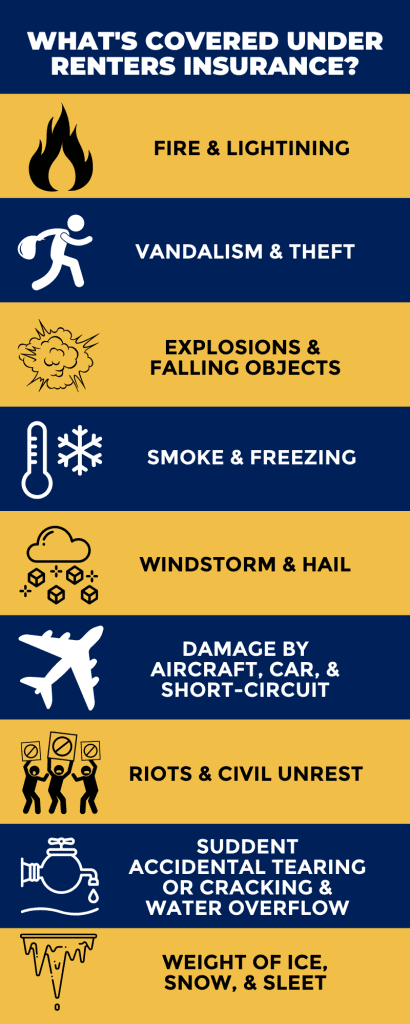 Instant Home Insurance Quote
Recent Home Insurance Articles:
Do College Students Need Renters Insurance?
The short answer is, yes depending on where you live. If you live in a dorm or off-campus apartment, renters insurance is more often than not required through your lease agreement. But, some may find that their personal property is covered under their parents' home insurance policy through what's called "off-premises coverage." This is more common with on-campus dwellers rather than those who rent their own apartment.
It's essential to understand the limits of this coverage because depending on the value of your personal possessions, it may not all be covered under your parents' policy. For example, if your parents' policy provides $100,000 worth of personal property coverage and has a policy limit of 10% for off-premises items, that would mean you only have $10,000 worth of coverage for your items at school. Be sure to also take into consideration things such as instruments, jewelry, or other expensive items that may have coverage limits as well. For items that exceed coverage limits, you'll likely need a scheduled personal property endorsement to cover those valuables. Some parents may have the option to purchase a "student living at school" rider, where you're listed on their home insurance policy and can get coverage that way.
TL,DR: Depending on where you live and how much coverage you need, a renters insurance policy may be the best option for any college student to protect their personal belongings if their parents' home insurance policy doesn't offer adequate coverage.
How Does Renters Insurance Compare To My Parents Home Insurance Policy?
If you're covered under your parents' homeowners policy, you still may want to consider a renters insurance policy. Homeowners policies are created with bigger limits than what would be used for a college student getting a renters policy. Financially, it might make more sense to have your own renters policy. Take a look at the breakdown below.
| | Your Own Renters Insurance Policy | Parents' Home or Renters Insurance Policy |
| --- | --- | --- |
| Deductible | $100-$500 | $1,000+ |
| Cost | $10-$20/month | No additional cost outside of existing premium |
| Property Coverage Limit | Included | Included |
| Liability Coverage | $10,000-$100,000 | 10% of total home coverage limit |
| Is Off-Campus Housing Included? | Yes | No* |
*Depending on the policy, you may be covered under your parents' homeowners insurance policy. Be sure to talk to your insurance agent to see what coverage you have available.
A deductible is an amount you'd have to pay upfront before your insurance carrier would kick in the event of a covered loss. This is important to keep in mind because you'd need to have at least $1,000 on-hand in this example to pay for any damages until your insurance carrier steps in to help with the bill if you opted to stay on your parents' policy.
Does Renters Insurance Cover Roommates?
No, renters insurance does not cover your roommate. If you have a roommate, each should get their own renter's insurance policy since coverage only extends to the policyholder.
How Much Renters Insurance Do I Need?
You don't ever want to be underinsured (too little coverage) or overinsured (too much coverage), so anyone must know how much their stuff is worth to know how much coverage is needed. Estimating your stuff's worth is easy! All you need to do is:
Make a list of your big-ticket items and estimate how much they cost. Receipts are essential here! Any paper trail you've got of purchases is a bonus.
Create an estimate for bulk categories such as clothes or furniture.
Take pictures or videos of all of your valuables.
Add everything up to determine your estimated coverage amount.
TGSI Tip: Always round-up for your personal property coverage. For example, if your items total $17,000, purchase at least $20,000 in coverage.
Suppose you've got high-ticket items like a camera, bike, jewelry, or musical instruments. In that case, you'll want to get Extra Coverage protection to help extend the personal property protection limits in your renter's policy.
How Do I Buy Renters Insurance?
Renters insurance is a financial safety net that no renter should be without. It's relatively inexpensive when compared to the financial losses one could face without it. We've got three tips for anyone shopping for a renters insurance policy:
Talk to your current insurance provider: If you've currently got a home, auto, or another type of policy, get a free quote on renters insurance.
Talk to your school or apartment complex: Many colleges or housing complexes have relationships with insurance providers and can sometimes provide excellent discounts.
Shop your renter's policy: Get quotes from at least 5-7 insurance companies and compare each apples to apples the benefits, costs, and coverage limits. An easy way to do this is to shop with TGS Insurance! We'll do all the shopping and comparing for you with over 35+ insurance carriers and provide you with the best option the market has to offer.
Get The Most Of Your Renters Insurance Policy With TGS Insurance
Shopping for any insurance can be an overwhelming experience, especially when you're deciding what's the best coverage and deal for you. At TGS Insurance, we want to make getting and staying insured as easy as possible, which is why we do all the heavy lifting for you! Get your hassle-free renter's insurance quote today and see why over 15,000 Texans trust TGS Insurance for all of their insurance needs.