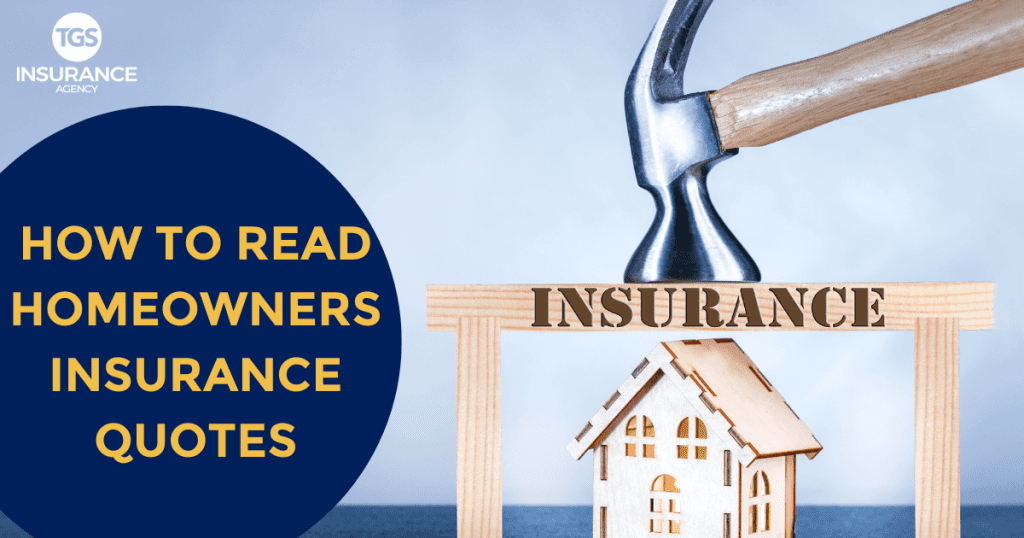 What is a home insurance quote?
A homeowners insurance quote is a proposed amount you would pay an insurance company for insurance coverage. Your quote is based on many factors, including, but not limited to, your home's age, building features, location, size, and insurance score, just to name a few. A quote is just an estimate and can go up or down in price once your agent works to refine your quote until it is curated specifically for you and your coverage needs.
How to read a homeowners insurance quote
A home insurance quote is simple and usually only one to two pages highlighting the key coverage points. Let's review how to read your homeowners insurance quote and what each section means.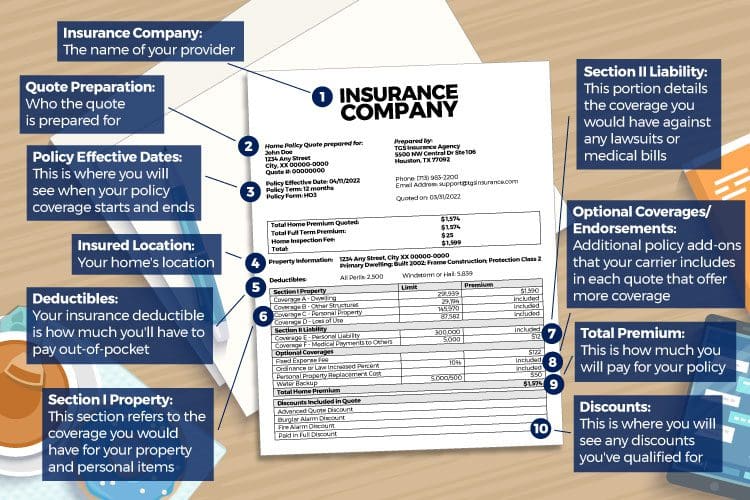 1) Name of Your Insurance Company
An obvious thing to point out, but important none the less! This is the carrier that will be insuring your home. Sometimes you'll be insured through a subsidiary company of a parent insurance carrier. An example is ASI Progressive is part of the Progressive Group of Insurance Companies.
2) Quote Preparation
This is where you'll see who the quote is prepared for, including the quote number, names on the policy, billing address (important), and other general contact information. You will also see a little section detailing who prepared the quote for you, and it will be either your insurance agent or the agency's contact information.
Why it's important: This section is important because it states who the policyholders are and who the representing agent or agency is. Should you have any questions or need to file a claim, either party would be your direct point of contact for help.
3) Policy Effective Dates
Just underneath your policy's contact information, you'll see a few important bits of information detailing when your policy's coverage will start and end. Typically, most homeowners insurance policies are twelve months, but this is a noteworthy tidbit to keep in mind for car insurance, which can be broken into six and twelve-month terms.
You will also see what type of policy you're being quoted for. There are eight types of home insurance policies, ranging from an HO-1 to an HO-8. An HO-1 offers the least coverage with just dwelling protection to an HO-8, providing a robust, all-encompassing policy. The most common type of home insurance policy is an HO-3, which offers dwelling, personal property, and liability coverage.
Related: What Is the Difference Between HO2 and HO5 Homeowners Policies?
Related: What Is the Difference Between HO2 and HO3 Homeowners Policies?
Related: What Is the Difference Between HO3 and HO5 Homeowners Policies?
4) Insured Location
Your home's location is a critical factor in determining your policy premium.
This portion of your policy is critical if you own more than one property. Your billing location and insured location are two separate entities on your quote, so you'll want to double-check your quote is for the location you want to be insured.
If you only own one home, then keep calm and carry on! (But do make sure the address is correct.)
5) Deductibles
Your insurance deductible is how much you'll have to pay out-of-pocket (excluding what you pay for your policy) before insurance will step in and take the bill.
Depending on your policy, you'll see two deductibles listed, an "All Perils" deductible and/or a "Windstorm/Hail" deductible.
TGSI Tip: You can raise your deductible to help lower your policy premium. But only do this if you can afford it!
6) Section I Property
This section of your policy is the most crucial, as it details all the coverage options you have in regards to your home and personal possessions.
Coverage A – Dwelling refers to the physical structure of your home.
Coverage B – Other Structures refer to any structures part of your home that is not directly attached, such as a fence or detached garage.
Coverage C – Personal Property refers to all personal possessions inside your home, including appliances, clothing, electronics, furniture, jewelry, etc.
Coverage D – Loss of Use refers to the amount your insurance company will give you for room and board should your home become unlivable due to a covered peril and you need to vacate while repairs are being made.

Included means it's part of your policy, and you can increase the limit if you'd like more coverage.
If you see a number under premium, then that is the set cost based upon your policy limit. You can always increase your policy limits to gain more coverage, but you run the risk of being overinsured. (And vice versa, if you lower, you will be underinsured.) Your insurance agent will help you refine your coverage limits to be more in tune with the protection you want without overpaying.
7) Section II Liability
The liability portion of your quote refers to the coverage you'd have for any lawsuits for property damage or bodily injury that you or a member of your household cause to someone else. You'll usually see this broken down into two sections:
Coverage E – Personal Liability refers to coverage for a claim or lawsuit made against you for bodily injury or personal property damage.
Coverage F – Medical Payments to Others refers to the amount your insurance carrier will pay per person, per accident for injuries requiring medical attention.
8) Optional Coverages/Endorsements
In this section, you'll see any additional policy add-ons that your carrier includes in each quote that offer more coverage outside the basics of your policy.
9) Total Premium
This is how much you will pay for your policy. You may see other fees itemized here that are calculated into your premium and a payment breakdown if you opt for monthly or quarterly installments.
TGSI Tip: Some carriers offer a discount for paying in full!
Your home insurance quote will read straightforwardly and is a summary of your proposed coverage. Your insurance agent will be able to provide you a complete policy overview that provides other essential details such as covered perils, policy exclusions, and additional need-to-know information.
10) Discounts
This portion of your quote will detail any discounts available to you. Typical discounts include burglar alarm, fire alarm, bundling, or paying in full, among others. Each carrier offers different discounts and may not always be included in your initial quote, so ask your insurance agent about every discount available to you to help save even more.
How to go about getting a new quote on homeowners insurance?
To obtain a new quote on homeowners insurance, you'll simply need to visit a carrier's website, provide the requested information and wait. Some carriers will offer instant quotes, whereas others may take 15 minutes or a few days, depending on the complexity of the carrier's quoting process and the information provided.
Are homeowners insurance quotes free?
Yes, home insurance quotes are free and should not cost anything. The only time you would pay would be when purchasing your home insurance policy.
How long does it take to get a quote for home insurance?
It can take anywhere between a few minutes to a few days to get a quote for home insurance. Some carriers ask for a small subset of information upfront to give you a baseline quote quickly and will refine it during the underwriting process. Whereas others may ask more in-depth questions to provide a more robust, finalized quote, this can take a few days.
Do home insurance quotes hurt your credit?
Getting a home insurance quote or purchasing a policy does not hurt your credit. Insurance companies use what's called an insurance score to calculate your premium, which is a combination of your insurance history and a soft pull of your credit score. Soft pulls simply review your information and should not negatively impact your credit score.
How is my home insurance quote calculated?
Your home insurance quote is calculated based upon several variables, including your home's location, building materials, insurance score, and coverage requirements, but it all comes down to risk exposure. Risk exposure is used to calculate what's called the "pure premium," which is a calculation based on the losses associated with a group of homeowners (usually by area) by its exposure (amount of value insured). This calculation, used alongside the calculated expense ratio, will determine your premium price.
Why is my homeowners insurance quote so high?
Your home insurance quote may seem high for a variety of reasons, but the most common include:
Managing risk exposure (trying to write fewer policies in a high-risk area)
Your credit/insurance score
Deductible
Your home's location, age, or building materials
Roof age
Value of personal property
Attractive nuisances (pools, trampolines, etc.)
Remember, insurance carriers don't want to take on too much risk when insuring your property, so if your quote seems a bit high, it may be because the insurance carrier deems you risky to insure. How carriers determine their risk exposure and pricing is a tight-lipped secret that few know, even their own agents or brokers. But, the good news is there are hundreds of carriers out there looking to earn your business! This is why it's imperative to obtain multiple quotes from multiple carriers and compare price and coverage details before settling and purchasing a policy.
How can you save money on homeowners insurance?
Everyone wants to save on home insurance, and while there are many things you can do to shave off a few dollars here and there, home insurance costs are calculated mainly based upon factors outside your control, such as your home's location's risk level, frequency of natural disasters, inflation, among others. Some specific steps you can take to save money on home insurance costs include:
Installing a monitored security system (save as much as 20%)
Shop around and compare quotes from at least three to five companies
Don't look at just the price; compare coverage too!
Raise your deductible (only if you can afford it)
Bundle your home and auto under the same carrier
Upgrade your home to be more disaster-resistant (Ex. installing storm shutters)
Keep a good credit score
Annually assess the limits in your policy, so you're not overpaying for coverage
Purchase insurance through an agency that will reassess your policy annually and work to find discounts and savings for you
How to negotiate the price on homeowner's insurance
It's understandable everyone wants to pay the lowest price for home insurance, but the cost of homeowners insurance is non-negotiable. You can, of course, save on your premium by installing home security systems or adjusting your deductibles and coverage limits, but the price is set with no room to negotiate.
Get a Fast Homeowners Insurance Quote with TGS Insurance
Get a hassle-free quote in 15 seconds or less with TGS Insurance. Just input your address, take a sip of your coffee, and boom, save instantly on home insurance- it's really that easy! Our average homeowner saves $870 per year on home insurance, with some saving substantially more. From home, auto, boat, RV, renters, and more- our team of insurance experts will find you a policy perfectly crafted for your budget and covered needs.
How do we do this? We're glad you asked.
We have partnerships with over 35+ A-rated (or better) insurance carriers, which allows us to shop your policy through each to find the best the market has to offer. Our tried and true method finds a winning deal every time. When you win, we win! See why over 15,000 people trust us with all their insurance needs and get your fast homeowners insurance quote now.
Instant Home Insurance Quote
Recent Home Insurance Articles: