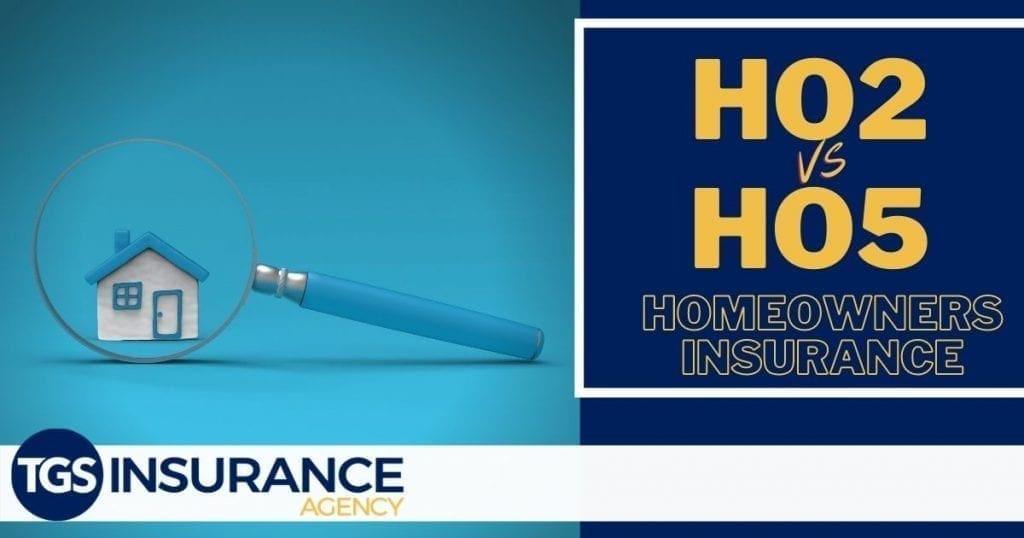 HO2 and HO5 policies work to provide you with peace of mind by covering your home and personal items, but how they protect and what they protect isn't the same. Understanding the difference will help you find the right coverage to avoid gaps in coverage and mitigate unwelcome surprises.
HO2 Insurance Policy Explained
The HO2 homeowners insurance policy is written as named-perils only coverage which means that it covers both your dwelling and personal property from damage caused by events, or perils, specifically named in your policy and nothing else. The most common perils that are covered by an HO2 policy are as follows:
Theft
Fire or Lightning
Explosion
Smoke
Freezing
Vehicles
Falling Objects
Volcanic Eruption
Windstorm or Hail
Riot or Civil Commotion
Damage caused by Aircraft
Vandalism or Malicious Mischief
Weight of Ice, Snow, or Sleet
Cracking, Bulging*
Artificially Generated Electric Current*
Water or Stream*
*Indicates that this peril is only covered if the damage is caused as a result of a sudden and accidental event.
HO5 Insurance Policy Explained
An HO5 homeowners policy will provide you with the most complete type of coverage that you can find. HO5 policies provide coverage for your dwelling and personal properties and will also help protect against open-perils for your home and other structures that are covered. But what elevates your HO5 policy is that your personal property is written with open perils. This gives your personal property and your home coverage to damage that is caused unless your policy specifically states that it is excluded from coverage.
In addition to covering your home, additional structures, and personal property, your HO5 policy can also assist by covering living expenses as a result of a peril making your home uninhabitable. Your policy can also cover personal liability in the event of an injury from a visitor that is your fault and can cover medical fees should a visitor on your property become injured while there.
The Difference Between HO2 and HO5 Homeowners Insurance Policies
Both policies help protect you in your time of need, however, HO5 policies are more inclusive when it comes to personal belongings. An HO2 policy lists specific perils and items that will be covered should an event occur. HO5 policies are written as open-perils meaning unless your policy explicitly states something isn't covered, you are protected.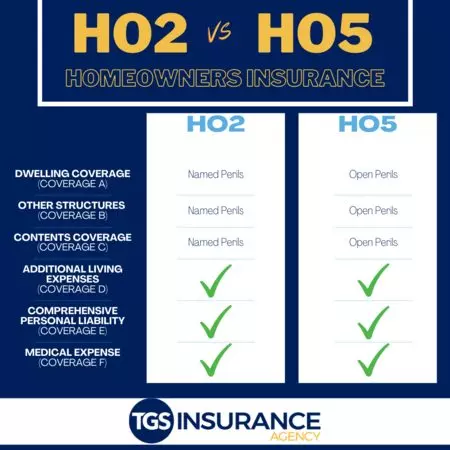 TGS Insurance Helps You Save on Homeowners Insurance
No matter which homeowners insurance policy fits your converge needs, TGS Insurance is here to help. We work with many top-rated insurance providers and help homeowners find the right policies to fit their needs and budget. Contact TGS Insurance and begin saving on your homeowners insurance today. You can even bundle your homeowners insurance with additional coverages for more savings!
Instant Home Insurance Quote
Recent Home Insurance Articles: