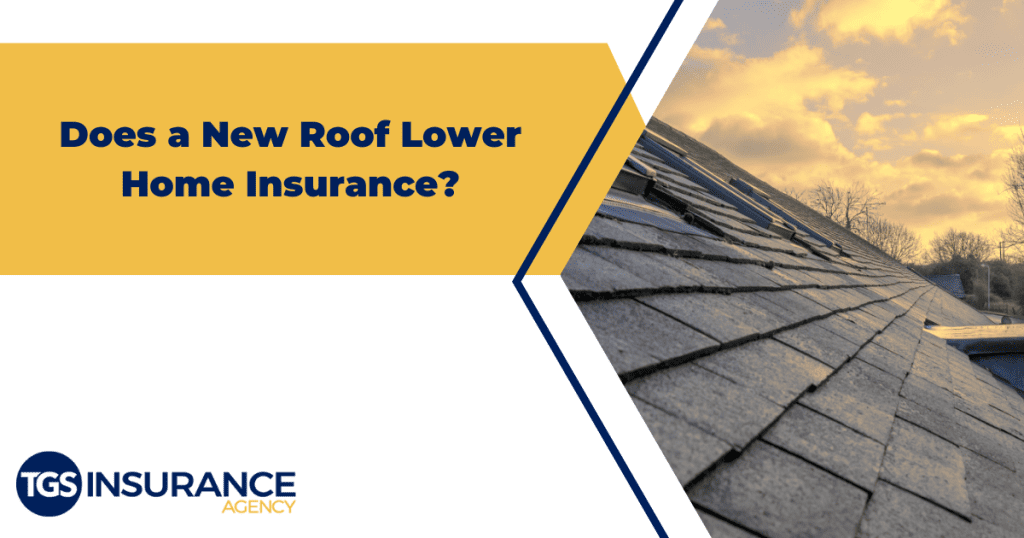 Your home is your haven from the outside elements, but it's easy to say that your roof is one of the most critical parts of your home's structure, and because of that, it heavily influences how much you pay for home insurance. Older roofs tend to raise premiums, whereas homeowners with roofs less than ten years old will pay lower premiums.
A new roof will lower your home insurance premium, but building materials, location, and other factors will influence just how much of a decrease you'll see. 
Why is Your Roof Important to Your Insurance Carrier?
Your roof is your home's shield from rain, hail, snow, trees, and more- and any leak or damaged shingle can expose your home to the outside elements, which can, in turn, lead to extensive and costly claims.
What Roof Factors Affect My Home Insurance Premium? 
Age: As your roof ages, so does its durability against the elements. As your roof ages, your home insurance premium will also increase. Most homeowners see their premium rise after ten years.
Condition: The condition of your roof is imperative against protecting your home from the elements. So if your home has a well-maintained roof, you'll have a lower premium than someone's roof that has cracks and broken shingles.
Location: The weather in your area will primarily affect your premium because harsher weather poses more risks to damaging your roof and home. For example, if you live on the coast, you'll pay more for your home insurance policy than someone who lives inland.
How Much Will a New Roof Lower My Home Insurance Premium? 
A new roof can lower your home insurance premium anywhere between 5% to 35% depending on building materials, location, and carrier. Most homeowners can expect to see their home insurance policy premium by 20% after replacing their roof.
What Are Roof Requirements for Homeowners Insurance? 
When purchasing a home insurance policy, the underwriter will need to know when the last time your roof was replaced. Most home insurance companies won't insure a property with a roof older than 40 years. Sometimes during the renewal process, some carriers will put a hold on their renewal offer or won't renew the policy until the roof has been replaced.
If you're planning on replacing your roof, talk to your insurance agent about what discounts your carrier offers. Some offer incentives for using storm-resistant materials or upgrading building materials.
When Should I Upgrade My Roof? 
Depending on your roof's materials, you should replace your roof every 12 to 25 years. Most homeowners have asphalt shingles, which should be replaced every 15 to 30 years. If you live somewhere on the coast where you see lots of hurricanes or tropical storms, or more inland and experience a lot of hail or wind, you may need to replace before the 30-year mark.
A good rule of thumb is to have your roof inspected yearly to stay on top of minor repairs before they grow into even bigger (and more expensive) ones.
How Does My Roof's Material Affect My Home Insurance Premium? 
The materials used to construct your roof will heavily influence the quality of your roof. Your insurance carrier will calculate your premium based on what materials your roof is made of, so the more durable the material is, the lower your premium will be.
| | | | |
| --- | --- | --- | --- |
| Roofing Material | Average Life Span | Durability | Best Case Use |
| Asphalt shingles | 20-30 years | Less durable | Fire and windstorm damage |
| Wood shingles and shakes | 30-50 years | Less durable | Wind damage |
| Concrete and clay tile | 35-50 years | Moderately durable | Fire damage |
| Metal | 30-45 years | Moderate to very durable | Fire and wind damage |
Will My Home Insurance Carrier Pay for a New Roof?
Yes, most home insurance carriers will pay for a new roof if the damage is sudden and/or accidental from a covered peril. Your home insurance carrier will not pay if a new roof is needed due to age, everyday wear, tear, or neglect. Common reasons for roof damage that are included in your policy are:
Falling objects such as tree branches
Fire
Hail
Hurricanes
Rain
Tornadoes
Vandalism
Save on Home Insurance With TGS Insurance
Shopping for homeowners insurance can be overwhelming and tedious, but not with TGS Insurance. We take the sting out of the process by handling everything for you! We'll shop your policy across our bank of 35+ A-rated (or better) carriers to find you a perfectly balanced policy in both coverage and price. We'll seek every discount available, from a new roof discount to security systems and more, to help you get the maximum savings possible.
Get your instant hassle-free quote today in just 15 seconds or less, using only your address, and see why thousands of homeowners use TGS Insurance! 
Instant Home Insurance Quote
Recent Home Insurance Articles: